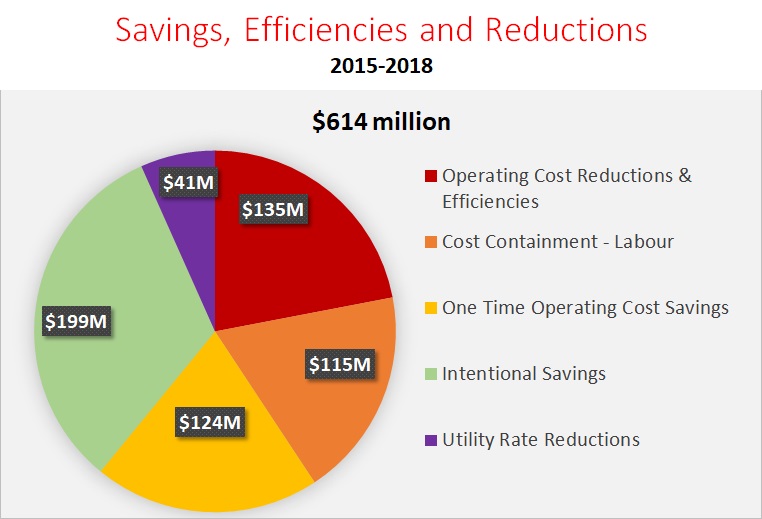 The City of Calgary is taking action to support Calgary's economy, keep Calgarians working, and reduce the cost of local government. Under Council direction, Administration has achieved significant savings and has provided notable benefits to Calgarians through the intentional management of The City's financial position under the Leadership Strategic Plan: Contract with Council (LSP) and the Performance Management System.
Since Action Plan 2015-2018 was approved, The City has achieved $614 million in savings, efficiencies and reductions (as of Nov. '18) through intentional management including: 
$135 million base savings achieved through reductions in business unit budgets, corporate and manageable costs to reduce the original approved business plans and budget tax rate increase to respond to the change in economic conditions. Furthermore, fee freezes and reductions to landfill services implemented were used to offset other revenue shortfalls.
$115 million in reductions for lower than budgeted union settlements, lower than budgeted increases for exempt employees and workforce management. These savings were used to reduce previously approved tax rate increases and to offset projected revenue shortfalls with some available for future use.
$124 million in operating savings has been contributed to the BSA reserve with another $203 million in capital budget savings found and reallocated to projects that benefit Calgarians including the Opportunity Calgary Investment Fund (OCIF), Calgary Transit, the Crowchild Trail short-term improvements project, Main Streets Program, and initiatives to lower the property tax rate, to name a few.
$199 million intentional cost savings was used to fund certain initiatives such as tax relief, community services, and the low income transit pass for Calgarians in need.
Sources
Action Plan: 2018 Adjustments
Economic Resilience Strategy
2017 Year-End Accountability Report
​​​