Addressing the business property tax issue
Municipal tax shift
The distribution of municipal tax for non-residential (business) properties has declined since 2001. Last year, Council approved a tax shift from non-residential to residential properties, further reducing taxes businesses pay. ​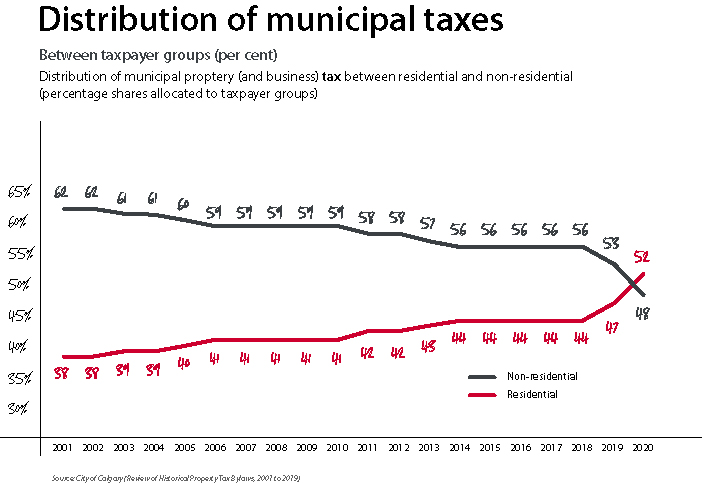 In 2001, the proportion of non-residential property tax and business tax was 62%. This percentage has declined continuously over the past 19 years and currently rests at 48%.
Council decisions have supported the decrease in non-residential property and business taxes over time:
A business tax freeze was put in place prior to 2001 that restrained growth of business taxes – the freeze continues despite the business tax being consolidated into the non-residential property tax in 2019.
Business tax phased out over seven-year period and eliminated in 2019 to enhance Calgary's economic competitiveness.
Tax room generated from lower than anticipated provincial education requisition has favored non-residential taxpayers.
Budget reduction of $16.5M at the beginning of 2019 resulted in a minor shift from non-residential to residential properties
Council shifted some of the municipal tax responsibility from non-residential to residential properties in 2020.
In addition to supporting these decreases over time, Council has provided a total of $213 million in tax relief for businesses since 2017.
Supporting businesses and our local economy
Support for local businesses have resulted in a combined decrease of 12.07% or $2,640 per $1 million of non-residential (business) assessed property value annually ($220 per month) in 2020. The Municipal Non-Residential Phased Tax Program (PTP) may also result in further reductions to your taxes.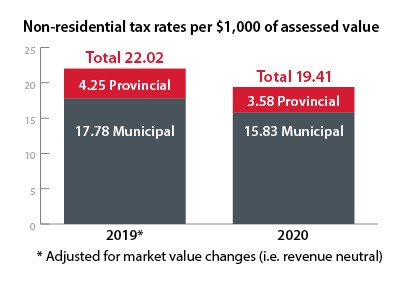 ​​​​​​​​​​