Introduction
Action Plan 2015-2018 describes how The City of Calgary will respond to the needs and aspirations of the citizens of Calgary over the next four years. It identifies priorities for the period and recommends the services and initiatives that will be provided, the performance results that Administration commits to accomplish, and the operating and capital budgets that will support the achievement of these results.
Structure of the Action Plan Document
This Action Plan document has three primary components:
The Action Plan Summary includes a synopsis of the major inputs that have informed the creation of Council Priorities and the business plans and budgets, and highlights of Administration's response in selected areas.
The department sections contain background information specific to the department and its business units, followed by the proposed business plans (strategies, actions, and performance measures and targets) and operating and capital budgets, for Council's review and approval. Benchmarking information and additional information on citizen engagement is also found here.
Supplemental Information  has additional summarized information and budget analysis tables.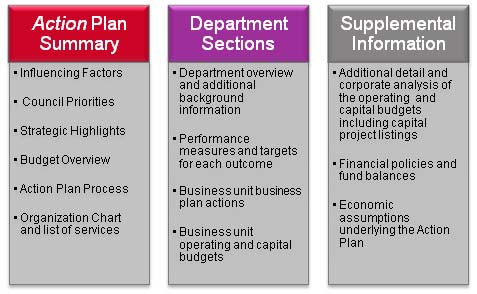 Cannot retrieve the URL specified in the Content Link property. For more assistance, contact your site administrator.
The Action Plan Process
Action Plan is about connecting our long-term priorities and strategy, set by Calgary City Council, and translating these into actions implemented by City Administration. The business plans and budgets process associated with Action Plan – including approval of Council Priorities -- establishes a four-year strategic focus for investment and resources to ensure that Calgary remains a vibrant, prosperous city for decades to come.
Based in the Chief Financial Officer's Department and operating within the City Manager's Office, Action Plan is drafted and approved once every four years. A 12-month process results in Council approval and encompasses four key areas of activity:
The Action Plan process also operates within existing legislative frameworks. Alberta's Municipal Government Act, for example, requires Council to adopt a balanced operating budget for each calendar year. Unlike other levels of government, The City cannot budget for a deficit.