Calgary has long been the economic engine for Canada. Calgary contributes $124 billion to Canada's economic value. For Calgary's growth to continue, we need support from the Federal Government to create a new future and compete in a modern, global economy.
Calgary matters to Canada
---
Calgary's GDP is growing faster than that of Alberta and Canada. Our pace of growth can continue, but economic recovery is fragile and unemployment remains high. Calgary's ongoing contributions to Canada's economy are at risk.
GDP Growth (Indexed, Year 2004 = 100)
Conference Board of Canada, Jan 2019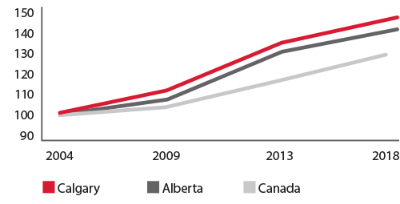 Unemployment Rates (%) August 2019
Statistics Canada, Sept 2019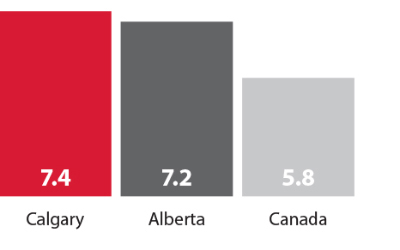 ​​
Citizen perspectives survey
---
We survey Calgarians throughout the year. We rely on your opinions, preferences and attitudes to guide our decisions in making life better every day. In July, we collected your thoughts on a variety of municipal initiatives and related federal funding support.​​​​​​
Survey results
Highlights include:
9 in 10 Calgarians (93%) agree the federal government should support increasing pipeline capacity.
9 in 10 Calgarians (92%) agree all levels of government should work together to address mental health and addictions.
The majority of Calgarians agree the federal government should contribute funding to:

Creating construction jobs through critical infrastructure projects (89%)
Preventing addiction (87%)
Building future stages of the Green Line (83%)
Building the Fieldhouse (68%)
Expanding Arts Commons (61%)
Download the full report 2019 Citizen Perspectives Survey Report YYC Matters (Federal) August 15, 2019.
Survey methodology
NRG Research Group conducted the survey July 22-29, 2019, on behalf of The City of Calgary. Five hundred Calgarians, aged 18 years and older, participated. NRG contacted the participants by telephone using random digit dialing. The margin of error for the sample size (n=500) is ± 4.38 percentage points, 19 times out of 20.
​​