The Making of Historic City Hall
Sandstone City begins
In the 19th century, Calgary's streets were dotted with wooden buildings sporting proud facades reminiscent of the Wild West. When an 1886 fire tore through the community and destroyed many of the wooden buildings, Council passed a bylaw requiring all major downtown buildings to be built of fireproof material, and the era of 'Sandstone City' began. Sandstone was more fire resistant than wood and could be sourced locally, from the Paskapoo sandstone formation that underlies portions of Alberta. Numerous quarries burgeoned in the area to accommodate the rebuilding of Calgary, and many of the beautiful sandstone buildings created at the time still grace our city today, including Historic City Hall.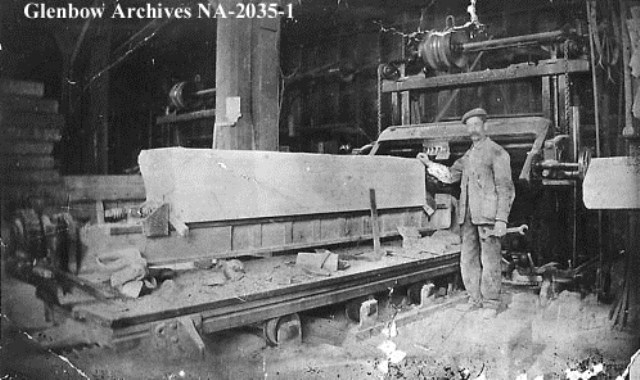 James Fairley, stone planner, stands inside Quinlan Carter's stonemason's shop in 1911. Quinlan Carter Limited were proprietors of Glenbow Quarries (1905-1912), located between Calgary and Cochrane in what is now Glenbow Ranch Provincial Park. Glenbow Quarries was a source of stone for Historic City Hall.
William Dodd, architect
Historic City Hall was designed by prominent Ontario-born architect William Dodd, who also designed other turn-of-the-century Calgary buildings including the Clarence Block (1901) and Norman Block (1902) on Stephen Avenue and Inglewood's Alexandra School (1904). The construction of City Hall would prove to be challenging for Dodd, as by the time it was finished, it cost $300,000 – approximately double the original budget. In 1909, this overrun in expenses – and a major dispute with the contractor – cost William Dodd the job. In 1910 he was replaced by local architecture firm Hodgson & Bates, which saw City Hall through to its completion in 1911.
​
Historic City Hall takes shape
The structure, which sits on the original town hall site, is designed in Romanesque Revival style. Its clock tower, long one of Calgary's most esteemed landmarks, is more than 32 metres high (100 feet) and chimes every half hour. Until 1914, the basement of Historic City Hall housed jail holding cells (12 for males and 3 for females), the police department and the court room. The building was officially opened for business by Sir Robert L. Borden on June 26, 1911, just months before he became the Prime Minister of Canada.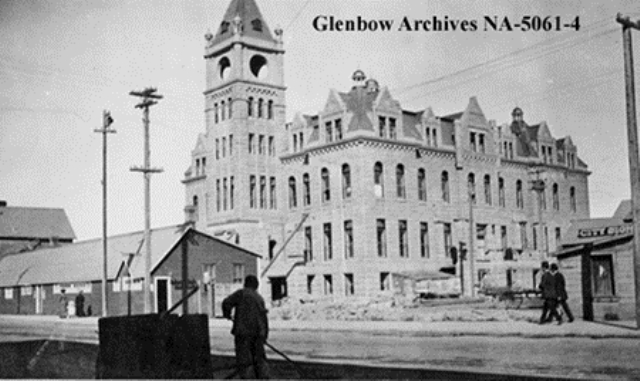 Calgary's new City Hall being built behind the existing City Hall (1910).
Officially a symbol of Canadian heritage
Historic City Hall was designated a Provincial Historic Resource in 1978, a National Historic Site of Canada in 1984, and Calgary's first Municipal Historic Resource in 1991.
​
---