Charged Line - Public Artwork
Project details
Title of Artwork: Charged Line
Artist: Jill Anholt (with Michelle Wong)
Site: South Calgary Fire Station No. 5 (3129 14th St. S.W.)
Public Art Budget: $185K
Commissioned by: Calgary Fire Department
Capital Project: South Calgary Fire Station No. 5
Project Completion: July 2014
​ ​​​​​
Concept
Working as part of the capital design team and with other key stakeholders to determine the best location for public art on the site, the artist developed a unique concept that creates both a physical and a symbolic connection between the new fire hall and the community.
Charged Line is inspired by the well-known hose apparatus that is filled with water and pressurized, ready for use in fire fighting. The sculptures are made from bent stainless steel tube, bronze mesh covering, historic brass coupling and LED strands in acrylic tubes that represent water.
As such, the artist has re-imagined the recognizable elements of Calgary Fire Department in a contemporary, engaging and dynamic way, while making physical and metaphorical connections with the community. The sculptures pay tribute to the Fire Department's long-standing use of the site and celebrate the Calgary Fire Department's 125th anniversary.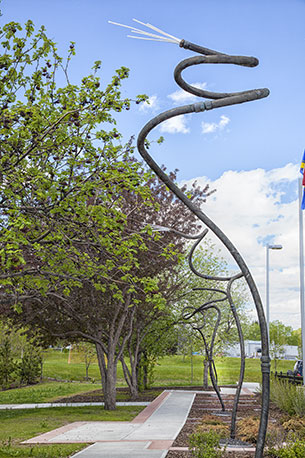 ​​​​​​​
The Artist
Visual artist and designer Jill Anholt is a former Calgarian who has been creating site specific public art installations since 1997. Her work investigates qualities of time, movement, light and materiality. Jill's intent is to intrigue passers-by, drawing them to look closer at the work and explore connections and relationships embodied in the site. Her artworks encompass many different scales of viewer interaction and accessibility; from the overall formal expression that creates a visual impact at a distance, to the material details and embedded imagery that provide a more intimate experience to viewers close up. Jill's work seeks to reveal invisible stories and collective hidden meanings in a poetic and thought-provoking manner.
Her process is one of exploration and discovery. For each commission she receives, a period of extensive inquiry is undertaken, involving site observation and documentation, interviews with stakeholders and research regarding the social, cultural, environmental and historical dimensions of the project. The resulting sculptures are unique and specific to their site and situation. www.jillanholt.ca
​​ ​​​​​​​​​​​​