Art created by Indigenous artists
---
Moving toward Reconciliation as a city, province and country requires showcasing art by Indigenous artists as a way of understanding and learning about the people who have lived in this region since time immemorial.
Click on each photo to learn more about the artist and artwork.
Opportunities for Indigenous artists
---
Indigenous arts professionals
---
We are deeply honored to be the first municipality in Canada with an all-Indigenous team of arts professionals dedicated to delivering more opportunities for Indigenous artists and increasing Indigenous representation in the public art collection.
Indigenous curators help build connections between local government, the arts community and Indigenous groups.
Jessica McMann
In summer 2020, we welcomed Jessica McMann to the public art team as an Indigenous curator.

Jessica is an Alberta-based Cree (Cowessess, SK) curator and artist (musician, dancer, visual artist). She's also a classically trained flutist with a Bachelor of Music from the University of Calgary and a Master of Fine Arts from Simon Fraser University.

In addition to creating traditional beadwork and drums, she also makes immersive sound art videos. Her recent compositions and soundscapes explore Indigenous identity and history. She's co-founder and co-director of Wild Mint Arts, an Indigenous arts company.

Although her art is primarily music and dance, Jessica's artwork is exhibited at Urban Shaman Gallery and Pitt Rivers Museum in Oxford. Her curatorial practice is embedded in Indigeneity, relationality and advocacy.
She works closely with the Moh'kinsstis Public Art Guiding Circle, public art program staff, and the Indigenous Relations Office to bring Indigenous knowledge, histories, cultures, languages, traditions, worldviews, and ways of knowing into the public art program.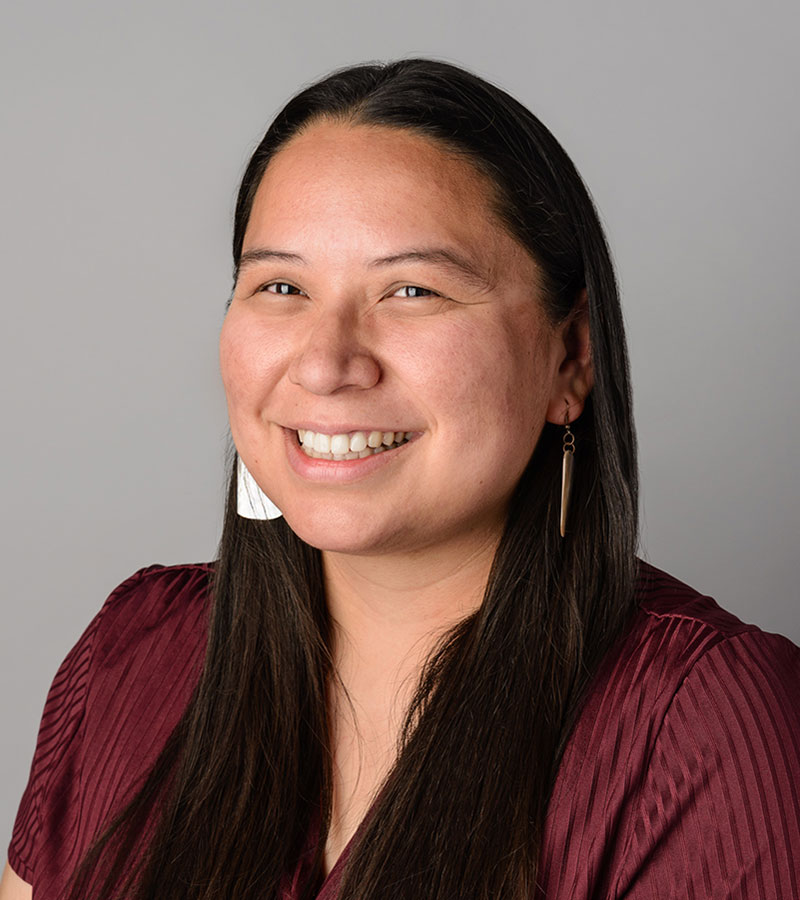 Sophia Lebessis
In consultation with the Nunavut-based elder community, Inuit art gallery owner Sophia Lebessis is working to curate a travelling collection of sculptures, prints and textiles that both respects and reflects the rich art and culture of the Inuit people of Canada.
Sophia is Inuit on her mother's side and Greek on her father's. She grew up in Arviat, Nunavut, learning about the world of Inuit art and how to promote the works of highly collectible and influential artists.
With her keen eye for art and experience in sourcing art, from creation to distribution, Sophia has a unique approach to contributing to the future of Inuit art that focuses on education and entrepreneurship to transform appreciation for Canada's national art form.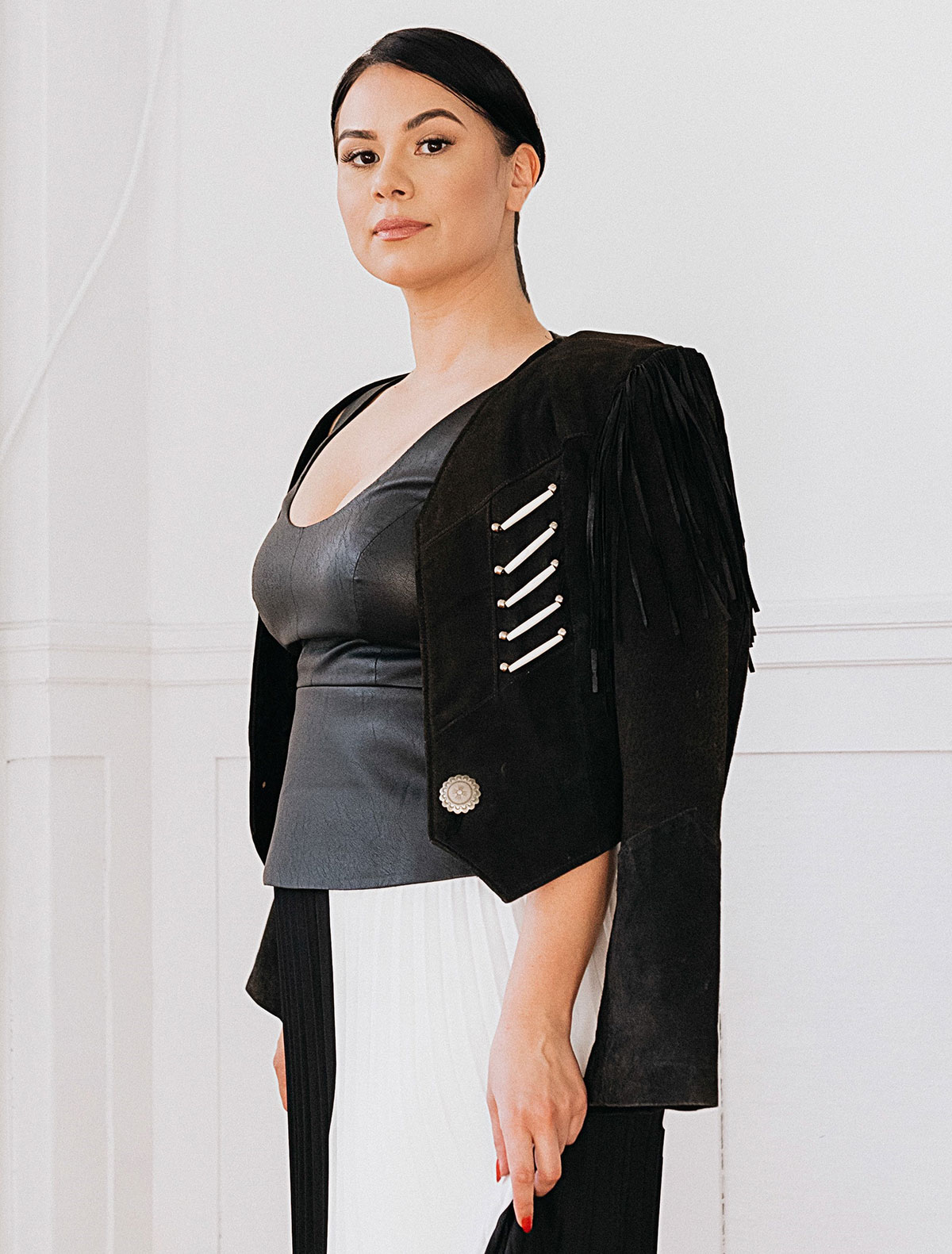 Indigenous project managers strive to ensure Treaty 7 Nations, Metis Nation Region 3 and all Indigenous Canadians are accurately and fairly represented in the City's public art collection.
Henry Heavyshield
Henry Heavyshield is a Blackfoot (Kainai) writer currently living in northern Alberta.
He completed his undergraduate degree (B.A. English/Indigenous Literatures) at the University of Lethbridge, and he attended graduate studies at The University of British Columbia.
His work has appeared in Joyland, C Magazine, Kimiwan Zine as well as in an anthology of Indigenous writing with Annick Press. When he isn't reading, writing, or tending to guinea pigs you can usually catch him on his bike or skateboard. He would like to thank the generosity and support of his family. Kitsikakommim (I love you).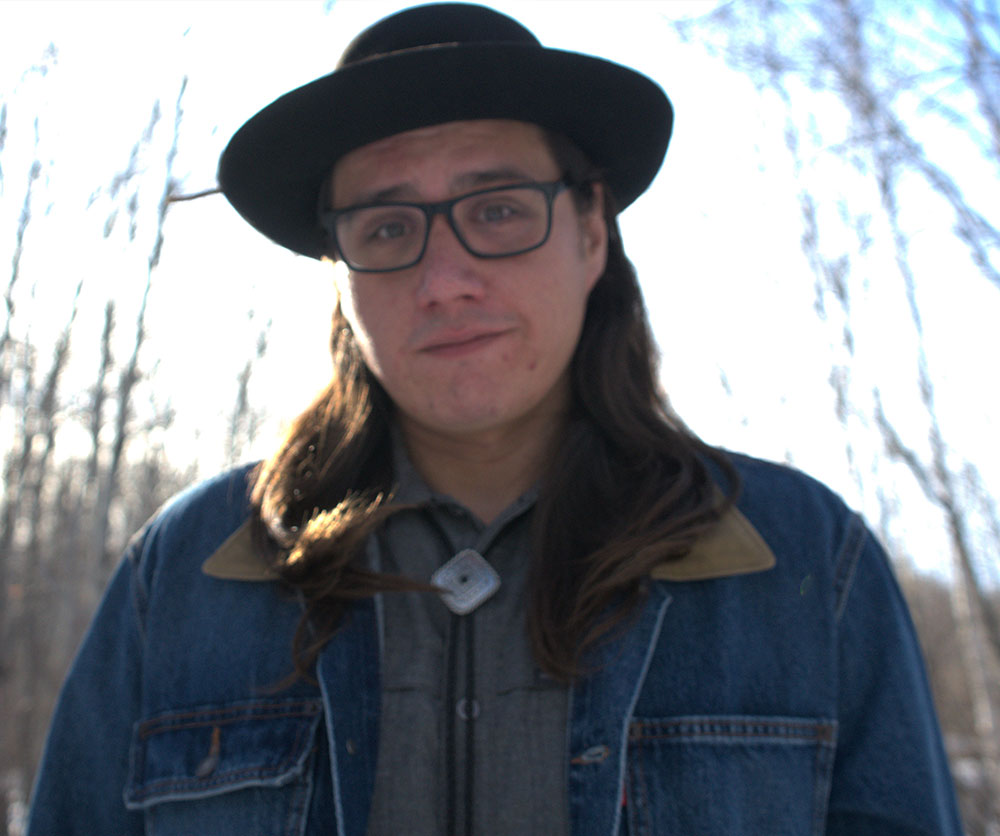 Tully Huculak
Tully Huculak joined the Indigenous Public Art team in 2022 as the Engagement Strategist Manager. She is a member of the Metis Nation of Alberta and currently resides in Calgary. Tully has a Bachelor of Design from the Alberta University of the Arts, and she will complete her Master of Management at the University of Calgary in the spring of 2023.

In her practice, Tully creates designs that connect abstract concepts to succinct visuals. These mirages of ideas usually relate to Tully's relationships with the land, herself and others. Final products come in various forms, such as illustrations, logos and paintings - but no medium is off-limits to her creativity.

Ultimately, Tully's goal is to amplify the voices of others, especially Indigenous artists. She aims to accomplish this by working to build community and support for fellow artists and entrepreneurs. 

Council Chambers Indigenous art initiative
We are commissioning four textile artworks by female or Two-Spirit artists of any gender to exhibit in Calgary's City Council Chambers for a period of 10 years. These art pieces will be created using traditional methods such as beadwork, quillwork, weaving, tufting, felting or applique. Artists will be chosen by a selection panel made up of Elders, artists and community members from Stoney Nakoda, Blackfoot Confederacy, Tsuut'ina Nation and Metis Nation Region 3 to ensure the art created accurately represents each Nation's unique history and community. 
Beadwork by Cindy Daniels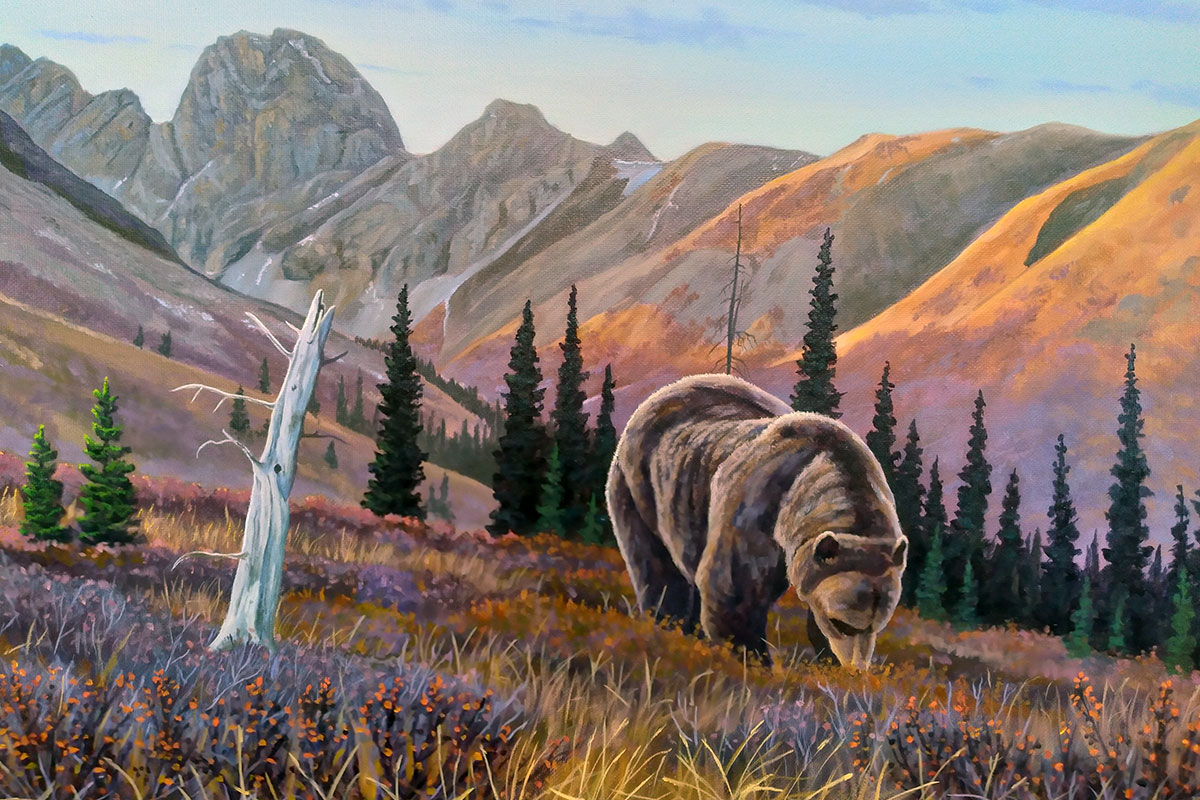 The Land is Home at Inglewood Bird Sanctuary
 From spring 2022 to spring 2023,  The Land is Home project celebrates Indigenous connection to the land with rotating exhibits by Blackfoot, Tsuut'ina and Stoney Nakoda artists at the Inglewood Bird Sanctuary Nature Centre. Exhibits include both traditional and contemporary painting, drawing, sculpture, video, poetry, music and performance with a theme of nature or land. This project reminds park visitors that Indigenous people have cared for these lands since time immemorial and served as the original stewards of the places we now enjoy as parks. It aims to teach us that protecting and honouring the land is universally important across all Indigenous cultures.
Artwork: Grizzly by Gordon Wesley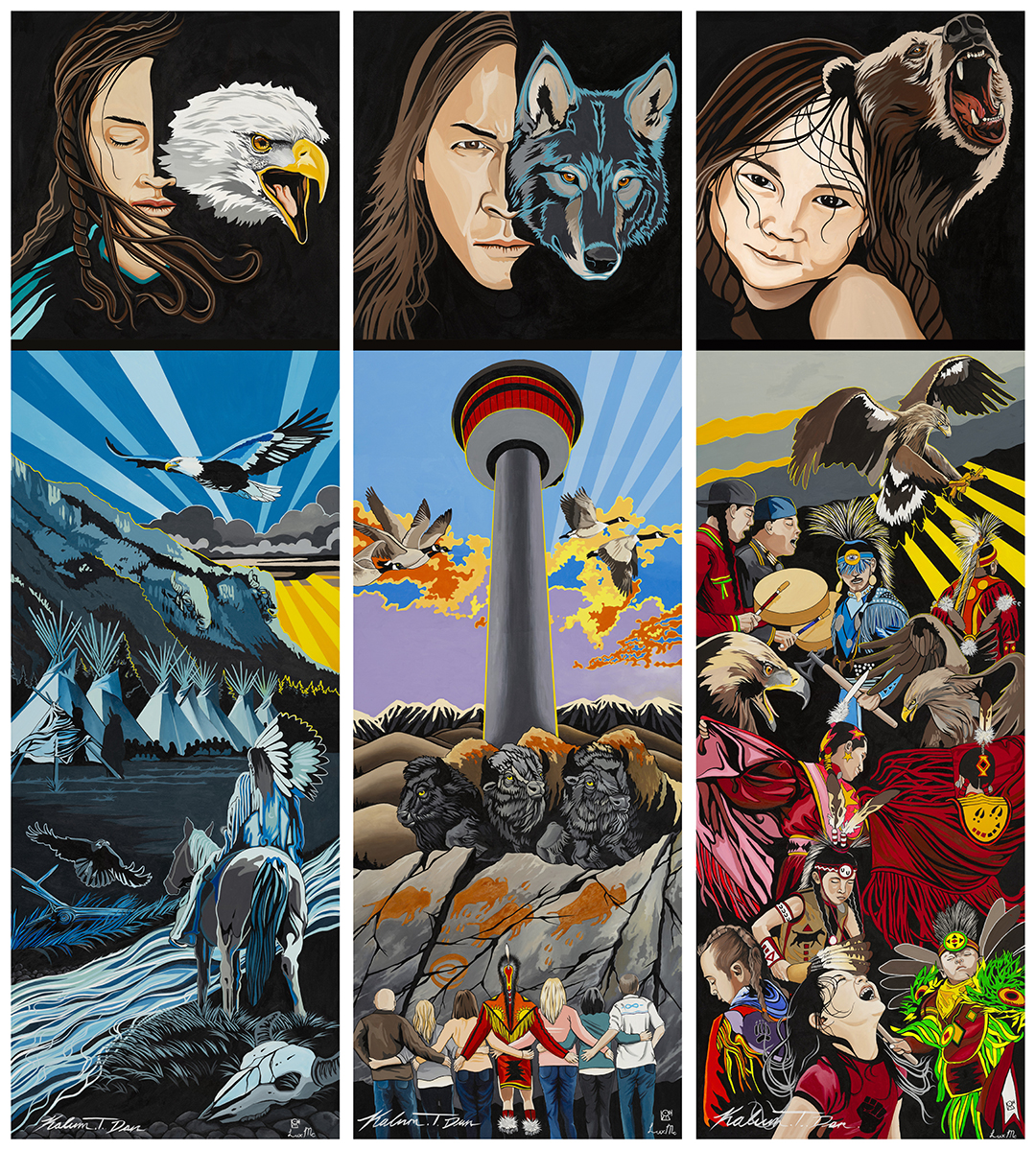 Indigenous Place Keeping program
The Indigenous Place Keeping program features educational programming, workshops and art by Indigenous artists in the municipal building, a place where Calgarians come to do business and where Council meets to make decisions.
The program supports artists, performers, curators and academics of all disciplines at any stage in their careers. It is open to all Treaty 7, Métis Nation Region 3, urban Calgarian Indigenous and Indigenous people from elsewhere that currently make Calgary their home.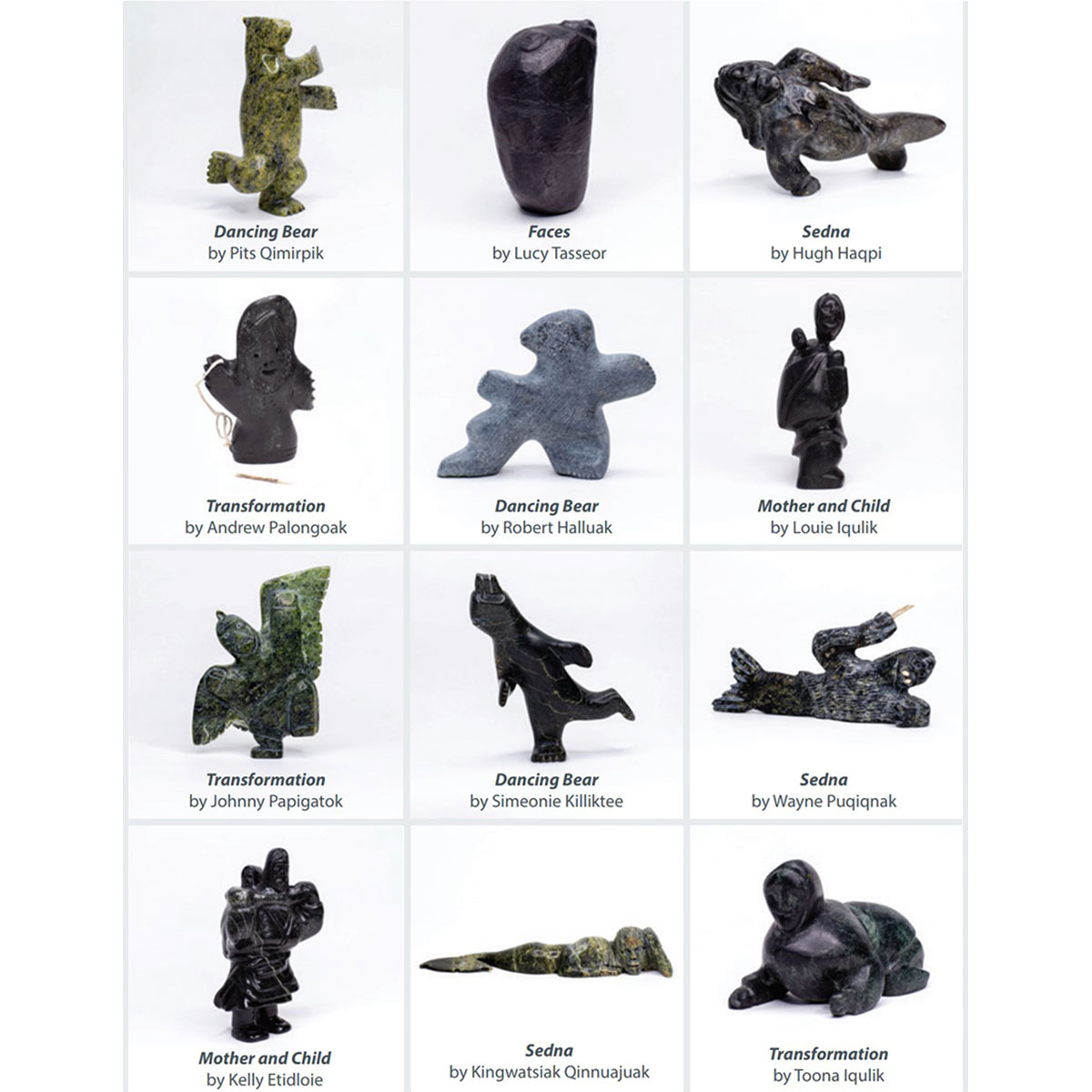 Tamaani | Here Inuit art exhibit
The Tamaani | Here art exhibit is a portable collection of 12 stone sculptures carved by artists from different regions of Nunavut. It is available for lending to teachers, schools and educational organizations in Calgary and area. Students will be inspired to further their learning about the rich art and culture of the Inuit of Canada.
The collection is curated by Sophia Lebessis, Canada's first Inuk to own an Inuit art gallery. In the words of the curator, "Tamaani (Here) is a starting point with which to relook at Inuit art, not as a homogenous art form, but the land coming to life, bringing one into the imagination of an artist's relationship with the environment that has shaped them."
Photography by Alana Bluebird-One Spot
Moh'kinsstis Public Art Guiding Circle
Since 2017, the Moh′kinsstis Public Art Guiding Circle has supported The City's public art program to respond and act appropriately in its relationship with Indigenous communities and citizens. The Guiding Circle is made up of Indigenous artists of different disciplines, from a variety of communities and who bring diverse perspectives. Public art concepts, whether created by Indigenous or non-Indigenous artists, are presented to the Guiding Circle for feedback to ensure they are respectful of the original people of this land.
Beginning in 2019, we worked with our procurement team on a project to help increase the number of Indigenous artists applying for, and being selected for, public art projects. This 14-month project aimed to enable long-term sustainable relationships among The City of Calgary and Indigenous Peoples. It focused on improving processes for reaching out to artists in Indigenous communities and finding the best way to commission them.
In 2019, a field guide and an education guide were produced in response to the Wolfe and the Sparrows project. They were written and edited by Indigenous writer and art educator, Steve Gin, to help educators and grades 5-9 students explore this and related artworks.
The 2019 Street Art Program for Youth brought together Indigenous artists, Indigenous Elders and Calgary youth. They shared teachings and explored common values with the youth Over a six-week program. This collaboration resulted in the mural, Our Window on the wall of the Downtown Calgary Mosque.
In 2017, the Indigenous Artist in Residency program invited Treaty 7 and local urban Indigenous artists to participate in a three-month long residency. Artist Danielle (Danni) Black, also known as Sui Taa Kik (Sue-Da-Gee), Marina Crane (Hapan Kinyewakan) and Sheldon First Rider were selected to take part. The program was designed to foster a supportive environment for Indigenous artists in Calgary. It also provided dedicated research time for Indigenous artists interested in working within a municipal government context and in pursuing public art as part of their practice.