Title of Artwork: Outflow
Artist: Brian Tolle
Location: Parkdale Plaza (along the Bow River a the end of 34A St. N.W.)
Public Art Budget: $1.85M
Commissioned by: Utilities and Environmental Protection
Project Completion: June 2015
​​​​
Concept
Outflow is a segment of The City's stormwater system that has been transformed into a sculpture of an inverted mountain in newly developed Parkdale Plaza along the Landscape of Memory.
The inverted replica of Mount PeeChee, the third highest peak in the Fairholme Range just north of Canmore in the Bow River watershed, memorializes the glacial origins of the Bow and how it has shaped our city over the years. As we watch stormwater travel from the surrounding community through the inverted mountain and into the Bow via an outfall, we visualize the journey of our river and gain insight into the impact our actions have on its health. The low profile, horizontal sculpture cast from high-performance Ductal™ concrete accommodates the sight lines of nearby residents and passersby, as well as the safety of visitors. The sculpture itself acts as a handrail and conforms to all design requirements and safety codes.
The integrated artwork is framed by Parkdale Plaza, an inviting space for the community and pathway users to stop, pause and connect. Together, the elements of the plaza - benches, native and low-maintenance landscaping, low-level lighting, the integrated sculpture and an upgraded outfall – highlight the delicate balance between our natural watershed and our built environment.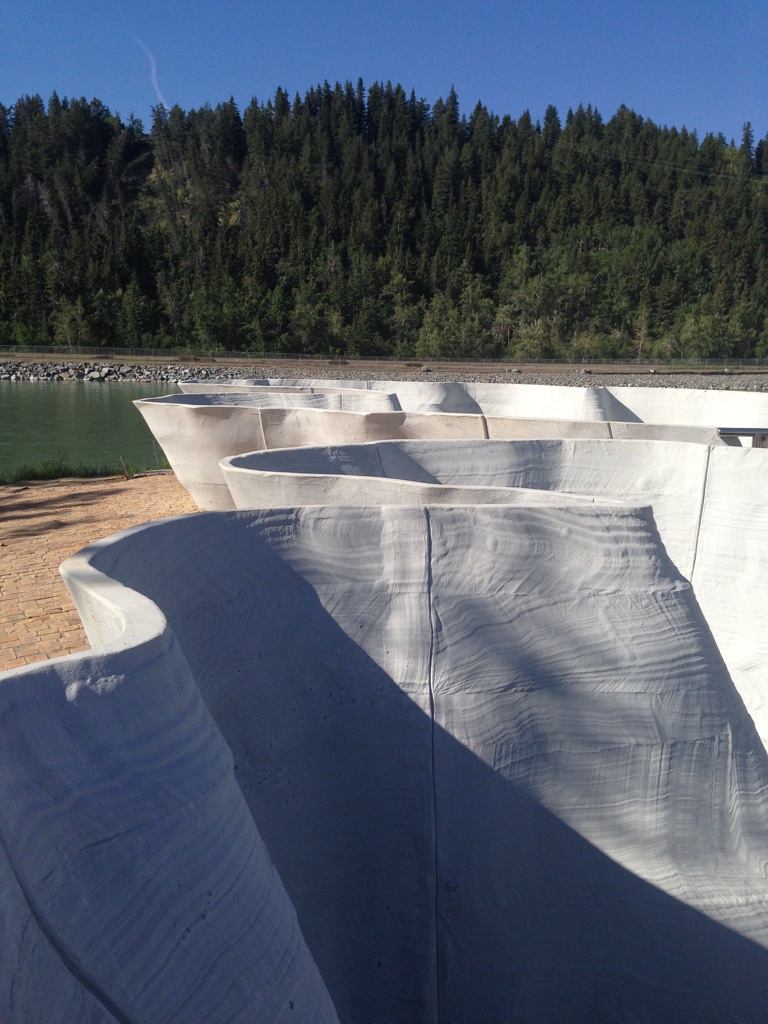 Detail of "Outflow" by Brian Tolle​
​​​​​​
The Artist
Brian Tolle is an artist of international acclaim whose work is found in cities worldwide, from the UK to Switzerland, Cuba to all over the United States. One of his most famous collaborative works to date is the Irish Hunger Memorial – a half-site in the heart of New York's financial district.
In order for this complex project to succeed, the project team needed an artist with experience in the integration of art with engineering and architecture, and who could work collaboratively to create a space that both addresses the community's needs and communicates a meaningful and enduring message.
The Project
Architects, engineers and artist Brian Tolle worked together to develop a space that speaks to the Landscape of Memory, celebrates our river's journey, connects our community and provides insight into our infrastructure and our role in protecting our watershed. After meeting with the community members, pathway users and citizens, the design team was inspired to create the space that celebrates Calgary's relationship with its glacial waters, provides a space to pause and reflect and draws attention to the impact of stormwater on our rivers.
This project is part of the Landscape of Memory Redevelopment Project, as well as one of eight permanent projects outlined in the Utilities and Environmental Protection (UEP) Public Art Plan. This plan, developed to guide how UEP invests its pooled public art contributions, demonstrates how the systems and processes of Calgary's water management can be used for creative expression, education and awareness.
Brian, with local architect Marc Boutin, discussing the project.
​​​ ​​​​​​​​​​​​