Each year, The City of Calgary commemorates Social Work Week in March, which is a time to celebrate the positive impact that social workers have in our organization and communities. This year, Social Work Week is being celebrated March 6-10, 2023.
Using a community development approach, Community Social Workers partner with residents and other stakeholders to identify opportunities for increased social inclusion and economic participation in their neighbourhoods.
Social Inclusion: Neighbourhoods are stronger when everyone has supports and opportunities be included. Through building relationships and working together, community social workers ensure that people who have often been excluded from community life are supported to participate, volunteer, and take on leadership roles in their neighbourhood.
Economic Participation: Increasing economic participation is an important way to increase social inclusion. Community social workers help remove financial barriers to participation and support community activities that will help keep money in people's pockets.
Community development is based on relationships and often starts with a conversation. Through these conversations Community Social Workers may identify a neighbourhood problem that needs solving, skill or assets in the community, an opportunity to start a project, or other ways to connect people to each other. Community Social Workers can then provide support, connections, resources, and opportunities to turn ideas in actions.
What do Community Social Workers do?
Connect community members with one another to increase a sense of belonging for everyone
Work with community members to build their awareness on social issues that impact their neighbourhood
Collaborate with community members to work on initiatives and projects in response to their neighbourhood interests and needs
Create opportunities for networking, conversation, and skill building
Support community members to be champions and leaders of their neighbourhoods, by creating leadership training and offering meaningful volunteer opportunities
Working with local partners and stakeholders, Community Social Workers look for opportunities to activate and create welcoming and inclusive gathering spaces. The goal is for these community hubs to be incubating spaces for community connections, capacity building opportunities, and places where residents can access services and supports right in their community. Working alongside residents and partners, Community Social Workers identify barriers and opportunities for residents to participate in community life.
This work contributes to the Community Hub Initiative with the goal of supporting residents to increase social inclusion and economic participation, facilitating connections between neighbours and enhancing access to services and supports, and building stronger neighbourhoods.
The Community Hub Initiative started in 2017 as a partnership between United Way of Calgary and Area, The City of Calgary, and Rotary Clubs of Calgary with a five-year plan to activate Hubs in priority neighbourhoods.
In 2022, The City and United Way of Calgary and Area have renewed their commitment to this work. Our refreshed five-year strategy for Community Hubs (2022-2026) aims to deepen impact, partnerships, and sustainability at hub sites.
The hub locations are Bowness Community Association; Sunalta Community Association; The Alex Community Food Centre (Greater Forest Lawn); Bob Bahan Aquatic and Recreation Centre (Greater Forest Lawn); Village Square Leisure Centre, and North of McKnight Community Hub at Genesis Centre.
We borrow books and bring them back to the library after we are finished, so why not use the same idea for tools, toys, baby clothes or sports equipment? The lending library toolkit will guide you to set a lending library in your community.
Community economic development (CED) is an intervention used by community social workers (CSWs) at The City of Calgary to support the strengthening of economic and social inclusion in neighbourhoods. The "Community Economic Development Neighbourhood Framework" guides The City's CSW program. There are specific factors that are considered in community economic development, outlined below: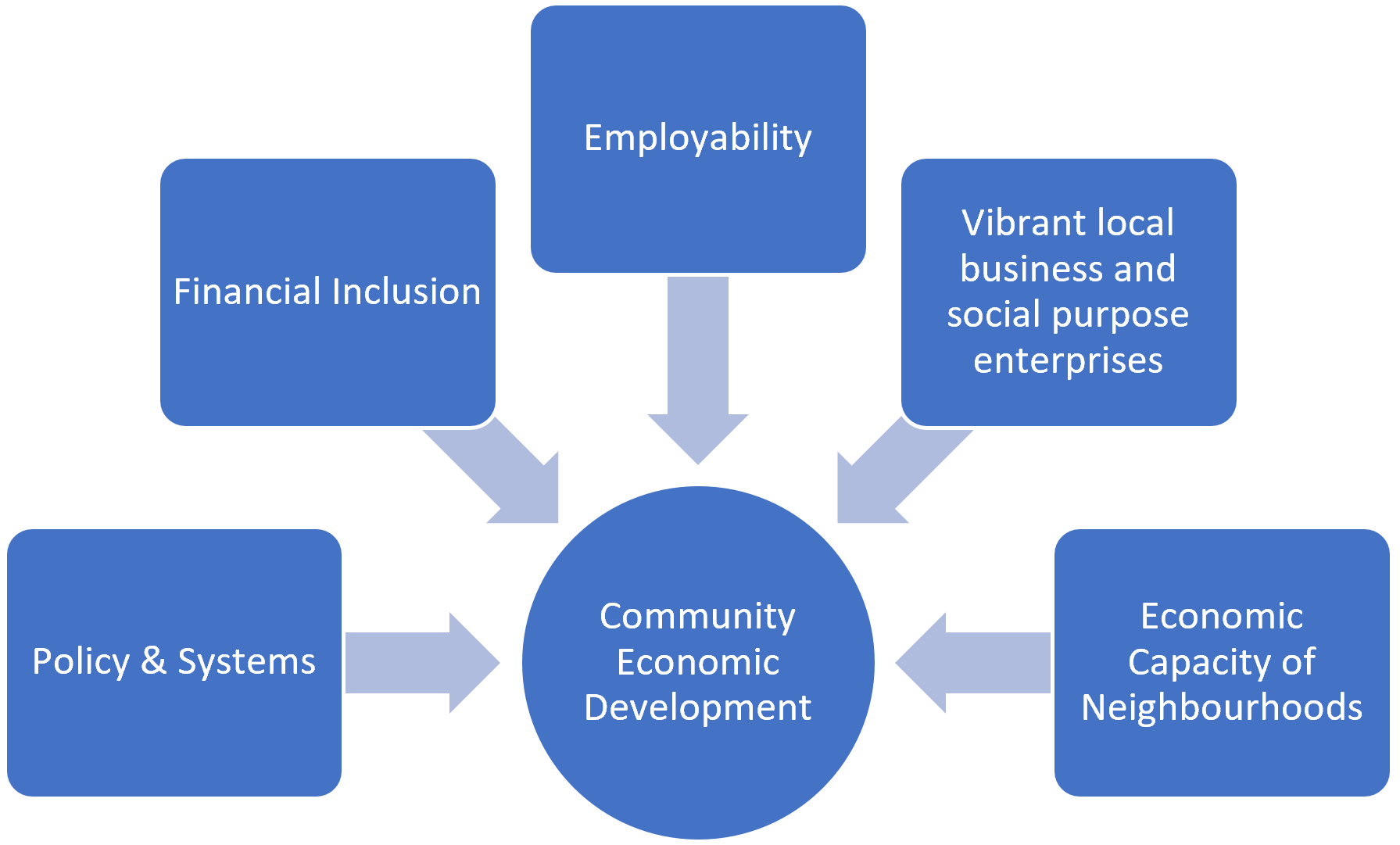 Employability – CSWs support residents to increase their employability by providing meaningful volunteer experiences, workshops, developing skills, and training and education opportunities in neighbourhoods.
Policy & Systems – Creating opportunities for people to come together to talk about issues impacting their lives, to learn about social issues and how policy change happens, to develop community action plans and by connecting residents with groups advocating for changes.
Economic Capacity of Neighbourhoods – This is the extent to which people, families, community groups and institutions, and businesses work together to meet the needs of those who make the neighbourhood their home. CSWs support projects and initiatives that facilitate connections among the different community members to benefit the economic wellbeing of the neighbourhood as a whole.
Financial Inclusion – CSWs build relationships with residents who are often excluded from mainstream financial institutions and support them in exploring skill-sharing and cost-saving workshops. They build partnerships with community organizations to embed financial empowerment in the neighbourhood through programs like matched savings, free tax and benefit clinics and financial literacy education.
Vibrant Local Business and Social Enterprise – In a strong neighbourhood, residents support local business and local business supports community. This contributes to complete communities where residents can meet their needs locally. CSWs build relationships with local businesses, help to facilitate learning opportunities about community economic development and support marginalized residents to develop and incubate small businesses and other opportunities for supplementary income generation.
Matched Savings Programs
What does it look like to take matched savings programs to the neighbourhoods? The CSW program has partnered with residents to deliver customized matched savings sessions, removing barriers to participation by making the sessions local, accessible, and flexible to meet residents' needs. Lead residents are supported to take a financial coaching course, and given the opportunity to practice their coaching skills in the neighbourhood sessions. The CSW program continues to look for funders willing to partner and provide the matching funds for this program. 
Neighourhood Grants
In some neighbourhoods where CSWs are located, a small granting program is created. The rationale for this is some residents have great ideas on how to create community, but may face financial barriers to move from the idea stage to action. The granting program is designed to support resident led initiatives, and up to 1000$ can be requested. Helping guide the applicant is the CSW and a neighbourhood granting advisory committee, comprised of local residents who volunteer their time to support the granting program. 
Neighbourhood Connectors
Neighbourhood Connectors are residents in the neighbourhood that agree to work with their local CSW to spark and support community initiatives that involve and are supported by other residents. The Neighbourhood Connector role is supported with leadership training and coaching and receives an honorarium or money for their time. This investment in community leadership is part of a larger investment in the local residents to learn, develop and practice the skills associated with being a community leader. 
Food (In)security Programs
Food insecurity is prevalent in many of our neighbourhoods, and always links back to the reality that people do not have enough money to access quality, affordable, and culturally appropriate food. The CSW program works with other organizations to ensure neighbourhood residents have access to programs to support this need. Food (in)security conversations, community gardens, cooking programs and collaborating with the food sector on broader systemic policy work are some examples of food insecurity initiatives offered by the CSW program.
​​​
​