Preparing for an emergency as a person with a disability
Emergency preparedness planning for someone living with a disability like vision loss, hearing loss, reduced mobility, or additional medical needs may involve more specific planning.
In addition to the information on this page we have a Persons with Disabilities Guide that will help you learn more about preparing for you or your loved one's specific needs.
How to prepare for an emergency
When preparing for an emergency, be sure to self-identify to your support network, neighbours, and building management. You should also be prepared to provide clear and concise instructions to emergency services personnel and others who may be assisting you in an emergency. If you have difficulty speaking, consider having this information available on a printed card(s).
Do you need to be able to text emergencies to 9-1-1 within Calgary?
Get emergency alerts
The most effective way for emergency services to communicate information about an emergency or disaster is through mass communication, including traditional means, like radio and television, and social media.
If you are blind, deaf or hard of hearing, plan for someone to convey essential emergency information to you. You can also investigate pagers and text radio options that can assist you in receiving emergency information from local officials. Learn more about alerts.
Make a household emergency action plan
An emergency action plan can reduce the impact of an emergency situation. Making a plan will ensure that you and your family members know what to do and who to call. Make sure to consult your doctor and health care team for any advice they can provide to your plan in the event of an emergency. Learn how to build an emergency action plan.
Plan for your equipment
​Teach those who may need to assist you, such as a co-worker or caregiver, how to operate all necessary equipment and let people know which evacuation technique you prefer. You should also label all equipment and attach laminated instructions about how they are used.
Know your escape routes
Locate escape routes, emergency exits and safe places such as muster points or emergency assembly area. If you live in an apartment, ask the management to identify and mark accessible exits and access to areas designated for emergency shelter, or safe rooms. Learn about your building's evacuation procedures and plans for alerting and evacuating those with sensory or mobility disabilities.
If you have a disability impacting our mobility, check with 311 to find out if emergency shelters in your area are wheelchair accessible.
Build a 72-hour emergency kit
During an emergency, responders may be busy assisting those in immediate need. Building a 72-hour emergency kit will enable you to better manage an emergency situation. This kit holds supplies to support you and your family in the event of an emergency. Include any food tailored to dietary restrictions, and make sure that your kit is wheeled and easily accessed.
We also recommend that you add the following items depending on your disability and needs: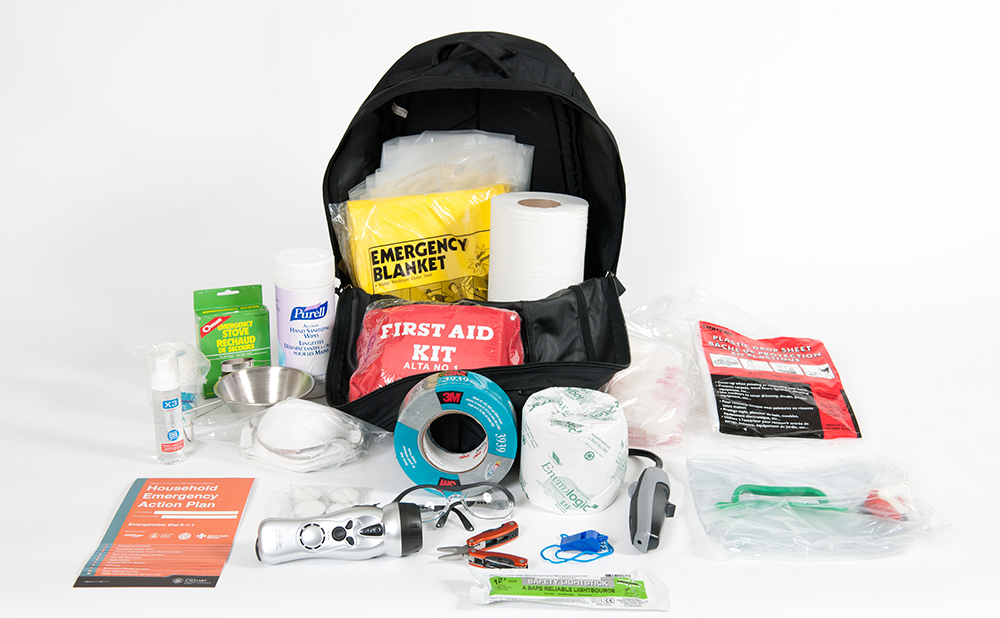 Writing pads and pencils for communication
Visual cue cards with pre-printed phrases you would use during an emergency such as "I use American Sign Language"
Additional hearing aid (if you have one) and extra batteries
Portable visual notification devices to know if someone is knocking on the door or calling on the telephone
A talking or Braille clock
Assistive technology you use to access information such as emergency alerts
Spare glasses
Extra white cane
A 72-hour emergency kit for your service animal
In addition to these items, you should ensure that your 72-hour kit is easily identified and accessed. Consider labelling emergency supplies with large print, fluorescent tape, or Braille.
A tire patch kit
Seal-in-air product
Inner tubes
A backup battery
A manual lightweight wheelchair as a backup to a motorized chair
A power outage backup plan
Heavy gloves for making your way over glass and debris
The make, model, and battery type of a powerchair (if you use one)
Contact information for battery suppliers
A list of your medications including name, dose, frequency, and the name of the prescribing doctor
Written information about how to administer your medications, what equipment you use, allergies, and your emergency medical contacts
Supply of food items appropriate to your dietary restrictions
At least a three-day supply of medication and medical supplies. Make sure to replace the supplies before they expire and ask your pharmacist the best way to store them.
Extra MedicAlert ®identification
Backup power options like batteries or a generator for any life support or essential medical devices