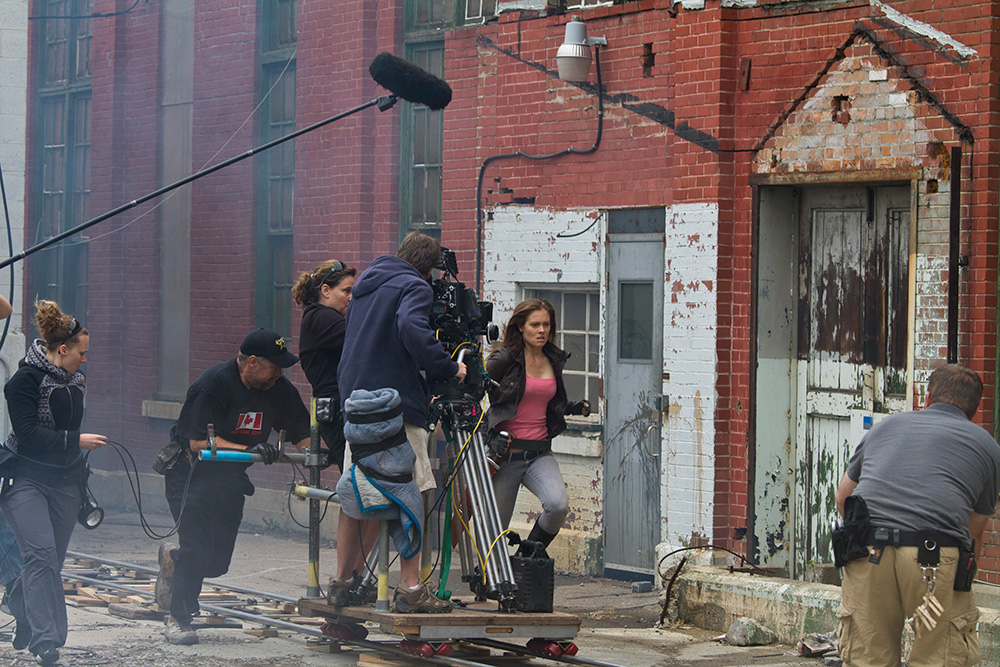 Photo courtesy Calgary Economic Development
No video specified. Configure this component to add a YouTube url.
Is that Seattle, New York City, or small town America you see on the screen? Or is it Stephen Avenue, Inglewood, the airport tunnel, or Nose Hill?
Calgary has been acting as a stand in for many locations over the decades, ever since American production companies discovered the little gem to the north. The filming and production of movies, television series, and commercials is becoming a more common sight on our streetscapes. And no one is more familiar with all of Calgary's charm than Jason Nolan, an independent locations manager with nearly 30 years in the business.
Jason was lured to Calgary from Vancouver to work on a miniseries and now has his own locations company partnered with his wife Shauna. "I jumped on the show and we were all over the province that summer, it was incredible," recalls Jason. "The mountains and the badlands and the prairies and these small towns – every day was a new exploration. It was just so great, I never went back."
"The majority of my work has been outside of the city until the last few years as a lot of shows will come here for the landscapes and the environment," continues Jason. "But that's changing quite a bit because Calgary is very generic in a way that it could play for multiple places and almost 'Anywhere USA'. With that flexibility, directors are definitely looking at what the city of Calgary has to offer."
Calgary has been positioning itself as film-friendly since the early 2000s, and The City is piloting a film-friendly strategy to streamline processes, systems, and internal structure to enable more responsive, cross-corporate service delivery to the film industry. Part of the initiative is a dedicated team helping expedite permitting (locations, tents, and more), reducing red tape, and simplifying the fee structures and payment options for those companies accessing City-owned assets, locations, or resources.
"It is positive that The City of Calgary starts with yes and wants to be there to have a conversation and figure it out together, instead of filling out paperwork and waiting" says Jason. "Progressively over the last 10 years, we're getting busier and busier, there's more incentives and a lot more public awareness of the movies and TV shows that are made here. It is nice to know there is a dedicated resource at The City that reaches out and asks which processes can be improved and makes the effort to implement them."
Filming takes place year-round all over the city in buildings and parks, on roads and sidewalks, and occasionally Calgarians may experience temporary disruptions such as road closures and parking restrictions while filming takes place. The City and production companies do their best to minimize disruptions, scheduling them for off-peak times and allowing for advance notice to neighbours and commuters.
"There's been a lot of really positive feedback about Calgary, our locations, our people," explains Jason who most recently worked on HBO's The Last of Us due to be released in 2023. "Especially on this film I heard from the producers, the director, 'we couldn't do this anywhere else'. The film industry, even in LA, is a small community and word spreads fast."
"With the thousands and thousands of permit requests we put in on The Last of Us, we got every single one of them in time, we were never delayed, and all City departments pulled through," he continues.
Film productions shot in Calgary enhance the city's reputation as a world-class destination and add to the vibrant arts and culture scene. Calgary Economic Development estimates that creative industries are one of the fastest growing segments of Calgary's economy, igniting many opportunities while strengthening our city's economic diversification and creating thousands of jobs for Calgarians.
Wendy Lumby, a ski racing Olympian and local talent agent agrees.
"It's a wonderful industry to be involved in and it's certainly booming for Alberta. But, you really notice it in recent years. Kevin Costner was in town, we had the Ghostbusters family here, Jumanji did a unit shoot here," says Wendy. "The Last of Us is the biggest production we've had here ever. And we had it for a full year, which is amazing that a production comes for that length of time, putting people to work and production companies spending money. As we see more and more productions coming here, it is only improving our economy."
Calgary is Canada's fourth-largest film and TV production jurisdiction (behind Vancouver, Toronto and Montreal). Canada competes with Great Britain for the second largest film and TV production spend in the world, behind the U.S.
Even throughout the height of the Covid pandemic, Wendy estimates that through her talent agency, Faces of Wendy, she was able to find work for literally thousands of people.
"While the rest of the world was kind of shut down, we came up with these incredible ways to keep our actors and our crew safe on all productions with very, very strict protocols in order to keep shooting."
In addition to the myriad of landscapes and locations found in Calgary and area, Wendy says companies looking to feature authentic characters are impressed by the diversity of the local talent.
"I'm very proud of being the only Indigenous Olympic alpine ski racer ever, and equally as proud to be the only Indigenous talent agent," says Wendy. "With my agency, I've tried to focus on different ethnicities, and it's known for its strong diversity. When a company comes in search of Indigenous People, they'll usually come knocking on my door, and I appreciate that. It's an industry open to all ethnicities, opportunities for many, many people, and with all the different productions happening, we're a lot busier than people think."
What could the future hold for the film industry in Calgary?
"The feedback I consistently hear is always what a great group of people here in Alberta, very accommodating, very nice, but very professionally run," says Wendy. "That's a huge bow to everybody here because we are working very hard to have an appeal to a bigger audience and bring more attention to what we offer. When we're accommodating and if we give them what they want, they'll come back. If we shut down downtown Calgary for a few days, you may be inconvenienced. However, when that show comes out, it's a massive nod to filming in Calgary, Alberta. I think that's an important selling point as we all work to really grow this industry."
Jason shares similar feedback, proud to be a part of Calgary's hotbed of creative talent that has helped attract more shows in recent years.
"We can all take pride in seeing Calgary's beautiful landscapes and recognizable landmarks on the big screen," says Jason. "I hear it all the time how lucky we are and what a great place to live. They're very jealous."
Locations manager, Jason Nolan
Help Calgary be a film-friendly city.
Be cool: As a Calgarian, you're part of the inner circle - don't share secret film locations on social media!
Stay cool: Sometimes road closures are required for filming. Stay tuned to City traffic reports, and allow a few extra minutes to get to your destination.
Share your love and support for Calgary's film and TV industry #yycFilmTV.
Learn more about Calgary's Film and TV sector, and re-share film friendly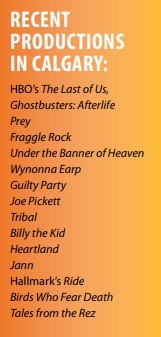 No video specified. Configure this component to add a YouTube url.
Categories: Arts, Culture, Employment