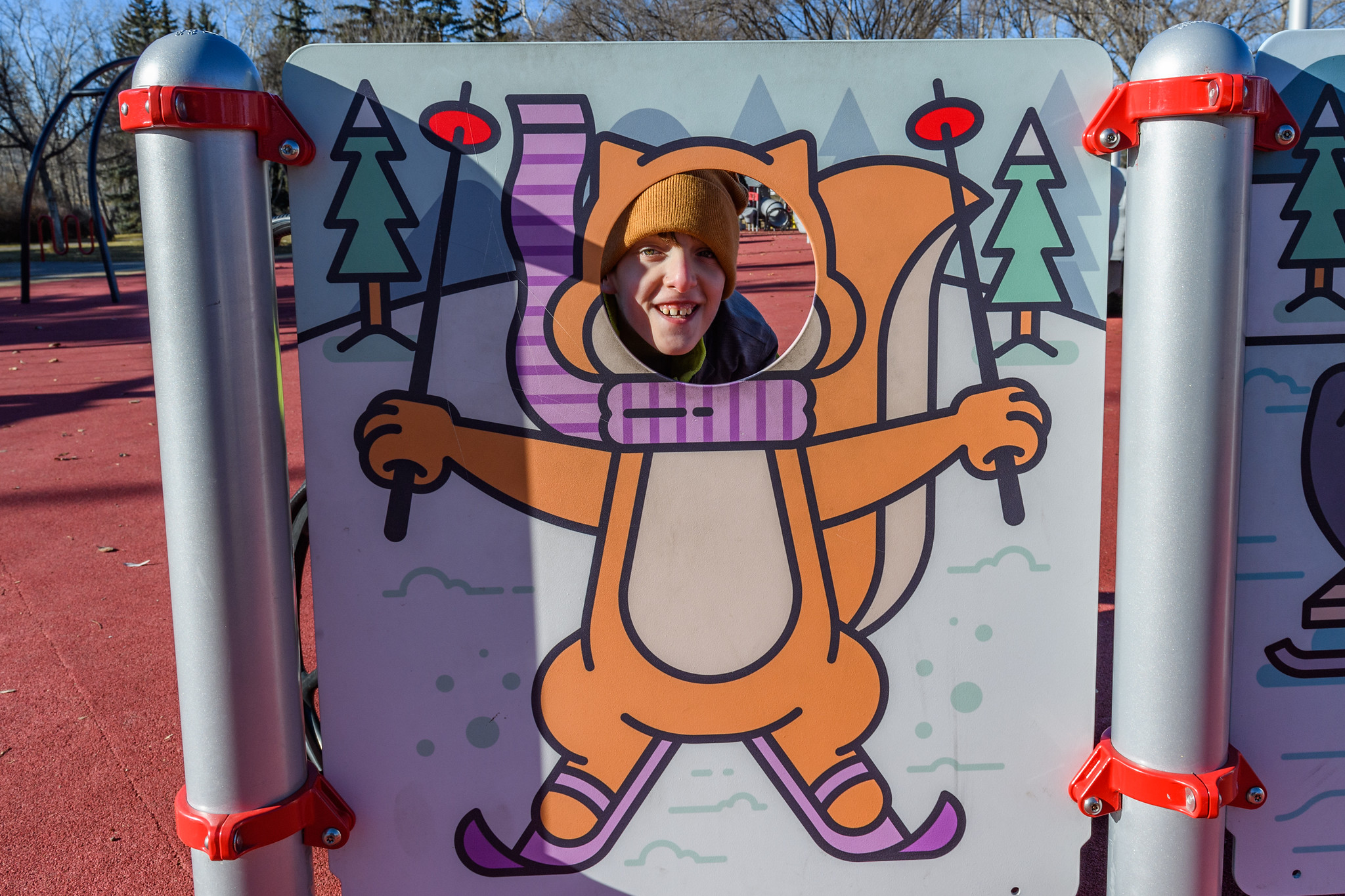 Playing our part in inclusive playgrounds
We can all imagine being a parent to three young boys makes for a busy household, and what better way to get outside and burn some energy than to visit the local playground. For Candice, this everyday activity, which many parents take for granted, isn't so easy. Her 10-year-old son Kanen, twin to Keagan, lives with cerebral palsy and uses a wheelchair – and unfortunately, most playgrounds simply aren't accessible or inclusive.
"I would see a lot of moms sitting and chatting, having coffee at the playground, but that wasn't my experience, ever," explains Candice. "Often when visiting a playground, we'd have to bring an aide with us to assist Kanen on the equipment. Having the twins and a younger son, it was difficult keeping an eye on one while physically assisting the other. It wasn't like I could go to the playground and meet friends for a playdate and just let the kids play. It had to be a planned event where I would bring someone with me. It is very physically demanding and simply wasn't enjoyable."
In 2018, The City of Calgary, with funding from Canadian Tire Jumpstart Charities, created Calgary's largest universally inclusive playground located at Shouldice Park, as part of an initiative to build several playgrounds of this kind across Canada. This playground set a new standard for inclusive play through imaginative and accessible spaces.
An inclusive playground goes beyond minimum accessibility standards to provide an environment where children (and citizens) of all abilities and needs can interact. These spaces utilize a set of universal design principles that guide the placement and overall function of the play structures, pathways, seating, equipment, and other amenities. Inclusive playgrounds are designed for equitable participation supporting the needs of a person with mobility limitations but might also cater to the needs of a child who is visually impaired or living with autism. In an inclusive playground, children, families and caretakers can play together in the same space, regardless of ability, needs, age, gender, culture, or race.
"An 'accessible' playground used to be a place where there was a ramp where a kid could go up to a platform to a steering wheel – that is not going to entertain anyone for long," laughs Candice. "There is so much more thought put into [inclusive playgrounds]. There are so many varying disabilities and kids with sensory issues, where a gravel, dusty surface just does not work. Being able to go to an inclusive playground, Kanen can play in his wheelchair instead of crawling to access the equipment and he can play unassisted."
Building more playgrounds
Also in 2018, Calgary Parks presented the Inclusive Play Spaces Implementation Plan to City Council. The goal was to begin planning inclusive playgrounds in Calgary, to support the importance of including everyone in play and recreation opportunities. With funding from the Alberta Government Municipal Stimulus Program and help from the Calgary Parks Foundation, The City was able to design, build and open nine inclusive playgrounds in 2021, with another scheduled to open in spring of 2022. Playground locations were selected based on a few factors:  if there was an existing playground onsite enabling easier development; a site large enough to accommodate the larger format of an inclusive playground; access to either a parking lot, accessible street parking, or close to major transit routes; preferably a nearby public washroom and; the route/pathway to the site is accessible.
Kimberley Presser, Chief Executive Officer of Between Friends, is thrilled to have a safe and inclusive playground that can be incorporated as a part of their member programming. Between Friends is a Calgary-based charitable organization providing opportunities for people with disabilities to feel included and develop lasting friendships. They offer recreation, social and development opportunities, both that Between Friends creates and delivers, as well as by supporting members in community-based programs.
"Inclusion is our highest priority at Between Friends because we believe that everybody should be valued and have the opportunity to reach their full potential within society," explains Kimberley. "Our flagship program and what we're best known for is Camp Bonaventure, which we offer at Sandy Beach River Edge Park, where a new inclusive playground was installed. We don't see the typical camper at Camp Bonaventure – our membership includes 86 different primary disabilities. Sometimes we have kids sign up and we have to research their disability because it's just so uncommon. Between Friends is just really appreciative that Sandy Beach was one of the playgrounds put forward. I'm not sure if that was purposeful because we are there, or if it just so happened to be a park that needed to be upgraded, but we're just really thankful that we get to access it."
How are these playgrounds different?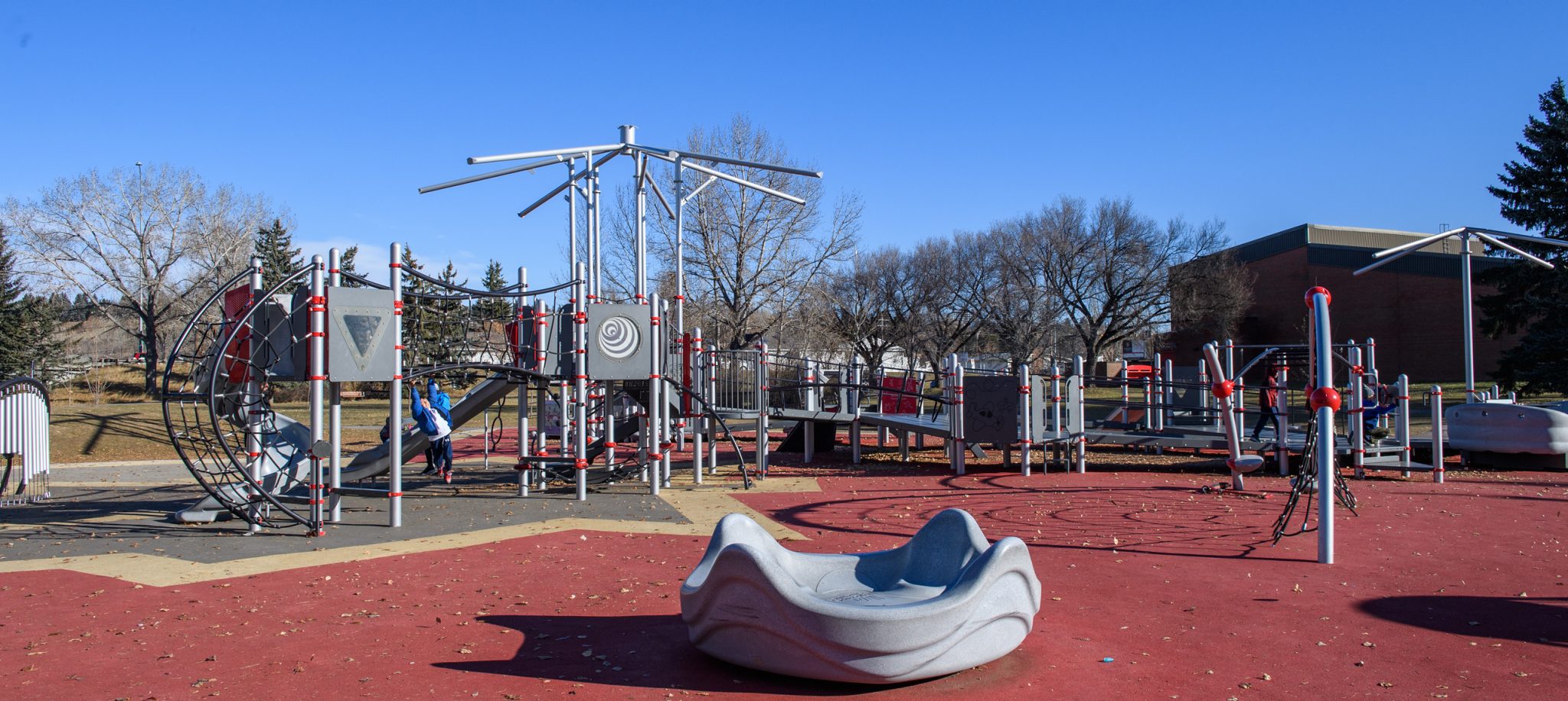 Innovations in playground equipment and space design allow for greater inclusivity. Considerations are made from a variety of perspectives - from the selection of colours of equipment such as high contrast stair treads, fencing and maze gates for safety, unitary surfacing with seamless transitions, tactile panels with Braille and sensory play areas, quiet spaces, and ground level equipment for ease of access for kids and caregivers with mobility devices.
"I think it's just phenomenal to know that The City of Calgary is at the forefront of this," says Kimberley.  "A publicly accessible inclusive playground for us means kids from our programs are interacting and integrating with other children from the community. Having these playgrounds just really helps us move through our vision of an inclusive community where people with disabilities are accepted and valued and exercise the right to play."
Kimberley notes the huge impact these inclusive spaces have on families. "As the parent of a seven-year-old, I know how chaotic and overwhelming our daily lives are. I take her to the park and she's off playing and I just have a few minutes to do something – whether that's drink a hot cup of coffee, answer a few emails on my phone. But when you have a kid with a disability, a trip to the park isn't like this. You are concerned if your kid is safe or engaged, or even overwhelmed…a child living with autism may find a typical park just too overwhelming. These [inclusive playgrounds] are safe spaces for anyone who wants to use them and connect with others and just be a regular kid. The opportunity for a child in a wheelchair to be able to use the swings is just incredible."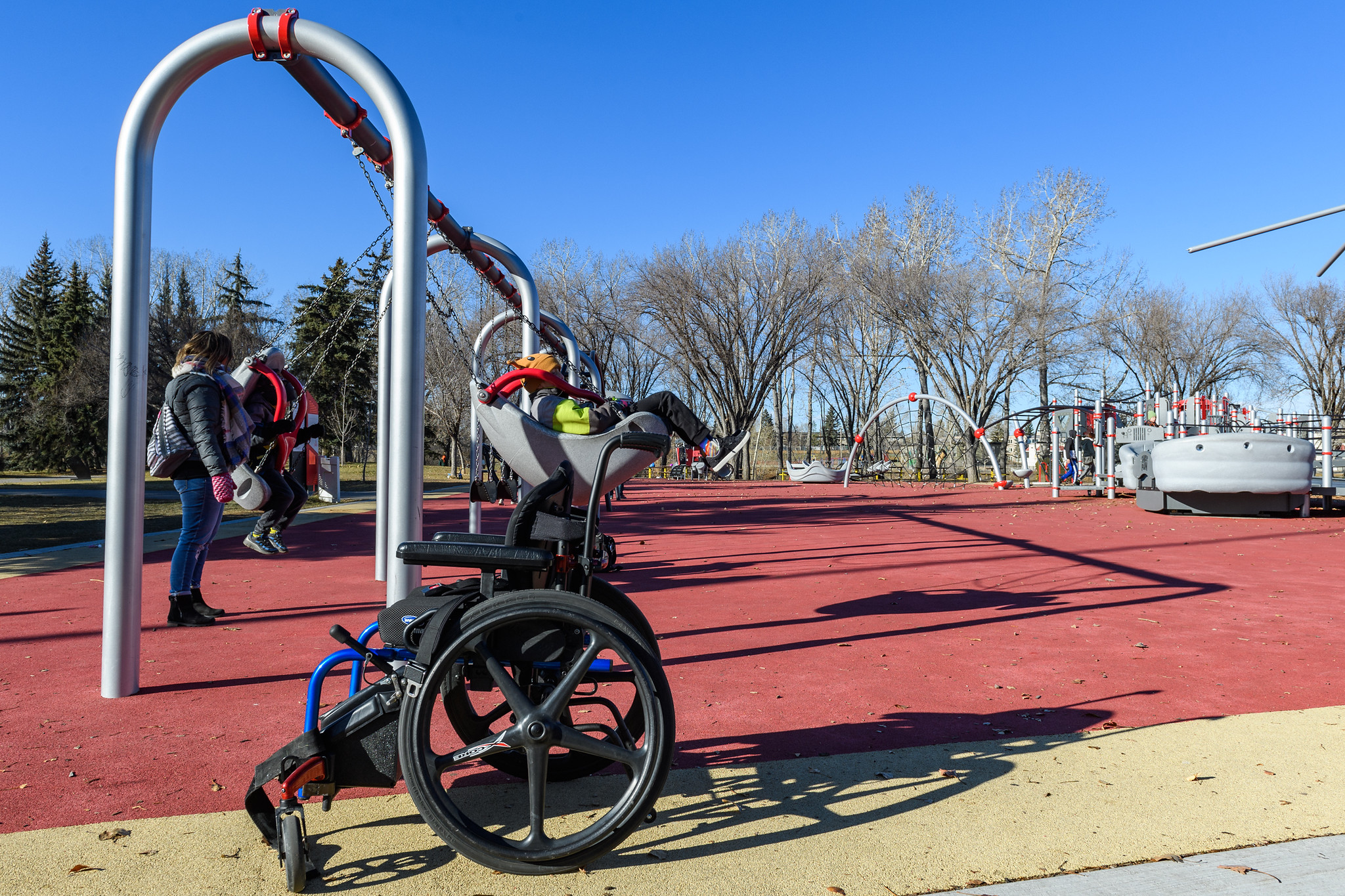 The City is committed to expanding the list of inclusive playgrounds across the city, welcoming all abilities in all four quadrants. As part of this initiative and for future planning, The City is seeking feedback from playground users to understand what improvements can be made to guide the design of future playgrounds. engage.calgary.ca/playgrounds
"It has just been awesome," says Candice. "I started working with cerebral palsy kids and families and so now we use a lot of the inclusive playgrounds as our coffee dates. It's another opportunity for us to provide support to families, and their kids can play, and the parents can talk and share challenges. It's been really great for us."
"Being able to go to these playgrounds, just impromptu, and not have to put all of my energy into helping Kanen to use the equipment … he can go and he can play. And I can play with them as opposed to just being a physical helper. For Kanen, he can roll around in his chair and play tag with other kids without them having to make adaptations to the game for him. He can actually just go and play it their way."
-30-
New Inclusive playground locations: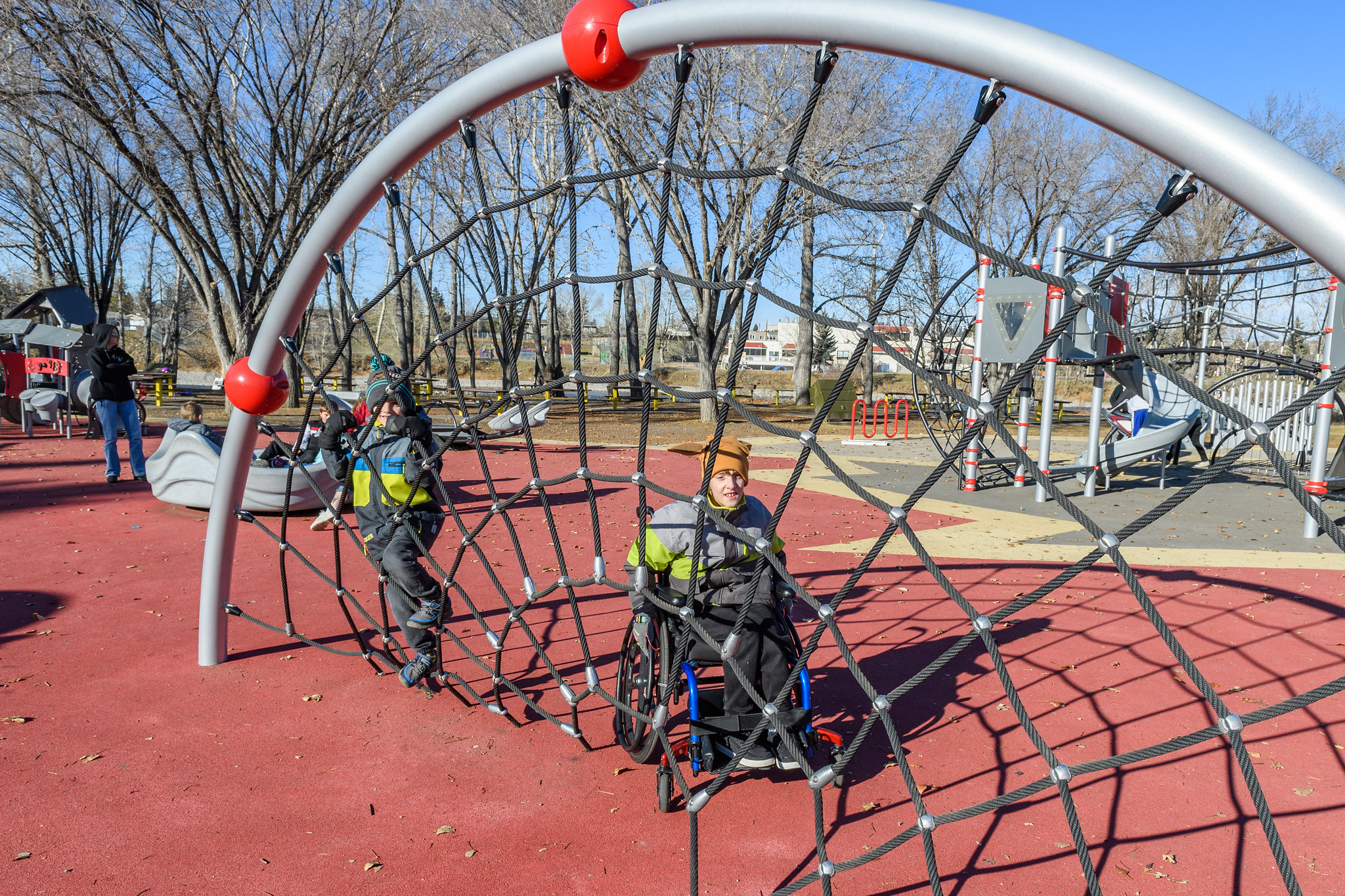 Edworthy Inclusive Playground
5050 Spruce Drive SW
Elliston Inclusive Playground
17 Ave SE and 68 St SE

Hidden Hut Inclusive Playground
10504 Hidden Valley Dr NW
Glenmore South
8415 24 St SW
Glenmore North
7305 Crowchild Trail SW
Ramsay Inclusive Playground
MacDonald Ave SE & Bellevue Ave SE

Sandy Beach Inclusive Playground
4500 14A St SW
Somerset Inclusive Playground (open in spring 2022)
999 Somerset Square SW
Ted Harrison Inclusive Playground
Taralake Way NE & Taradale Dr NE
Vivo Inclusive Playground
Country Village Rd NE & Country Village Way NE
Have your say about creating accessible and inclusive play spaces
engage.calgary.ca/playgrounds

What is cerebral palsy?
Cerebral palsy is a term used to describe a group of conditions affecting body movement and muscle coordination. Any damage to the developing brain, whether caused by genetic or developmental disorders, injury or disease, can result in cerebral palsy.
I hope that The City continues to keep building these playgrounds because the more that we have throughout the city, the easier it's going to be to access them as a regular outing instead of as a planned destination.

 

Candice
Categories: Inclusive, Accessible, Parks