Supplies
Construction Paper
Glue
Googly eyes or black marker
Scissors
Paper roles
Cotton balls (optional)
Directions
Step One
Cut a large the body of the penguin and 2 wings from black construction paper and have the kids glue this onto one or two paper roles.
Step Two
Cut out another body out of white paper (smaller than the black one) and glue it on top of the black body.
Step Three
Cut out a beak and 2 feet, using glue to attach them.
Step Four
Place googly eyes on with glue.
Step Five
Optional: Stand and glue the penguin (by the feet) to a dark piece of paper (so it is standing) Have the kids dip 1 fingertip into white paint and then put dots all around the penguin to make snow. Paint a layer of snow on the ground (You can also rip up cotton balls for this)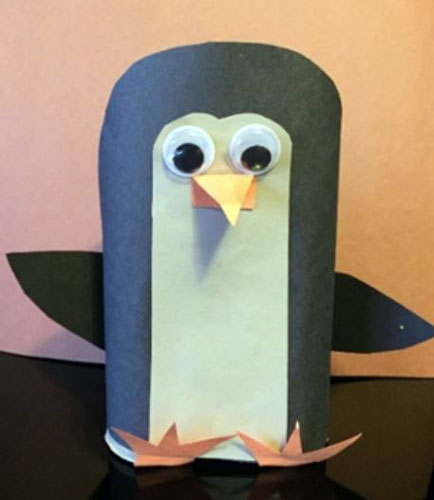 ​​​​​