Day 4 - A prosperous city
Local businesses are places that are rooted in Calgary and provide a service to citizens of Calgary. Do you know what business are locally owned in your neighborhood?
Have you ever wondered what it takes to start and run a business?
These activities can be done alone, but work best with one or more friends on a video chat like Skype, Zoom, Facetime, etc.
​Grades K-3
Mindfulness Activity
Trivia Question: Who is the City of Calgary's current Mayor?
a) Bill Turner
b) Jyoti Gondek
c) Peter Smith
Mindfulness Activity:
Put your palms together at chest height.
Push your hands against each other as hard as you can.
Which muscle gets tired first?
#GlenbowFromHome: Blind Contour Drawing
Supplies:
This activity is from The Glenbow Museum, an important artistic and cultural feature in Calgary. Watch a video to learn how to do a blind contour drawing.
Have your child pick someone in your family to draw. Try to draw their portrait without lifting the marker or pencil and do not look down at your drawing until finished.
When finished, look down at the paper and see your creation! Colour or paint your portrait.
The Glenbow Museum provides a virtual tour for kids every Wednesday at 10 a.m. Learn more on the Glenbow Museum's website.
Nature Trading Post
Supplies:
Table
2 shoe boxes
Collected items from outside
Have your child create their own store or trading post in front of your home. Collect objects from outside that you like. For example, a large pinecone or a pretty rock. These items will be your trading supplies. Clean your items well so they are safe. You can decorate these items, like painting your rocks or gluing beads to your pinecones. Be creative!
Decorate two shoe boxes. One shoe box will be for your trading supplies, while the second box will be for your new items.
Create a sign with the list of trading prices. For example, 1 pinecone for 1 heart shaped rock or 1 rock for 1 button. You set the trading price!
Put the trading post in a spot where people who live in your home can see it and make trades or add items.
Calgary Flames Ice Rink
Supplies:
Aluminum cooking pan
2 plastic or wooden knives
1 large button
Pipe cleaners
White piece of paper
Have your child make an ice rink. Draw the Calgary Flames logo in the middle of the white paper and add penalty lines. Glue the paper to the inside of the aluminum pan.
Create goal posts using pipe cleaners. Glue them onto the paper where the nets should be.
Use a button as the puck and the plastic knives as hockey sticks. Game on!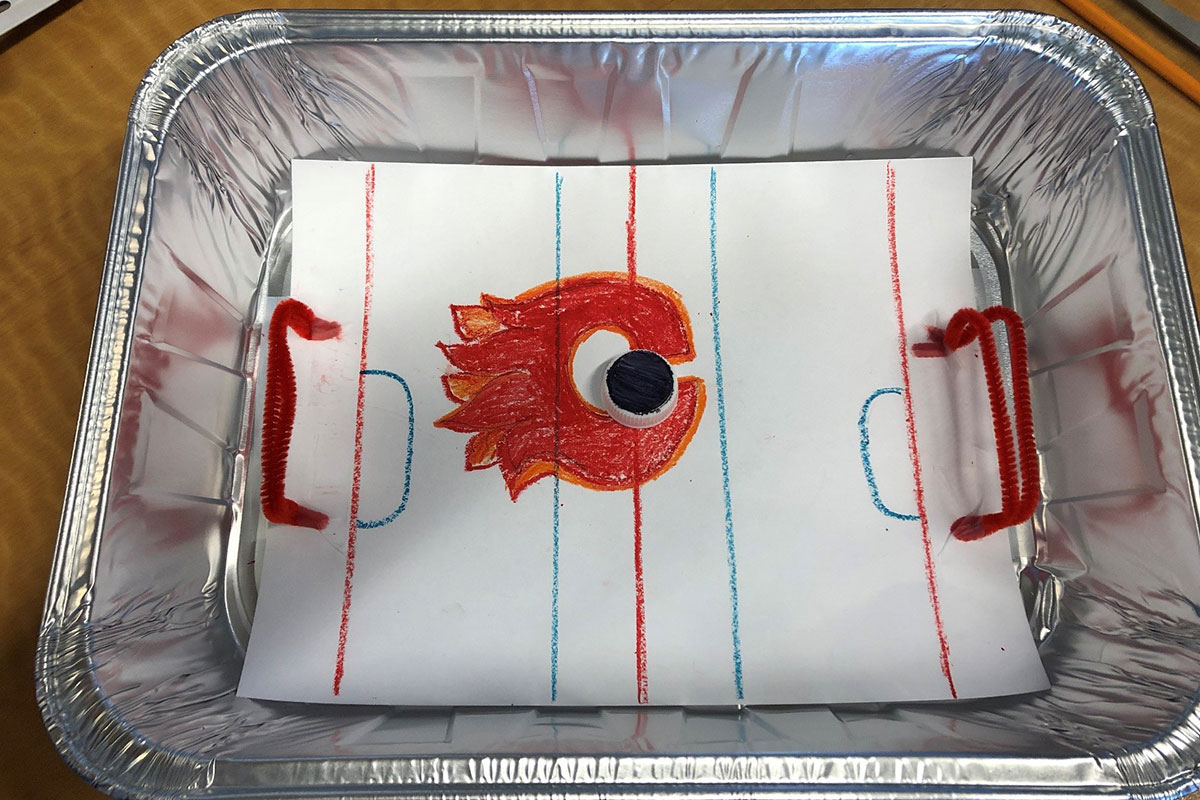 Review Questions
Ask your child:
How does it feel to share interesting items with other people? (Feel)
What other places would you like to explore using a virtual tour? (Think)
What are some other games you can play using your new ice rink? (Act)
Mindfulness Trivia Answer
Grades 4-6
Mindfulness Activity
Trivia Question: What world famous event was hosted in Calgary in 1988?
Mindfulness Activity:
Sit in a comfortable spot.
Take a deep breath in and bring your hands together.
Start rubbing your hands together slowly. Now a little bit faster.
Count down from 10. When you get to zero stop your rubbing your hands together but keep them pressed together.
Notice how your hands feel and notice the warmth you created with a bit of movement.
#BuyLocalYYC
Supplies:
Do you know what business are locally owned in your neighborhood? Have your child find one or more locally owned business close to your home. You can go for a drive, walk, ask your neighbours or search the #BuyLocalYYC hashtag. Make a list of all the business you found.
Choose one business and think of three ways you can support them. Some ideas might be telling other people about the business or encouraging your family members to go there.
Giving Campaign
Supplies:
Watch the Prosperous City video
Help your child organize a small donation campaign.
Research a non-profit organization in Calgary you would like to help. Find out what they need. Do they need money? Clothing donations? Food donations?
Plan an event where you can collect the needed items. You can make a donation jar, collect items at home to donate and let your friends and family know what you are trying to accomplish.
Make a small flyer with the name of the organization and ways people can help. Take a picture of the flyer and share it with your friends and family.
My Business Plan
Supplies:
A business plan explains the idea of a product or service and shows how it will make money.
Think of an idea for what product or service you want to offer. Think about your hobbies and talents. What can you offer that is unique?
Think about how you will market your product or service. Who will be your customers (adults or kids)? How can you persuade them to buy your product/service? What will your logo look like? How much will you charge? After writing down your ideas, show your business plan to a friend or family member and ask them for their feedback.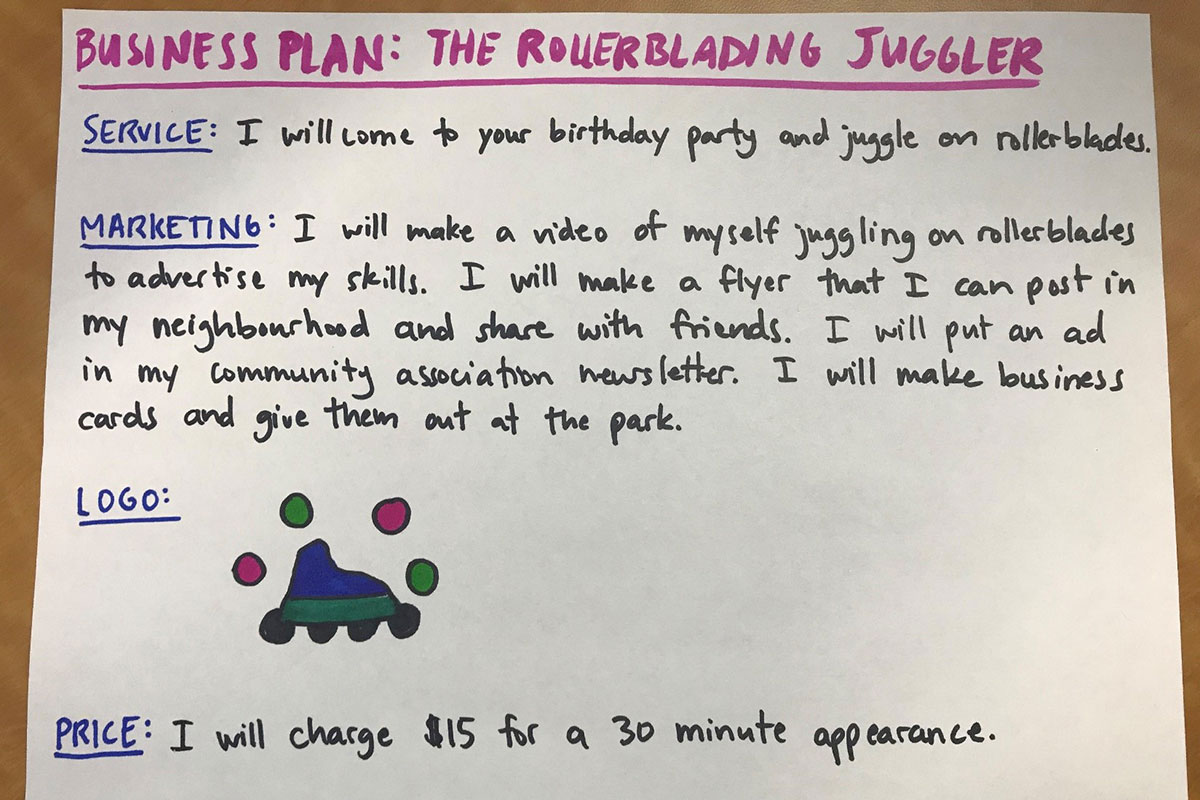 Review Questions
Ask your child:
How do you feel when you help others? (Feel)
Why do you think is important to be generous? (Think)
Money and things are not the only things you can give to people. What are some of the other ways you can help people? (Act)
Mindfulness Trivia Answer
Answer: The Winter Olympics.
Grades 7+
Mindfulness Activity
Trivia Question: How many smells can your nose remember? See Answer at bottom of page.
A. 5 thousand
B. 50 thousand
C. 5 million
Mindfulness Activity:
Sit down and notice your thinking.
In your head, tell yourself to relax.
Notice what happens next. Are there any more thoughts popping up inside your head? Are they negative or positive?
#Hashtags
Create #hashtag messages to share on social media that promote using local businesses. Local businesses are places that are based in Calgary and provide a service to citizens of Calgary.
Challenge your friends and family to help support other local businesses and see how many people support your cause.
For example, #BuyLocalYYC is one initiative aimed at supporting Calgary businesses. Learn more about supporting local businesses.
The Give Back
Work with your family or a friend to come up with a charity or non-profit you can support. Here are some ideas of how you could support the charity or non-profit you choose:
Give to the food bank or other food charities
Donate money or time to charitable organizations
Volunteer at a basic needs or health care organization
Foster a pet or donate old blankets and stuffed animals to a charity or non-profit that supports animals
Post messages or signs thanking workers at charities or non-profits
Connection Card
Supplies:
Connecting to each other is more important than ever during the COVID-19 pandemic. But many people are isolated and have no one to connect with them right now.
Think of neighbours and other vulnerable people, such as seniors, who may need someone to connect with them.
Get permission from your parents to send your neighbours a connection card. If you are not able to print the card, you can create your own by following the template or writing your own greeting.
Review Questions
How does it feel to give back? (Feel)
Why is it important to support local businesses? (Think)
What are ways you can support local businesses? (Act)
Mindfulness Trivia Answer
​​​​​​​​​