Culture - Day 1 grades 4 - 6 learning activities
These activities will help youth build cultural awareness and learn to identify their roots. They can be done alone, but work best with friends over a video chat such as Skype, Zoom, Facetime, etc.
Trivia question: I am an odd number. Take away one letter and I become even. What number am I?
Mindfulness Activity:
Imagine that your pointing finger is a candle.
Hold up your candle and take a deep breath in. Then blow out the candle on your finger for as long as you can.
Notice how your breath fills up your belly when you breathe in.
Supplies
Blank paper
Markers/ Colors
Have your child draw curved lines to make a giant fingerprint on a blank paper (they can look at their own fingerprints for help).
Have them write sentences and words that describe them on the lines in the fingerprint.
Ask your child: What are all the things that make you unique? What are your strengths? What makes you special? What are your goals/wishes?
Use different colours and styles of writing - make it as colourful and fun as you like.
Supplies
Coloured paper
Scissors
Recycled paper and/or cardboard
Double sided scotch tape or normal tape
Colors
Markers
Have your child draw leaves on blank (or recycled) paper.
In each leaf, ask your child to write the name of a family member or friend who is important to them.
Have your child create a tree trunk out of recycled paper or cardboard.
Arrange the leaves and tape them on the branches.
Find a window or door in the house where your child can tape up their tree and leaves.
Supplies
Magazines
Scissors
Glue
Paper
With your child, recreate the worksheet below on a blank piece of paper to explore your culture and your family traditions.
Have them fill in the boxes with their information.
Ask them to find images/words in the magazines that show their personality, culture and traditions. Have them cut out the images/words and create a collage.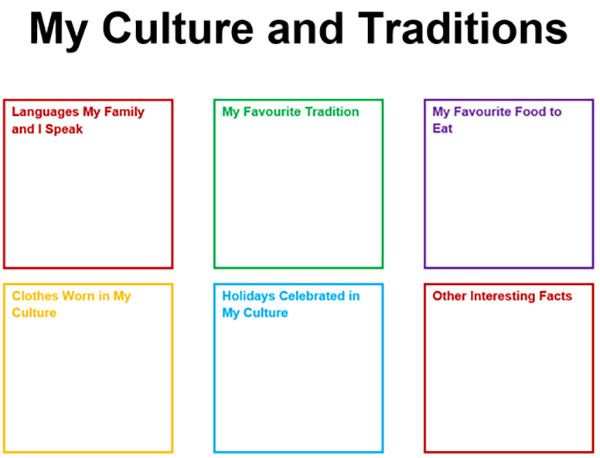 Supplies
6 inch paper doll cut-outs
Colour markers
Glue sticks
Optional:

Foam sheets
Buttons
Feathers
Sequins or beads
Pompoms
Yarn
This craft is a great way to help children see the differences and similarities that we all have. It should help them embrace their unique qualities and to be proud of who they are.
Help your child make a string of paper dolls.
Fold a piece of paper like an accordion (so it zig zags back and forth).
Draw half of a person along the folded edge.
Cut out the shape.
Unfold the paper.
Ask your child to use markers to draw eyes, nose, mouth, ears.
Use glue to attach yarn for hair or draw hair with markers.
Use glue to attach items to create clothing and any other items your child would like to add to their doll.
Ask your child:
What do you like most about your own culture?
Do you think it's important to know about your culture?
What else do you want to learn about your culture?
Mindfulness Activity: Seven (take away the 's' and it becomes 'even').​​​
​​​​​​​​​