General Range of Motion
These exercises are meant to help you get up and get active.
There is risk of injury when participating in exercise, physical fitness and physical training programs. If you have any concerns or questions about whether or not you should participate in exercise activities demonstrated on this website or videos offered on this website, you should consult with a physician or other health-care professional before starting any exercises.
The purpose of this NOTICE AND DISCLAIMER OF LIABILITY is to inform you that this website offers health and fitness information and is designed for educational purposes only. You should not rely on this information as a substitute for, nor does it replace, professional medical advice, diagnosis, or treatment.
BY PARTICIPATING IN EXERCISE ACTIVITIES FEATURED OR VIDEOS OFFERED ON THIS WEBSITE, YOU DO SO FREELY AND VOLUNATARILY AND ASSUME ALL OF THE RISKS AND HAZARDS OF PARTICIPATION, INCLUDING THE LEGAL RISK. THE CITY OF CALGARY DISCLAIMS ANY LIABILITY FOR INCIDENTAL OR CONSEQUENTIAL DAMAGES AND ASSUMES NO LIABILITY OR RESPONSIBILITY FOR ANY LOSS, PERSONAL INJURY (INCLUDING DEATH) OR DAMAGE (INCLUDING PROPERTY DAMAGE) SUFFERED BY ANY PERSON AS A RESULT OF THE USE OR MISUSE OF ANY INFORMATION, THIS WEBSITE AND VIDEOS MADE AVAILABLE ON THIS WEBSITE.
In consideration of performing or participating in these exercises shown on this website, you hereby agree to release and hold harmless The City of Calgary its officers, employees, volunteers and agents, against any loss, liability, damage, cause of action, cost, or expense of any nature whatsoever, including without limitation reasonable solicitors' fees and other legal costs.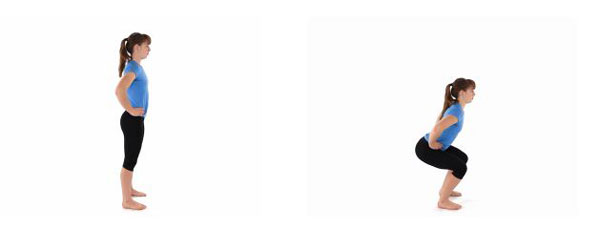 1. Bodyweight squats
2-3 sets, 12-15 reps
​​
Push hips back, flex knees and lower parallel to the ground.
Keep the back straight, chest out and shoulders back and down.
Ensure the knees do not pass the toes.
You can balance yourself by raising the arms forward as you lower.
​​​

2. Walking forward lunges
2-3 sets, 12-15 reps
Stand with your knees at hip width, take a step forward and bend your knee and hip to 90 degrees.
Keep your torso and your hip stable and the foot aligned with the knee and the hip.
Bring the trailing leg in front to make another step.
Repeat as indicated.​​

3. Wide stance push-ups
2-3 sets, 12-15 reps
​​
Lying prone, put your feet together and hands wider than shoulder-width.
Lower yourself all the way down so your chest almost makes contact with the ground and push back up.
Make sure to brace the abdominals and move yourself in one block so your pelvis is in line with the rest of your body at all times.
Do not let the chin move forward.
Keep the head in line with the spine.
​​​
If you need a modification, try doing this exercise from your knees, or perform the Wall Push-ups instead.​​

4. Wall push-ups
2-3 sets, 12-15 reps
​​
Stand about 12 to 18 inches away from a wall while facing it and place your hands on the wall at shoulder level.
Keeping your shoulders down and back, gradually bend your elbows to bring your face and forearms to the wall.​​

5. Strengthening triceps
2-3 sets, 12-15 reps
​​
Sit on a chair and place hands on the edge of the chair.
Slowly move your body in front of the chair by bending the elbows and the knees.
Straighten your elbows by pushing up on the chair.
Return and repeat.​

6. DB biceps curl (standing)
2-3 sets, 12-15 reps
​​
Keep your palms facing forward and curl the dumbbells up at the same time.
Do not swing your arms.
Keep your shoulders and shoulder blades in the neutral position.
Extend your elbows completely in the bottom position.​​

7. Partial crunches
2-3 sets, 12-15 reps
​​
Lie on your back with your knees bent and your feet flat on the floor.
Tighten your stomach muscles and flatten your back against the floor. Place your arms behind your head so that they are in contact with it, but not pulling on it.
Lift your head and shoulders up towards the ceiling; support your head, but avoid pulling on it.
Don't hold your breath. It helps to breathe out as you lift your shoulders up.
Lower head and shoulders back to the floor.​​
​​​​​​
Images courtesy of Physiotec​​​