Recess Break
As the weather turns nicer, we all want to get outside more. Exercising outdoors is the perfect way to get some fresh air, vitamin D and a dose of healthy activity. This week we explore tips and ideas to stay healthy, fit and safe while exercising outdoors.
​​​​​​​​​​​​
​​
Working outside is a convenient way to increase your fitness levels especially as the weather improves in Calgary. Here are some tips on how to stay safe while outdoors:
Schedule outdoor activities at cooler times of the day
Ensure you pace yourself. Start slowly and gradually increase the pace
Wear protective gear such as a hat or sunscreen
Ensure you stay hydrated. Bring water with you
As paths, parks and green spaces get busier, ensure you practice physical distancing
Be aware of your surroundings and the environment you are in
Ensure that you are breathing throughout your exercise session. Try and stay away from traffic and polluted air.
Whether you are walking, running, biking, playing golf or anything else, ensure you engage the core while reminding yourself of the use of proper posture. Check in every few minutes on your posture.
Listen to your body when you engage in physical activity. Exercising with pain is not recommended. Slow it down, reassess posture and technique.
Outdoor Activities can Include:
Walking
Hiking
Biking
Running
Golfing
Fitness Intervals (stairs, body-weight workout, etc)
There is risk of injury when participating in exercise, physical fitness and physical training programs. If you have any concerns or questions about whether or not you should participate in exercise activities demonstrated on this website or videos offered on this website, you should consult with a physician or other health-care professional before starting any exercises.
The purpose of this NOTICE AND DISCLAIMER OF LIABILITY is to inform you that this website offers health and fitness information and is designed for educational purposes only. You should not rely on this information as a substitute for, nor does it replace, professional medical advice, diagnosis, or treatment.
BY PARTICIPATING IN EXERCISE ACTIVITIES FEATURED OR VIDEOS OFFERED ON THIS WEBSITE, YOU DO SO FREELY AND VOLUNATARILY AND ASSUME ALL OF THE RISKS AND HAZARDS OF PARTICIPATION, INCLUDING THE LEGAL RISK. THE CITY OF CALGARY DISCLAIMS ANY LIABILITY FOR INCIDENTAL OR CONSEQUENTIAL DAMAGES AND ASSUMES NO LIABILITY OR RESPONSIBILITY FOR ANY LOSS, PERSONAL INJURY (INCLUDING DEATH) OR DAMAGE (INCLUDING PROPERTY DAMAGE) SUFFERED BY ANY PERSON AS A RESULT OF THE USE OR MISUSE OF ANY INFORMATION, THIS WEBSITE AND VIDEOS MADE AVAILABLE ON THIS WEBSITE.
In consideration of performing or participating in these exercises shown on this website, you hereby agree to release and hold harmless The City of Calgary its officers, employees, volunteers and agents, against any loss, liability, damage, cause of action, cost, or expense of any nature whatsoever, including without limitation reasonable solicitors' fees and other legal costs.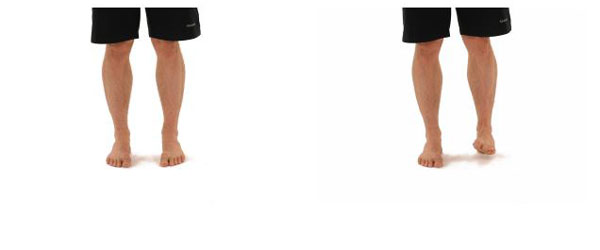 Stretch for foot
​​
Stand up and place toes on the floor.
You should feel a comfortable stretch on the top of your foot.
Hold the position for 10 seconds.
Repeat on the other side. ​
​

​​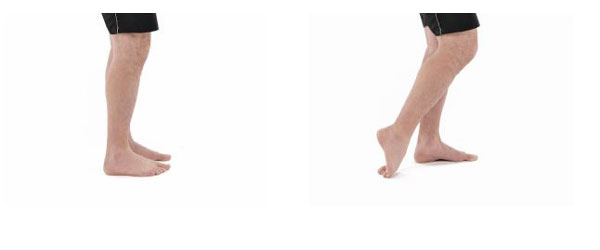 Strengthening of foot
Standing lift the inside of the foot off the ground and then lift the toes as high as you can.
Keeping your weight on your heel.
Lower the foot.
Repeat on the other side.
​​

​​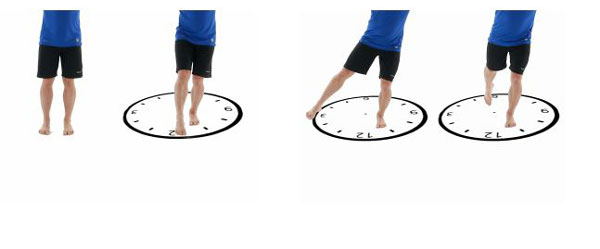 Standing leg strengthening
Stand on one leg and reach the foot forward, sideways and backward with the free foot. You can reach for 3 o'clock, 6 and 9, finishing with 12 (or 9,6,3,12 depending on the side).
Bend your support knee slightly for balance.
Modification - use a tree, wall, bench or post for balance.
Repeat on the other side.
​

​​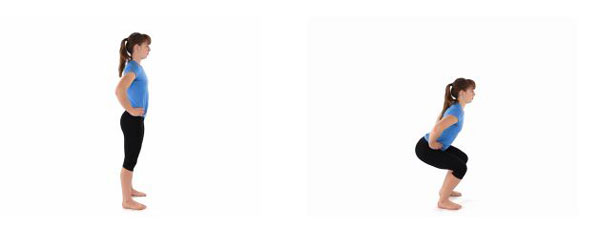 Bodyweight squat
Stand tall with feet hip width.
Initiate the squat by pushing your hips back, as if you were sitting on a chair.
Continue the movement by bending the knees, keeping them directly over the feet.
Lower yourself until the thighs are about parallel to the ground or to where is comfortable.
Using the glutes lift back up.
Ensure to keep the spine neutral and knees aligned with the feet at all times.
Breath throughout the exercise.
Modification: Use a tree, bench, wall or post for stability if feeling unbalanced.
​

​​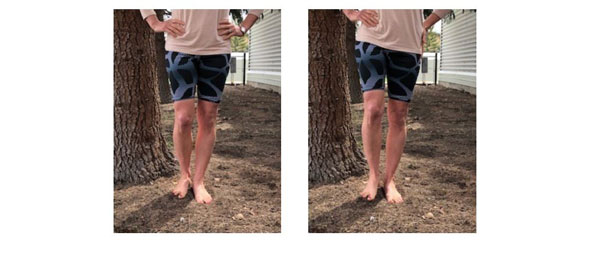 Pelvic lift
Transfer your weight to one leg.
Engage the glutes and the muscles on the side of the standing leg.
Slide the engage hip (standing leg) down and in 5 times -Repeat on the other side.
Modifications: For stability use a tree, wall, bench or post.
Keep in mind that the movement originates on the hip and not at the waist.
​

​​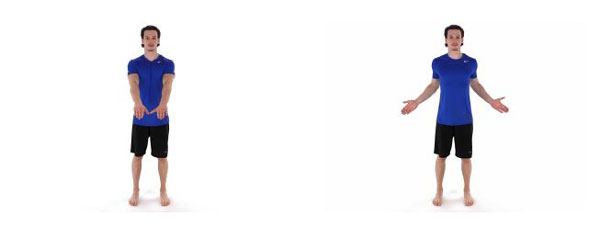 Shoulder strengthening
Stand with feet at hip-to-shoulder width apart.
Place both hands out in front of your body at hip height with the palms down.
Pull and rotate the arms back, bending the elbows and driving them back and down with the palms facing forward.
Ensure rib cage stays down and the head follows the line of the spine.
​

​​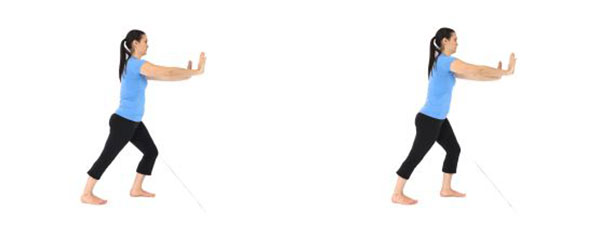 Standing calf stretch
​​
Stand and place both hands on a wall, with your feet about half a meter from the wall.
Place one leg behind the other and lean your body forward without bending the back knee until you feel a stretch in your back lower leg (calf). Maintain the stretch and relax.
Repeat on the other side. ​
​

​​​​ ​​​​​