Treaty 7 - day 3 we are all Treaty People
Recognizing the history of our continuing relationship with the First Nations community.
These activities can be done alone, but work best with one or more friends on a video chat like Skype, Zoom, Facetime, etc.
​Grades K-3
Mindfulness Activity
Trivia question: Which of these groups of people are not mentioned in Treaty 7?
A. Blackfoot
B. Stoney Nakoda
C. Iroquois
Mindfulness Activity:
Imagine that your pointer finger is a candle.
Hold up your candle, take a deep breath in, then blow out the candle on your finger for as long as you can.
Notice how your breath fills up your belly when you breathe in.
Land Acknowledgement
A land acknowledgement shows respect for Indigenous people who have lived here for as long as anyone can remember. It also recognizes their relationship with the land that we are living on. Help your child practice this land acknowledgement for your family. Have them say it out loud and do the actions:
Today we acknowledge our Treaty 7 friends, (show 7 fingers)
Where the Blackfoot meet on Elbow's bend. (touch your elbow)
Soon came the Tsuut'ina from the Beaver clans (make beaver teeth with your hands or the slapping of a beaver tale),
And the Ĩyãħé Nakoda who live in mountain lands (make mountains with your hands)
Last but not least, the Metis from Region three (show 3 fingers)
We are all treaty people, here in Calgary.
Exploring Treaty 7 Locations
Treaty 7 is just one of eleven Numbered Treaties signed in Canada between First Nations peoples and the Crown (Canadian government) between 1871-1921. The treaty outlined a specific area of land for those tribes.
Help your child use Google Maps to explore where the Treaty 7 First Nations below are located. Has your family driven past them before? Camped near them? Explore how they look the same or different.
Bearspaw First Nation (Stoney First Nation/Nakoda)
Chiniki First Nation (Stoney First Nation/Nakoda)
Kainai Nation (Blackfoot)
Piikani Nation (Blackfoot)
Siksika Nation (Blackfoot)
Tsuut'ina Nation (Sarcee)
Wesley First Nation (Stoney First Nation/Nakoda)
Writing-on-Stone/Áísínai'pi
Supplies:
Paper
Paint and/or pencil
Writing on Stone Provincial Park is called Áísínai'pi in Blackfoot. It is sacred land for the Blackfoot People. Many stories have been recorded and passed down from generation to generation through pictographs (symbols). Each symbol is as individual as the storytellers themselves.
Have your child come up with their own symbols to show the most important events that have happened over the past month. Use a piece of paper and draw symbols with markers or paint.
Share your story with your family.
For more on Writing on Stone's history, watch the Alberta Parks video.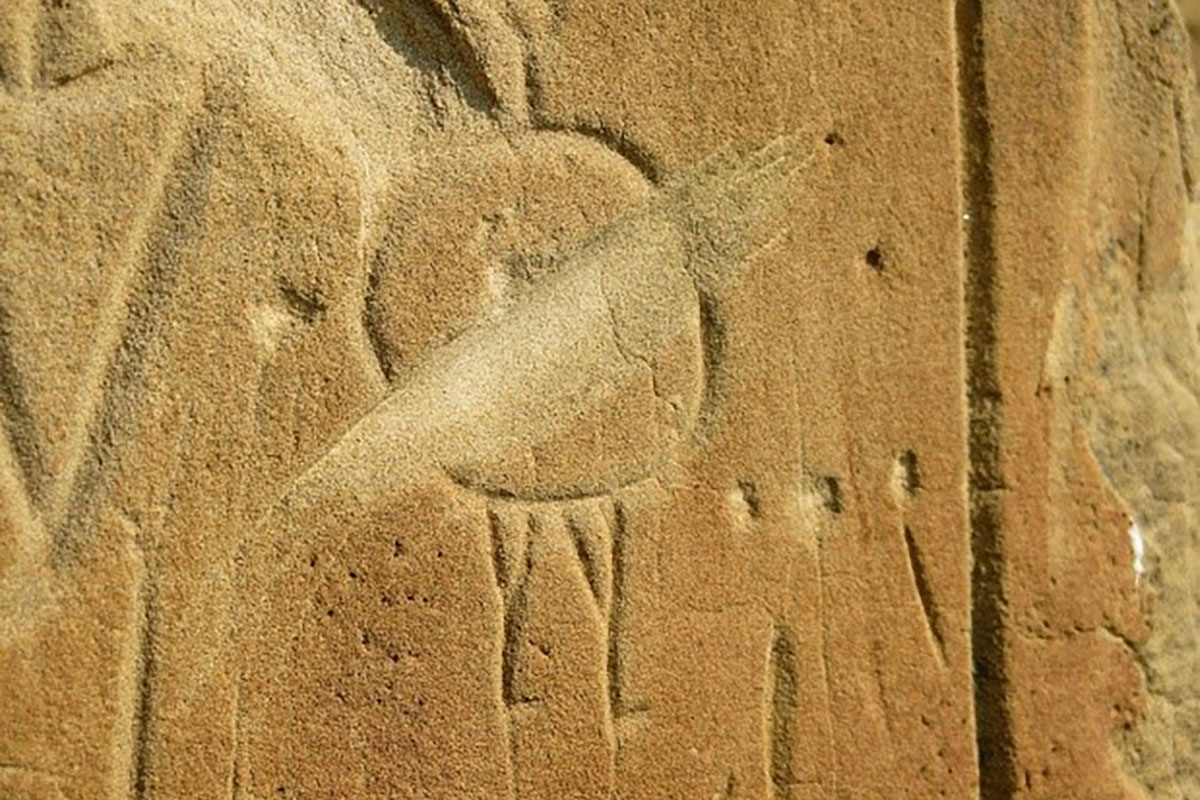 *Photos taken by Calgary Neighbourhoods
Review Questions
Ask your child:
What did you like most about drawing your own symbols? How important do you think drawing symbols was to the Blackfoot people for story sharing?
While learning how to say the land acknowledgement, what were you most surprised by?
How can you share what you learned today with friends/family?
Mindfulness Trivia Answer
Grades 4-6
Mindfulness Activity
Trivia question: What language do Siksika people traditionally speak?
Mindfulness Activity:
Sit so you're comfortable.
Close your eyes, or keep them open.
Imagine sitting in the warm sun. Feel it.
Notice how the sun warms your legs.
Notice how it warms your back, then your arms, then your face.
Make the Stick Jump
Supplies:
3-4 Sticks 6-8 inches long
Rocks or bean bags
String
This game was a favourite of Blackfoot boys who played it to improve throwing accuracy. This helped them be good hunters.
Use a string to make a line across an open area.
Put five sticks into the ground (one end sticking up) at different distances from the line. The closest stick is worth one point and the furthest away is worth five points.
Stand behind the line and throw your rocks or bean bags at the sticks.
If you hit a stick and "make it jump", you receive points. See if you can get to twenty points.
Let's Dance!
Powwows are celebrations that highlight Indigenous music, dances, regalia, food and crafts. Many Indigenous groups in Southern Alberta and across Canada have powwows. Every year, the Calgary Stampede hosts a Powwow celebrating the singing, drumming and dancing of Indigenous culture. Watch this video of a jingle dress dance​ to see what it's like.
The songs below are by Indigenous music artists. Listen to three or more of these songs and dance freely. While you're dancing, think about moving like the animals that traditionally lived on this land like bison, deer, elk, moose, mountain goats, owls, goose, bear and wolves.
Elder Photo Wall
Elders in First Nations communities are greatly respected for their wisdom and life experience. Elders can help others deal with their problems in life. They bridge ancient traditions and beliefs of First Nations and the influences of today. Elders have many roles. They are teachers, philosophers, historians, healers, judges and counselors.
Have your child think about the people in their life.
Collect photographs of people you think of as your elders. They don't have to be old. They can be people who you respect for their wisdom and life experience. You can use pictures of grandparents and elders as children, young adults or as older people. If you can't find photographs, draw pictures.
Choose a place in your home to post the pictures. You can also post things that symbolize this person to you. For example, if the person plays card games with you, you can put a playing card next to their picture.
Write a few sentences about each elder you have chosen. Post the descriptions below the pictures.
Review Questions
Ask your child:
How does it feel to express yourself by dancing?
Why do you think Elders are important?
What is something you can do to show your own elders that you appreciate them?
Mindfulness Trivia Answer
Grades 7+
Mindfulness Activity
Trivia Question: Name the Treaty 7 Nations. See answer below.
Mindfulness Activity:
Notice how your belly feels.
Breathe fast for 10 seconds.
How do you feel? Better? Worse? The same?
Now breathe slow and deep for 10 seconds.
How do you feel? Better? Worse? The same?
Blackfoot Dictionary
The Blackfoot language is an oral tradition, steeped in culture and history. It is a beautiful language, rich in cultural expressions. It is an action language, based upon reality, not on abstract thought.
Listen to the words below are pronounced on the Blackfoot Crossing website. Practice saying the words in Blackfoot. Try calling a friend or a family member to work on the sounds of each word.
Blackfoot words:
Good Morning
Nice day
Blackfoot
Calgary
Monday, Tuesday, Wednesday, Thursday, Friday, Saturday, Sunday
Count from one to ten
Learn to say the 4 seasons of the year (Fall, Summer, Spring, Winter)
Try other phrases and words on the website.
Treaty 7 Nations
Supplies:
Paper
Paint
Pencil
Markers
Paint brush
Pencil crayons
The Treaty 7 Nations Flag was raised at Calgary City Hall in March 2017 to recognize the history and continued relationship with the First Nations community. The Treaty 7 flag will be one of five flags permanently placed at City Hall alongside the Canada, Alberta, Royal Union and Calgary flags.
This flag shows that we are all treaty people (all people who live in Calgary are part of Treaty 7). Let's show our unity by drawing the flag.
Do an image search for the Treaty 7 flag that flies at City Hall.
Use the image to draw an outline of your flag.
Colour in the details of the flag to make it as authentic as possible.
What do you notice about the flag? What do you think the images represent?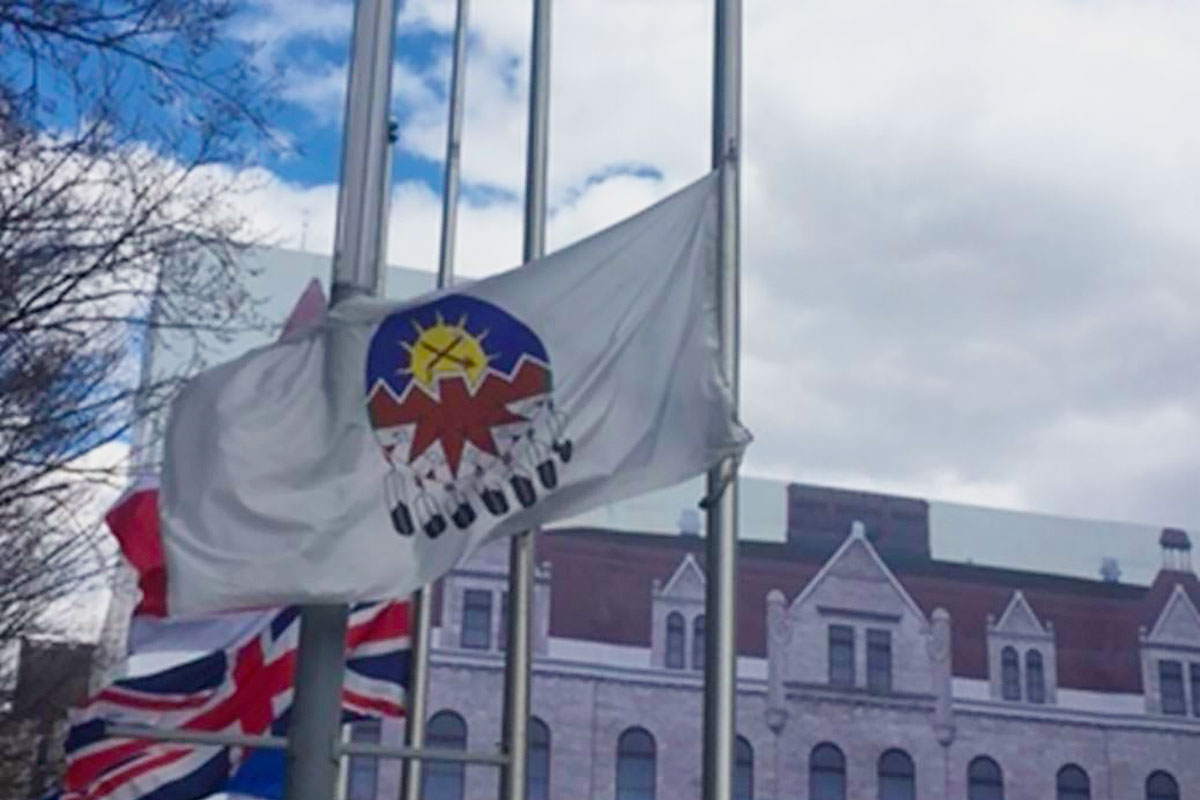 *Photo taken by Calgary Neighbourhoods
Stick Catch
Supplies:
Unsharpened pencil or similarly shaped pieces of wood or plastic.
Paint brush
Paint
You can practice this game on your own or compete with a friend.
Find a stick or pencil and paint or decorate it.
Balance the stick on the back of your hand. Then, quickly drop your hand away and catch the stick before it hits the ground.
If you catch it, try adding another stick and catching both.
Continue adding sticks until you can no longer catch them all. You must successfully catch ALL of the sticks on the back of your hand before adding another.
See how many sticks you can catch!
Review Questions
Why do you think language is an important part of your culture?
What do you think is an important reason for sharing our story and achievements?
Why do you think it was important to have the Treaty 7 flag hung at City Hall?
Mindfulness Trivia Answer
Treaty 7 Nations Answer:
Siksika (Blackfoot)
Kainai (Blood)
Piikani (Peigan)
Tsuut'ina (Sarcee)
Chiniki, Bearspaw and Wesley (Stoney-Nakoda)
Metis Region 3
​​​​ ​​​​​