Citywide Growth Strategy: Industrial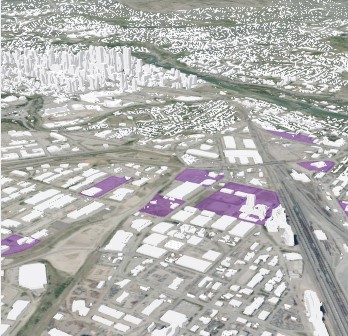 Industrial Land Map
This interactive map illustrates the citywide occupied and vacant industrial lands, the distribution of vacant industrial lands by geography, by land use district (zoning), by ownership, and by servicing status.  
Explore the map now
As part of the ongoing effort to support the industrial sector in Calgary, we're excited to share an update about the changes to the Municipal Development Plan (MDP) and Land Use Bylaw (LUB).
Development enabling policy and regulation improvements of the 2022 Industrial Action Plan were approved by Council on July 26, 2022 (item 8.2.1). These amendments will help solidify Calgary's competitive advantage as a distribution hub by reducing planning and development barriers to make it easier for businesses to open and operate in Calgary's industrial areas. The updated policy and regulations support the industrial sector as a critical pillar of Calgary's resilient and diversified economy.
MDP Amendments
Amendments to Standard Industrial Area and Industrial-Employee Intensive Area land use policies to encourage the retention of large industrial parcels
Land Use Bylaw Amendments
Allow a wider range of appropriate Permitted Uses along major streets and expressways in the general industrial district (I-G) to streamline development processes and reduce the need for relaxations and multiple land use redesignations
Allow Development Permit exemptions for change-of-use developments for certain Permitted Uses in the business industrial, commercial industrial and general industrial districts (I-B, I-C and I-G)
Eliminate the maximum building height rule for most parcels in the general industrial district (I-G) to align with emerging industry trends and reduce the need for relaxations
Add General Industrial – Light as a Permitted Use in the business industrial district (I-B) to address the limited range of industrial uses in the district and reduce the need for Land Use Amendments
Add Vehicle Rental - Minor as a Discretionary Use in the general industrial and industrial redevelopment districts (I-G and I-R) to align with compatible uses
Improve regulations for waste management, recycling, and storage and remove barriers to allow recycling facilities to more easily operate in industrial areas 
For more information contact:

Abdul Jaffari
Sr Growth Mgmt Planner
Growth Strategies
Planning & Development
(403) 268-8976