Ralph Klein Park Natural Playground Project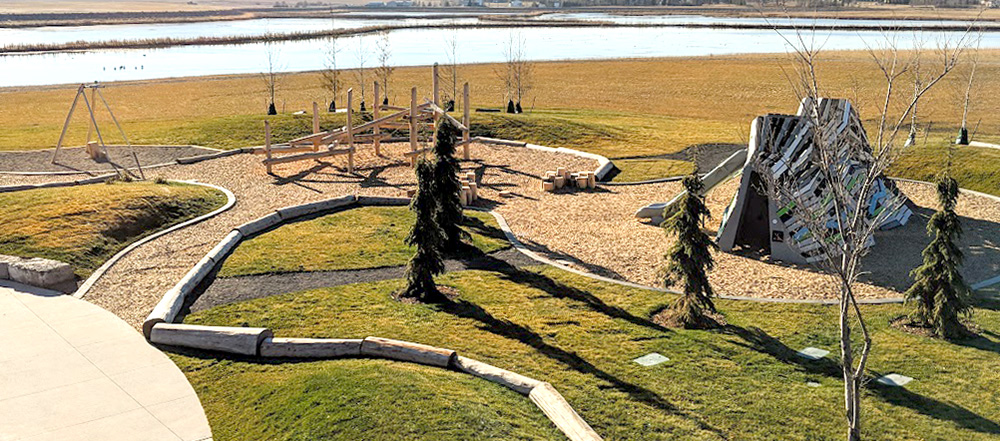 ​Ralph Klein Regional Park is the only regional park in the far southeast of Calgary. It is surrounded by constructed storm water wetlands and is host to water's edge trails, an urban orchard, and award winning programs at its Environmental Education Centre.
A generous sponsorship of $500,000 by TD Bank in 2017 allowed the construction of the natural playground at Ralph Klein Park. The natural playground is an important part of The City's plan to optimize the existing parks network and ensure Calgarians have access to healthy and active lifestyles.
As part of this project we engaged grade three, four and five students from Fish Creek School, McKenzie Towne School, Haysboro School and Penbrooke Meadows School to help with ideas for the playground design. Students provided feedback on the equipment and features they would like to see at the new play area.
The natural playground design focuses on the watershed theme, telling the story of how water moves from the mountains down to the wetlands. The playground features a climbing wall, hiding areas, a zip line, loose parts and a sand play area. Each feature demonstrates the connectivity of humans, wildlife and natural habitats.
With the help of partners like TD Bank we hope to bring projects like this one to more Calgary communities. Our goal is to be a steward of the environment and to increase public awareness about the environment through our local parks and programs.
Sponsored by: