Dominion Land Use Redesignation Application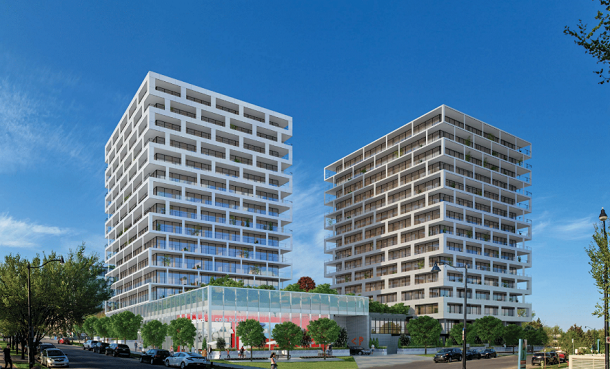 A combined land use redesignation and development permit application for mixed-use development has been submitted for a site located in Bridgeland/Riverside at 1018 McDougall Drive NE.
About
Casola Koppe Architect, representing Bucci Developments Ltd. has submitted a combined land use redesignation and development permit application for the site at 1018 McDouglal Road NE. The proposed mixed-use development contains one building, with a commercial podium and two residential towers at 14 stories and 15 stories high. A total of 18 Live Work Units and 316 residential units and approximately 850 m² (9153 ft²) of commercial space is proposed.
The land use amendment application (LOC2018-0059) was submitted in March 2018 to redesignated the site from the existing DC Direct Control District
(DC2015d171) to the Mixed Use – General (MU-1f5.3h50) District; the land use redesignation will allow for:
Transit supportive mixed-use buildings (e.g. commercial storefronts with apartments or offices above);
Active, commercial frontages along 9 Street NE to promote activity at the street level;
A maximum building height of 50 metres (an increase from the existing 23 metres);
A maximum building floor area of approximately 21,977 square metres, based on a building floor to parcel area ratio (FAR) of 5.3.
Greater flexibility of massing options (break up massing into separate forms and instead of one large block) than is currently allowed;
Greater amenity space and development of unique and high quality architecture; and
The proposed redesignation would also require amendments to the Bridgeland-Riverside Area Redevelopment Plan (ARP) and the Bow Valley Centre Concept Plan (Chapter 9 of Bridgeland-Riverside ARP).
The development permit application (DP2018-3108) was submitted on June 27, 2018. The development permit application was reviewed in conjunction with the land use amendment. The development permit includes the proposed uses, building design, materials, and landscaping. Detailed planning issues like traffic, parking, loading, and servicing.
Both land use amendment (LOC2018-0059) and development permit (DP2018-3108) application will be presented to Calgary Planning Commission (CPC) on October 18, 2018. Administration's reports can be found on the Council and Committee Agendas, Minutes and Video page. Following CPC, the land use amendment will be forwarded to Council at the December 10, 2018 meeting for Council's decision, after the Public Hearing.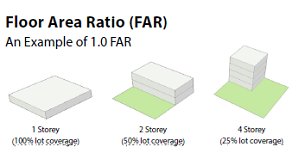 Floor Area Ration Illustration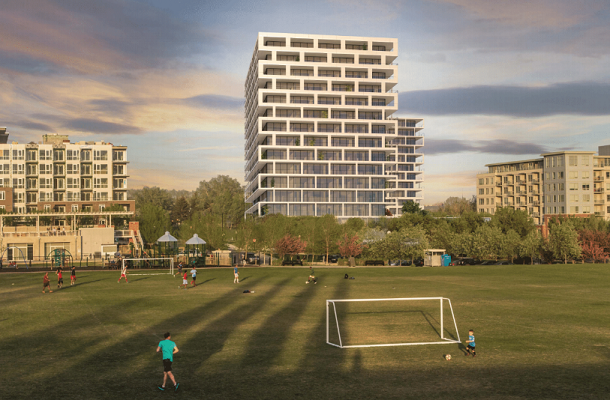 proposed renderings for illustrative purposes only

A map that outlines the plan area in relation to the community/neighbourhood.
Timeline
Date
Activity

Date:

March 13, 2018

Activity:

Land use redesignation application submitted to The City

Date:

March - April, 2018

Activity:

Circulation of land use redesignation application to Community Association/neighbours and City's technical review

Date:

April, 2018

Activity:

City provides technical review comments to the applicant on land use redesignation

Date:

June 27, 2018

Activity:

Development permit application submitted to the City

Date:

July, 2018

Activity:

Applicant submits amended land use redesigation application in response to feedback from The City

Date:

Activity:

City reviews applicant's response to the land use amendment application and new development permit application

Date:

August 13 - September 3, 2018

Activity:

Recirculate amended application and re-notice post on site.

Date:

September, 2018

Activity:

City provides review comments to the applicant on the amended land use application and new development permit application

Date:

October 18, 2018

Activity:

Calgary Planning Commission (CPC) date. CPC reviews land use redesignation application and provides recommendation to Council. CPC makes a recommendation on the development permit application.

Date:

December 10, 2018

Activity:

City Council Public Hearing and decisionon land use redesignation
​​​​​​​​