Latest news
The City of Calgary held an information session for this application on June 26, 2018. Please view these  City of Calgary boards from the session for more details on The City's application review process. For a summary of feedback received, please view the What We Heard report.
Overview
17 Project is a mixed-use development proposed for the northwest corner of 17 Ave. S.W. and 14 St. S.W., in the community of Sunalta. The applicant, Arlington Street Investments, submitted a formal land use application in the spring of 2018. The application seeks to redesignate the parcel to allow for a high density mixed-use development, which would accommodate retail on the lower levels, an urban market and approximately 400 residential units above.
While there is general policy support for intensification at this location, the project will require a land use redesignation and policy amendment to the Sunalta Area Redevelopment Plan to allow for the increase in density and height.
Map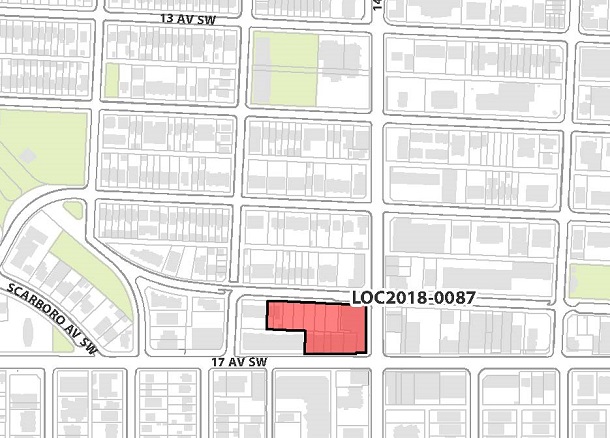 Proposed Timeline
June 2017
Pre-application meeting to discuss the potential for a mixed-use development at the subject site.
November 2017
Applicant-led open house: Input to inform the applicant's submission for land use application.
April 2018
Formal submission of land use application and amendment to Sunalta ARP.
June 2018
City-led Open House: Input to inform The City's technical review of the land use.
Q4 2018
Calgary Planning Commission (prelminary date, subject to change).
Q1 2019
City Council Public Hearing (preliminary date, subject to change).
Greater Downtown Plan
Municipal Development Plan
​Sunalta Area Redevelopment Plan
​​​​​​​​​​