Crowchild Square Land Use Amendement
Overview
In July 2016, a Land Use Amendment Application was been submitted for a site located at 5403 Crowchild Trail NW in the community of Varsity.
The Land Use Amendment Application is to redesignate the property from the current Direct Control district to a new Direct Control designation that would be based on the C-COR1 district to allow for a greater variety of commercial uses within the existing building as well as future mixed-use development with a maximum building height of 12 storeys along Crowchild Trail and a maximum density of 3.0 Floor Area Ratio. The application number is LOC2016-0195.
The Varsity Land Use Study provides the local area policy for the subject site.  All redevelopment within the Land Use Study boundary is r​equired to meet the policies of the Land Use Study.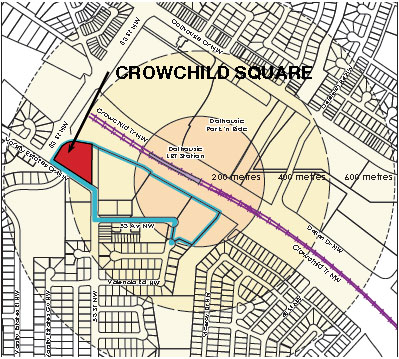 Timeline
Any releva​nt past or future dates i.e. when the application was submitted, tentative timelines for CPC/Council, public engagement opportunities.
| Date | Activity |
| --- | --- |
| January 1​2, 2017 | Open House hosted by the applicant and the Varsity Community Association |
Supporting Documents
Contact
Steve Jones, Senior Planner
Steve.Jones2@calgary.ca
403.268.2523​​​​​​​​​​​​​​​​​​​
​​​​​