The Grace Hospital Land Use Redesignation Project
About the application 
This application proposes to change the designation of the Grace Hospital, Sunset Lodge and the Agape Hospice located at 1302, 1340 and 1402 8 Avenue NW, and 1040 14 Street NW from M-CGd72 District, S-CI District, and Direct Control District to Direct Control District to accommodate a mixed use health care campus and multi-residential development.
If approved, the land use redesignation will allow for:
development of 13,395 square metres of medical offices including 743 square metres of supporting retail;
up to 800 dwelling units proposed to be affordable and senior's housing;
the maximum building height within 75 metres of the western property line is proposed to be 30 metres;
The maximum building height for other areas on the site is proposed to be 70 metres.
An amendment to the Hillhurst Sunnyside Area Re​development Plan will be required to ​allow for the proposed redesignation.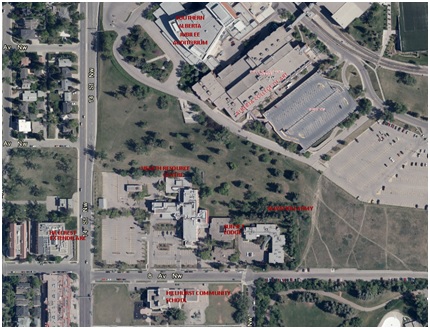 Timeline
Date
Activity
​October 28, 2017
W​orkshop
Hillhurst School
1418 7 Ave NW
9:00 a.m. - 12:00 p.m.
October 26, 2017
Workshop
Kensington Legion
1918 Kensington Road NW
6:30 p.m. - 9:30 p.m.
June 29, 2017
Public Open House
Hillhurst Sunnyside Community Association,
1320 5 Ave NW​
5 p.m. – 8 p.m.
May 29, 2017
​Application received by The City of Calgary
​​​​​​