Overview
This application seeks to redesignate approximately 1.9 hectares of land from Special Purpose – Recreation (S-R) District to Multi-Residential – Contextual Medium Profile (M-C2) District. The subject site is located north of Martindale Boulevard NE, on the west side of Falconridge Boulevard NE.
The redesignation will provide land use for the future development of the site. No changes to any existing policy are proposed under this application.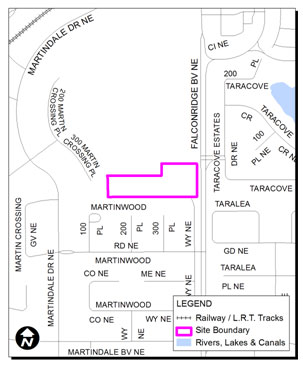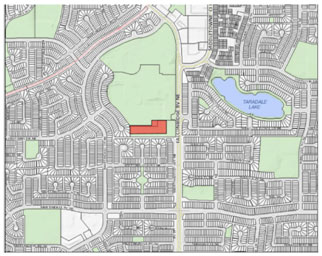 ​​
Timeline
Any relevant past or future dates i.e. when the application was submitted, tentative timelines for CPC/Council, public engagement opportunities.
​Date
​Activity

Date:

​November 28, 2016

Activity:

​Application made

Date:

​March 13, 2017

Activity:

​Applicant-led info session

Date:

​March 23, 2017

Activity:

CPC date​

Date:

​May 8, 2017

Activity:

​City Council Public Hearing

Date:

​June 12, 2017

Activity:

​Administration reports back to Council​

Date:

​​August 15, 2017

Activity:

​​Info session - Genesis Centre 5 pm - 8 pm 

Date:

​​August 17, 2017

Activity:

​​Info session - Genesis Centre 11 am - 3 pm​
Contact
David Mulholland
Planner, Community Planning North team
Planning & Development
403-268.2264
david.mulholland@calgary.ca​​​​​​​
​​​​​​​​​