Municipal industrial land development benefits all Calgarians
In the past 10 years, The City's Industrial Land Program has serviced and sold over 700 acres, which has supported the development of over 6 million square feet of space with a 2018 assessed value of over $1 billion.
For the citizens of Calgary that has meant over $70 million in new cumulative tax revenue and the support of over 8,000 jobs. But that's just the start.
Enabling affordable housing
"What's unique about the City's Industrial Land Strategy," explains Spencer McClurg, Manager, Real Estate Sales & Acquisitions, "is that we contribute five percent of our gross sales proceeds to support the development of new affordable housing in Calgary." Since 2013, when the Industrial Land Strategy was approved, RE&DS has contributed over $10 million to affordable housing.
A project that received such funding is the affordable housing development located in the community of Wildwood. Completed in 2018 and comprised of 48 residences, the three-storey building is constructed to Built Green Canada certified silver standards with sustainability features that reduce energy consumption and operational costs.
Even the ducks are happy
To sustain its land development and sales activities, The City has a self-supporting financial model with sales proceeds that fund future developments and land acquisition. "We've also been able to leverage our funding to make investments into municipal infrastructure," says McClurg. One of those investments was the creation of the Shepard Wetland in southeast Calgary where Ralph Klein Park exists today.
The initial design and construction phase was funded through the real estate reserve prior to Water Resources having the capital budget in place. "What that has done," says McClurg, "is opened up development in southeast Calgary for The City's industrial program as well as residential and industrial lands for private developers." These were lands that otherwise would have remained in an undeveloped state because there was no approved location for discharging storm water drainage.
A new home for Sofina Foods
Another key benefit of the Industrial program is having lands available to meet other civic needs, such as the Green Line LRT. This large-scale project has required the acquisition of private properties to facilitate the right-of-way. One of those businesses was Sofina Foods, a poultry operation in Ramsey.
McClurg says that by having a large supply of shovel-ready serviced industrial land, The City was able to propose an alternative location to Sofina so that the business could be relocated. "Having a selection of strategically located property available, we were able to accommodate them onto City industrial land in our Dufferin North Industrial Park as a win-win."
The move achieved a number of benefits: the economic investment was kept in Calgary, a large number of jobs were kept in the city, and the smooth transaction freed the way for Green Line construction to take place.
Keep on trucking
Funds from the real estate reserve have also been used for infrastructure projects. The transportation network surrounding The City's Dufferin North Industrial Park in southeast Calgary was greatly improved by the construction of a bridge at 106th Avenue over the Western Headworks Canal.
Next on the project list is a major new intersection at 68th street and Glenmore Trail. "This will be a benefit to not only our Dufferin North and Point Trotter industrial areas," McClurg says, "but also to private land owners in the area." The intersection will provide prime transportation access to Stoney Trail, facilitating the significant number of truck movements in the area.
Helping business succeed
The City is uniquely motivated to see industrial development take place. That development generates new non-residential tax base that benefits all Calgarians. "We also take pride in offering flexibility in the types of properties available from small lots to large," explains McClurg. That enables The City to partner with large developers looking for lease-bay product but at the same time having numerous one- to 10-acre parcels available for smaller businesses interested in having ownership opportunities and growing their equity.
Through build-commitments and by having sales agents and in-house development advisors to help purchasers through the planning and approvals process, The City does everything possible to see business succeed. McClurg sums it all up when he says, "Because our success depends on your success."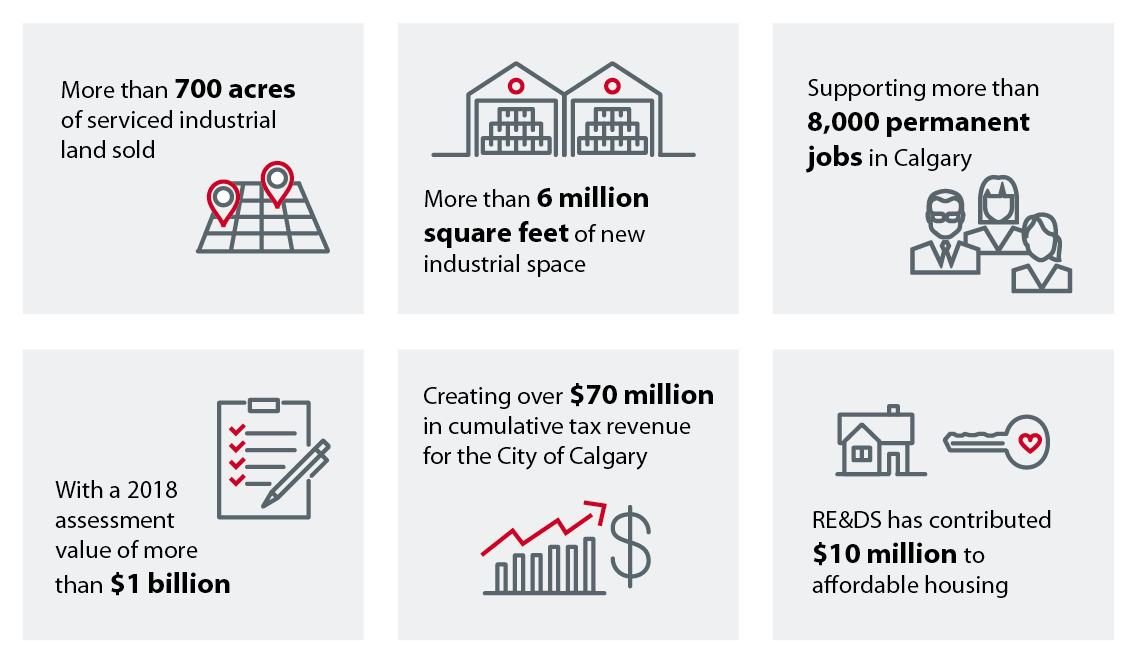 Keep in touch
Receive regular listings, news, and information from The City of Calgary's Real Estate Development Services team.
Sign up​​​​​​​