Designated playground zones serve an important role keeping pedestrians – especially children – safe.
In 2016, The City finished consolidating school zones and playground zones into a single zone with fixed hours. This was done in consultation with and with the support of the Calgary Police Service, the Alberta Motor Association, Calgary Board of Education, Calgary Catholic School District and other municipalities in Alberta
The new fixed hours reflect the times pedestrians are using playground zones, and give motorists consistent and specific times that are easy to remember.
Success of playground zones with fixed hours
The University of Calgary, through the Urban Alliance Partnership, conducted an evaluation of School and Playground Harmonization to independently determine the impacts the changes had on safety.
The key findings indicated of the evaluation, The Review of School and Playground Zone Harmonization in Calgary (September 2017), are summarized below:
The mean traffic speed in playground zones decreased from 36 km/h to 30 km/h.
The number of collisions involving pedestrians within the new playground zones decreased by 33%, with a 70% decrease between 5:30 p.m. and 9:00 p.m.
The collision rate decreased from 0.049 to 0.011 collisions per million vehicle kilometers of travel per year.
58% of respondents knew the exact start time of school and playground zone, whereas 73% knew the end time. More than 80% of the respondents find it easier to remember the zone times with single zone type that is consistent throughout the year.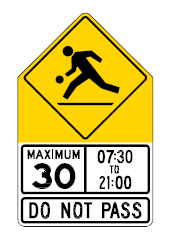 Playground zones:
30 km/h
7:30 a.m. to 9:00 p.m.,
7 days a week, year-round.