Water outages and main breaks
We know you rely on us to provide reliable access to clean and safe water. When outages happen, we work to notify you and restore service as quickly as possible.
Water main breaks are unpredictable and can happen for a variety of reasons:
The age, material and condition of the pipes
Condition of the soil
Temperature of the ground and water
Pressure changes
If you see a water main break (water coming up through grass, road or sidewalk), contact 311 and a Water Services crew will be dispatched.
Under normal circumstances, water main breaks are repaired and water is back on within 48 hours. We prioritize breaks based on factors such as the risk of property damage, impact to critical facilities (like hospitals or schools) and number of customers that are out of water.
If your water is off and you have not been notified yet, it may be due to a short-term break in your area, repairs within your building, a break outside regular hours, or a frozen water line.
To prevent the spread of COVID-19 when using a water wagon, follow these steps:

Keep 2 metres or 6 feet between yourself and others.
Wash your hands before and after you take water. Use hand sanitizer if soap and water is not available.
Do not use a water wagon if you are self-isolating. Ask a friend, member or neighbour to get water for you; if this is not possible call 311.
Current main breaks and water outages
Frequently Asked Questions
The two most common solutions are:
Water wagon - a portable tank of drinking water that provides emergency supply to you and your neighbours. It is placed in a central location to provide customer water access to water during longer outages. 
Temporary water – after a main break we may also provide you water through a hose attached to a fire hydrant or a neighbour's home.
For shorter outages, and to support you while water wagons or temporary supplies are set up, we recommend keeping a small emergency supply of water on hand.
You can continue to use the toilet during interruptions by pouring stored water into your toilet bowl to empty its contents.
In some cases, when water outages due to water main breaks last longer than three days, crew will provide shower passes to City recreation facilities. See proof of vaccination requirements at City-operated recreation facilities.
A crew is dispatched to determine the location, impact and severity of the break
Crews reduce and shutoff water flow by closing nearby water valves
Crews identify alternative sources for temporary customer water
Crews excavate and repair the watermain
Service is restored after the pipe is flushed and water quality is tested
The road, lane, sidewalk or lawn is repaired. This may take time depending on the season, weather, difficulty of the location and size of the break. If there are damages from the water main repair, we will arrange for rehabilitation or repair. Learn more at Water Service Construction Property Rehab.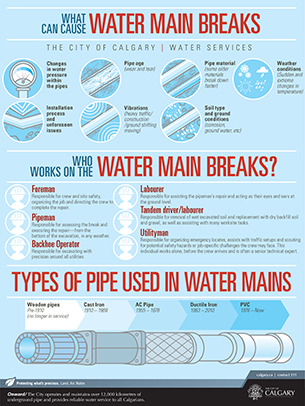 Click image for full size
​
​​​
We test for quality before water is restored. If your water is discoloured, it is still safe to drink. To ensure the issue is resolved:
Run your bathtub tap on cold for 30 minutes until water clears. Then run other cold water taps for five minutes or until clear.
Wash tap aerators or screens in hot, soapy water, and disinfect them for 10 minutes in a solution of one part bleach to nine parts water.
Disinfect water filters to manufacturer's recommendations.
If water does not clear after running the taps, contact 311.
​​​​​​​​​​​​​​​​​​​​​​​​​