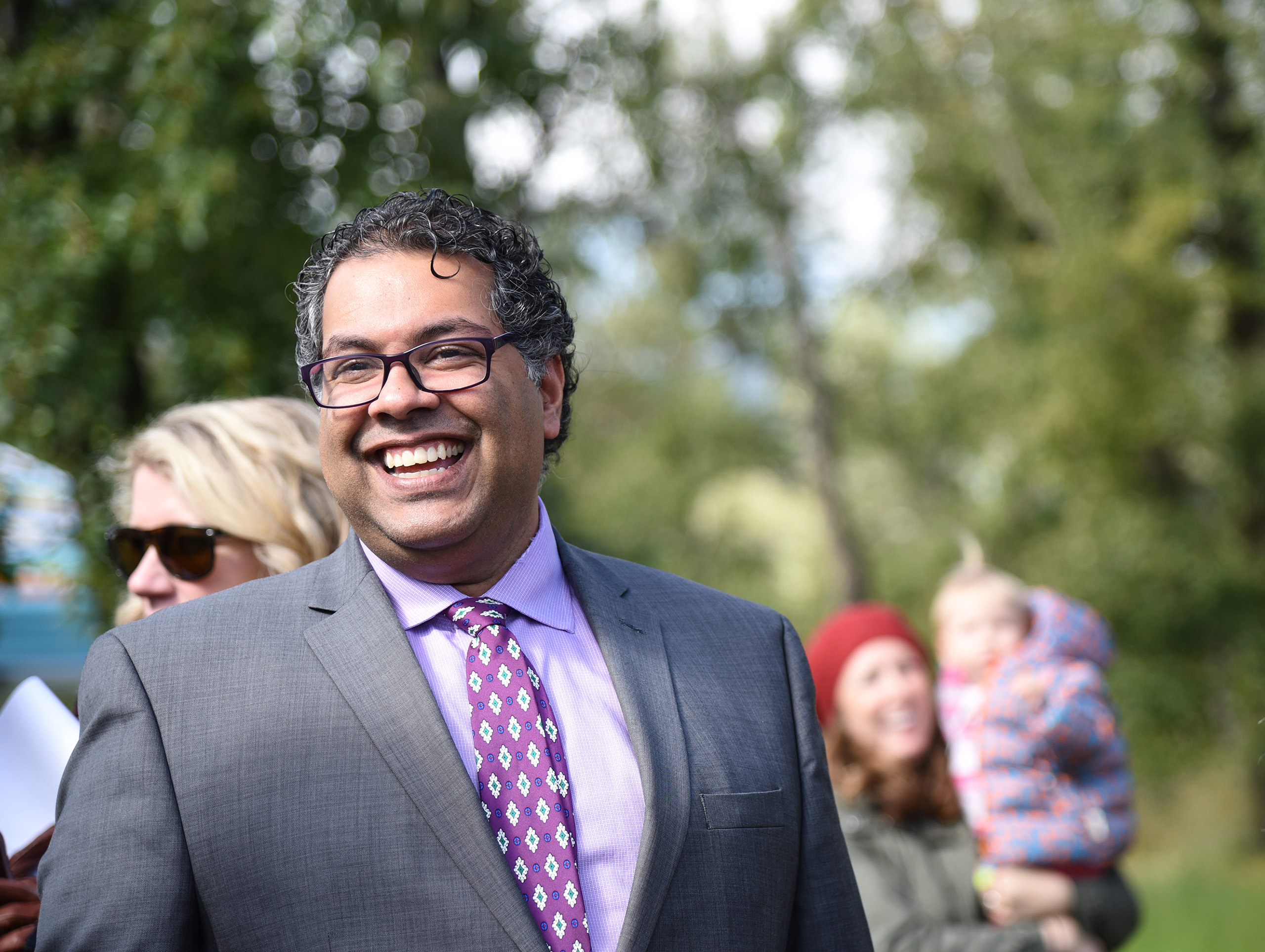 ​
Last week, we took a moment to remember the floods of 2013—the challenge and loss and, ultimately, our response that has made us stronger today. It made me think about that extraordinary power and resilience that we showed in that time. How can we take that humanity and apply it to all the silent floods we face in our community every day? To addiction and mental health, to true reconciliation with our indigenous neighbours, to environmental stewardship and economic prosperity? How can we become a more resilient city that tackles all floods?
Resilience is broad. It is about community spirit, it is about being able to step in, help out and recover faster and stronger together from the things that disrupt our day to day. It is about a better, diverse economy where we all share in the prosperity of this place. It is about a city government that is there when it's needed most but also incredibly supportive to its citizens and the business it serves. When I look around me, I see a lot of resilience in this place.
Together, we have been through a flood, we've helped our trees recover from Snowtember, we have sought shelter from hail and high wind events; we are recovering from an economic downturn and employment loss; we support each other every day as we face losses and grief. Together, we have picked up and kept moving forward - continuously rebuilding and reimagining our community.
The need to care for one another, to ensure that we can come together and help out our neighbours, friends, families and even strangers is what makes Calgary not only unique but also the fifth most liveable city in the world (according to The Economist).
We know that we still have room to be better. For example, we still need more safe, affordable, and accessible housing. As we think about a more resilient city, this particular issue is top of mind.
As a city government, we are very aware of the stresses and shocks we have faced and may face in the years ahead, and we are adapting a resilience lens as we plan for and invest in our future.
Shocks can be anything from floods and fires to droughts. Stresses include high unemployment, poverty, and things like water shortages. As a government, being prepared for both stresses and shocks ensures that we can better withstand all kinds of events and ensure that we can continue to serve all citizens—in good times and bad.
In 2016, Calgary was invited to join the 100 Resilient Cities (100RC) – pioneered by The Rockefeller Foundation. 100RC is working with cities around the world to help them become more resilient to the social, economic and environmental challenges that are part of being a modern 21st century city.
Calgary chose to be a part of the 100RC network so that we can be at the global stage, sharing, learning, collaborating with other cities, and tapping into resources available to 100RC member cities. It gives Calgary the opportunity to strengthen our ability to face social, economic and environmental challenges.
As part of the 100RC Network, we are learning from other cities and sharing our experience with others.  We meet online and in person to talk about what Calgary has been able to accomplish when we face social, economic and environmental stressors and shocks.  This is an exciting opportunity to share the Calgary story with the world. It gives us access to some of the best minds on these issues.
Recently, Calgary was invited to be part of a CityXchange summit organized by 100RC, and I attended the summit along with our Deputy Chief Resilience Officer, Chris Arthurs.  While we were there, we met with Mayors and Chief Resilience Officers from other cities – at least one from each continent – and discussed problems we face and potential solutions.  One of the key intentions of the summit was to better understand how technology can support solutions to resilience challenges. Of course, we took the opportunity to discuss how we could create more affordable housing faster by applying creative technology solutions to the wealth of data we have here at home. We came back with a lot of ideas, and the best solutions continue to percolate with Calgary innovators.
While at the summit, we also saw demonstrations of artificial intelligence running compounded algorithms to compare data sets within nanoseconds—which, for average humans like us, means millions of comparisons of data faster than a speeding bullet. We learned about biowater technology for onsite wastewater treatment. We explored disaster response mapping to help cities run scenarios and learn of the social and infrastructure impacts. We saw innovative ideas of technology that creates free wifi across an entire community using vehicles as the network. And we heard from incredibly intelligent and thoughtful leaders about their experience with changes in climate over time, and how they are addressing the impacts of this head on in their own communities.
The opportunities to learn from others in a concentrated and specific manner is the brilliance of the 100RC model; it saves times for cities needing to understand what others are doing to address their issues, and it is a platform to connect innovative ideas and solutions to cities where they need the help most.  It is connecting people with the willingness to help solve a problem with those who need a helping hand.  It is the same spirit we saw during our flood: coming together to help one another during our time of need.
At its heart, resilience is the ability of individuals, communities, institutions, businesses, and systems to survive, adapt, and grow – no matter what kind of chronic stresses and acute shocks we experience.
And at the center of Calgary's resilience is our people, our communities, our spirit of getting things done and of thriving together as one. A successful city is one where we work together to ensure that we have a sustainable Calgary for our future generations.
On June 27, we launched Phase II of our resilience strategy work. It is critical work and we're doing it together as citizens and public servants with a diversity of background and expertise. Whatever happens next, I know we'll be better for it, and I can't wait to see what we do.​​