The rehabilitation of Calgary's Historic City Hall is one of the most significant heritage projects currently underway in Canada. The scope of work is extensive, including restoration of the building's foundation, roof, verandas, porticos and other structural components in between. The following is a broad overview of the work that will take place:
Sandstone and concrete of the building's foundation will be renewed
New site drainage system
New structural steel inside the 100 foot clock tower from the third floor up
Structural rehabilitation on verandas and balconies
Reinforcement of the cupola and replacement of roof
Treatments of almost almost every piece of sandstone on the building. Of the building's 15,522 pieces of sandstone, 15,142 of those have been specified to require some kind of treatment (cleaning, structural fortification or replacement)
New windows to replicate the originals. Original window frames will be rehabilitated
Exterior perimeter lighting
The rehabilitation of Historic City Hall will improve the building's resilience and upgrade it to a condition designed to last for another 100 years. All restoration work will be carried out while protecting heritage materials and characteristics.
What is complete so far:

The building foundation has been repaired and restored to excellent condition, and new site drainage has been installed. The site is a busy hub, with trailers onsite for crews and a masonry workshop where the sandstone work will be managed for the next two and a half years.

What we're working on now:

Stonemasonry work is well underway. Of Historic City Hall's 15,522 pieces of sandstone, 15,142 of those have been specified to require some kind of treatment (cleaning, structural fortification or replacement). We have now removed old mortar in masonry joints on more than 13,000 sandstone blocks and preparations are underway for the next level of treatments.

Structural reinforcement of the roof is progressing as planned. The roof has been stripped in entirety of its red tile, exposing the original roof foundation of Douglas fir that was milled in the Banff/Kananaskis area over a century ago. Original wood will be saved whenever possible, however some rotted areas will be removed and the roof will be braced with new lumber and metal supports.

We'll be fortifying the roof's dormers with pins and anchors at their bases to strengthen their attachment to the building, and reinforcing the verandas and balconies in preparation for their role in supporting the building for the next century.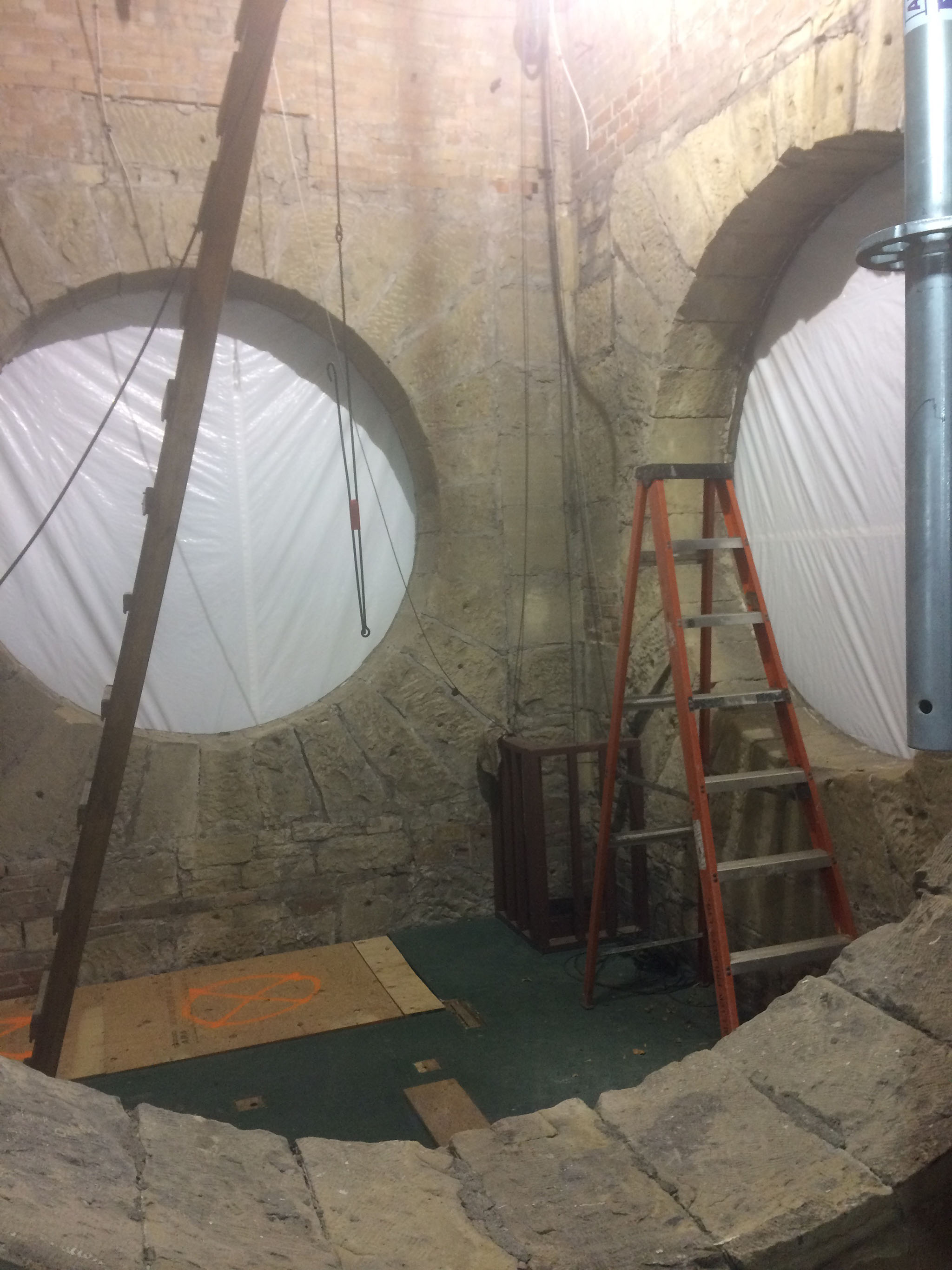 Historic City Hall's clock tower stands empty for the first time in over a century. Our famous Seth Thomas Clock Company timepiece has been silenced for the first substantial period since it was installed in 1911. The clock has been temporarily removed and carefully stored in order to facilitate structural work on the tower.
What is coming up next:

Along with the ongoing structural reinforcement work described above, every window on Historic City Hall will receive care in the rehabilitation process. Original window frames will be painstakingly refurbished, and new window glass and sashes will be installed that replicate the originals. The window glass being removed – which is not original to the building – will be recycled.

Extensive sandstone work will continue, with treatments on 15,142 pieces of sandstone. A treatment is the action we take to prolong the existence of the sandstone and prevent further deterioration. A treatment can refer to several things, such as general surface cleaning, the alteration of chemical or physical aspects of the sandstone, or it can refer to stabilization and restoration methods like installing pins or fasteners.