COVID-19 - Roadways, sidewalks and stairs
Updated June 29, 2020
We want to help Calgarians safely walk, run, skateboard and cycle during the COVID-19 (Coronavirus) pandemic.
We have implemented several measures including adaptive road closures and one-way travel recommendations on public sidewalks and staircases.​​​​
COVID-19 status in your community
Learn more about the regional relaunch status in your community, including whether added measures are in place to prevent the spread of the COVID-19 pandemic.
​​​​​​​​​
Adaptive lane
---
​​
​​
The City has been adding space for pedestrian traffic by identifying areas where "adaptive road closures" can be used. This involves closing off a lane to motor vehicle traffic and opening the lane for people who are walking, running, cycling, rollerblading and the like. The large lanes allow users to spread out at a safe distance as recommended by health officials.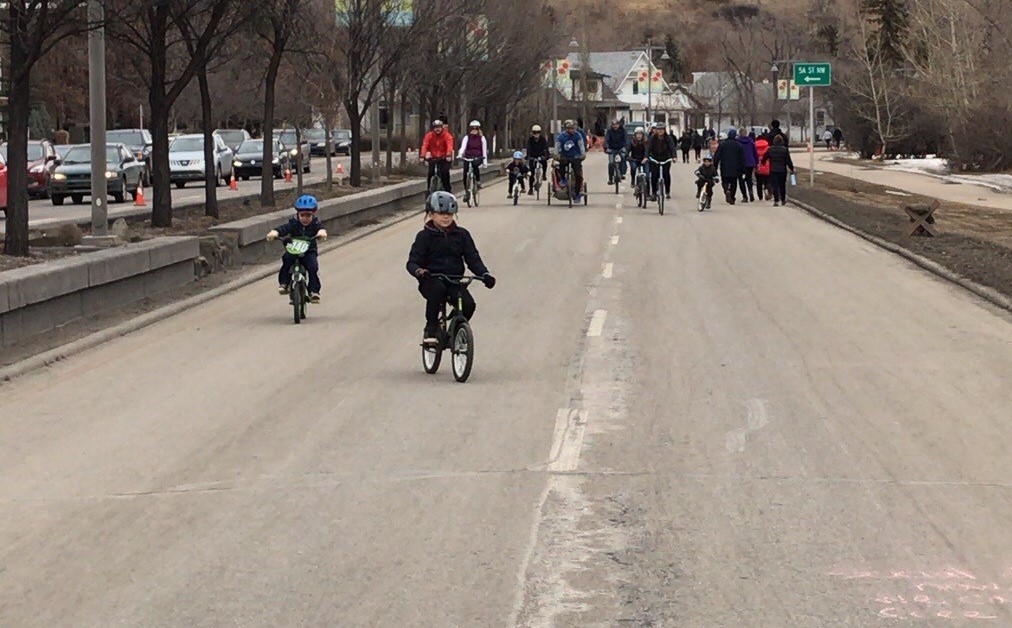 To prevent citizens from gathering on adaptive roadways, The City will not disclose the locations where lane closures have been approved and implemented for this purpose.
How are locations selected?
The City considers locations if:
The location is already experiencing high or elevated use
It is feasible to close a lane/road without introducing significant safety risks for all users
Closing a lane/road will not negatively impact operating businesses, particularly with respect to pick-up or delivery services
Transit can be maintained effectively
It is sustainable and cost effective to maintain
It will allow at least 15 minutes of continuous walking to support physical health
​
One-way sidewalks
---
​​
​​ ​​
To enhance physical distancing, The City is encouraging people who are using sidewalks to move in the same direction of traffic where possible.
​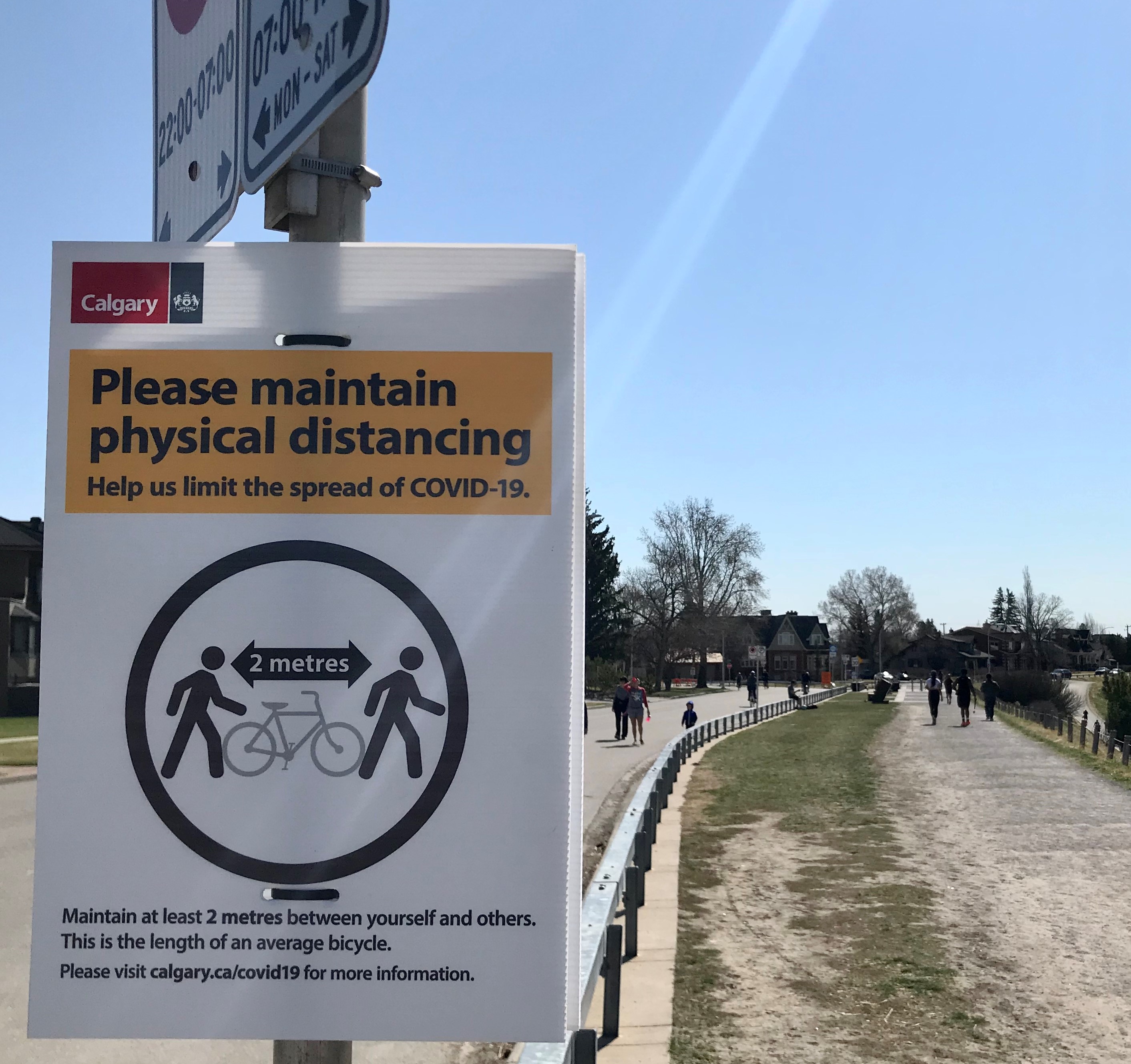 On two-way streets, pedestrians would travel in the same direction of traffic beside them. While walking the curb would always be on your left.
On one-way streets, pedestrians should walk so the curb is always on your right.
In areas with only one sidewalk, step aside onto the grass, if possible, to let others pass. If you must step onto the road, ensure it is safe to do so and there is no oncoming traffic.
One-way staircases
---
​​
​​
The City has also implemented one-way restrictions at large public staircases that are often used by people exercising.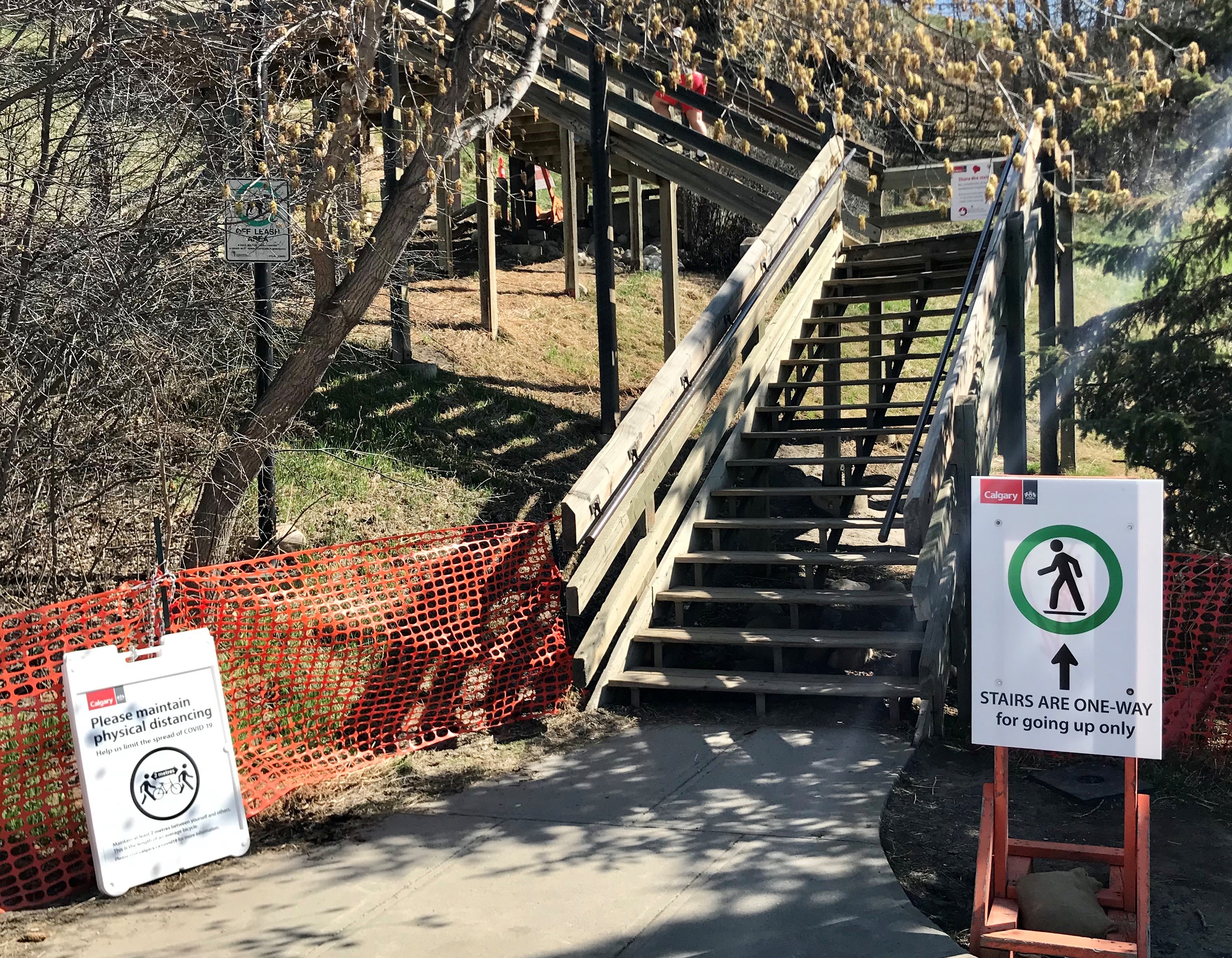 ​​
Signage on-site asks users to only use the stairs when travelling up the hill and provides a detour for those coming down the slope.
These measures have been put in place to prevent people from crossing paths with each other on busy staircases and will support the recommended two-metre physical distancing at all times.​​​
​​​​​​​
​​​​​​​​​
​​​​​​​