COVID-19 recovery funding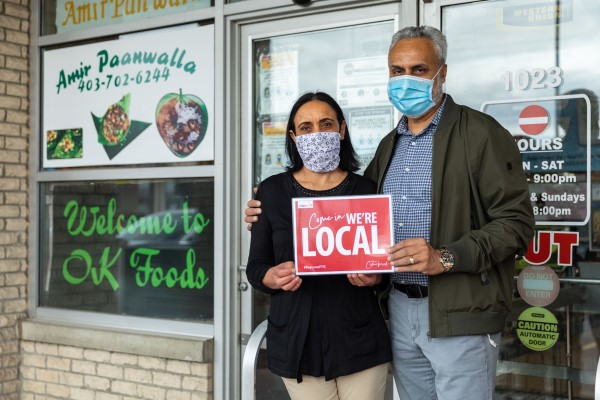 The City of Calgary is continuing to take action to support citizens, businesses and our partners and build our local economy during the pandemic. A total of $73 million in non-emergency response funding will help reduce the impact of the pandemic and aid Calgary's recovery following the pandemic. 
Four focus areas help ensure funding decisions provide maximum value while aligning with Council's direction, as approved during the 2020 Service Plan & Budget deliberations. The four focus areas include:
Coping with COVID.
Supporting our partners during COVID.
Preparing for uncertainty around COVID.
Planning for life with / after COVID.
The program provides funding sources so The City can respond quickly to changing demands on our services. It enables both Municipal Operating Support Transfer (MOST) funding and other ongoing corporate COVID-19 expense management to address ongoing uncertainties and City operational gaps created by the pandemic. 

We are working to ensure Calgarians, businesses, and our community have the information, support and financial assistance to help them throughout the pandemic. Coping with COVID requires us to provide safe and flexible access to City services and programs to encourage physical and mental health. Building strong communities requires us to care for our vulnerable population, foster responsible social interactions, and nourish Calgary local businesses and economies.
Over $26 million, including:
COVID-19 vaccination centres
We're supporting the Provincial distribution of vaccines by funding a mass vaccination clinic at the Telus Convention Centre, with the potential to add rapid-flow clinics until September 2021. Funding supports facility rental costs, logistics, and accessibility improvements.
Playfield parks improvements
We are creating opportunities at Calgary parks for people to get outside to connect with nature and one another. We're improving and providing new services and experiences at City parks and playfields across Calgary.
Improvements include ice-bikes at Bowness Park, ice skating pathway improvements, installation of temporary park spaces in areas with high demand for more green space and new activities throughout our Parks system.
Business Improvement Area levies
Public health measures in response to the pandemic have resulted in the total or partial closure of businesses, along with reduced operations and services. Despite programs and support from other levels of government, businesses' revenue remains severely impacted. The City has issued a credit to the over 6,000 businesses operating in Calgary's 15 Business Improvement Areas (BIAs) to credit the cost for the BIA levy. This removes the added cost associated with operating a business within a BIAs and help offset financial impacts experienced by local businesses during the pandemic.
Adaptive roadways & patios
We are providing spaces for citizens to remain active and explore the city while physically distancing to create more safe spaces for pedestrians, cyclists and outdoor patios.
Supporting our partners during COVID
---
We are support Calgarians by helping civic, and community partners continue to deliver successful support programs that our communities value and need. The City provided new or additional short-term funding to organizations experiencing significant challenges resulting from COVID or that find themselves ineligible for other relief programs.
A total of $25 million, including:
Affordable housing
The pandemic has elevated the urgency and importance of home, especially for Calgary's most vulnerable residents.
We're working to addressing the added cost of cleaning & maintaining existing non-market affordable housing units. Also, we are supporting the addition of new units and may support transitions to new more efficient housing units.
Supporting our partners
We address the impacts of the pandemic on Civic & Community Partners, Community Associations and Social Recreation groups. Critical short-term funding will fill gaps and manage risks related to service delivery distribution and City-owned assets.
Preparing for uncertainty around COVID
---
Ensuring a successful COVID response requires proactive preparation to meet the ever-changing challenges of the pandemic. We're focused on protecting our employees' health and safety, increasing the flexibility of City services and investing in technology to improve our ability to make real-time decisions.
Approximately $3 million, including:
Safe Community Activation through arts & culture
Delivering new funding for existing microgrant programs promotes safe community activities while supporting Calgarians' mental health through arts & culture.
Property Tax Assistance Program
We are providing additional revenue to support Calgary homeowners in genuine need as part of The City's Property Tax Assistance Program. Owners experiencing financial hardship may apply for a credit for the annual increase in their property tax.
Note: Council approved additional tax relief measures to assist property owners. Learn more calgary.ca/propertytax.
Bridging digital inequity
The COVID pandemic has highlighted digital inequities in Calgary, including limited access to the internet for many of Calgary's most vulnerable citizens. Efforts to increase access to information, services, education and employment both during and after the pandemic will aid our recovery. The City is working with community partners to improve digital equity in our neighbourhoods.
Planning for life with/after COVID
---
Ensuring Calgary is ready to reactivate requires us to implement pilot programs and new City services to deliver value to Calgarians, businesses and our community. Creating certainty for businesses to invest and thrive in our city while rebuilding confidence and trust in City Services is essential in helping shepherd Calgary's recovery.
Over $14 million, including:
Public transit support
We are expanding transit passenger safety and security, investing in passenger demand technology and increasing contactless payments opportunities with the My Fare app to help keep Calgarians safe.
City operating support program
We support City staff in managing the impacts of the pandemic by supplying N95 masks, rapid testing kits and adding deskside support to assist employees working from home. Calgary's economic resilience and pandemic response include developing an evaluation tool that will measure City efforts to impact our financial, economic, social, and environmental efforts.
A new evaluation tool will be developed to ensure financial, economic, social, and environmental actions are measured as part of Calgary's economic resiliency.
Pandemic relief communication
Providing information to citizens, communities, and businesses about The City's relief and recovery actions is essential during and after the pandemic. A strategic communication plan will help identify The City's role in recovery and the use of tax dollars to aid in relaunching Calgary.
As of April 19, 2021, approximately $68 million in COVID relief funding has been provided using Council's approved focus areas. Additional information regarding COVID relief programs is available. Additional information regarding COVID-19 recovery funding is available at the April 26, 2021 Strategic Meeting of Council.
COVID-19 response funding & City operating gaps
---
The City's 2021 operating gap is currently projected at $62 million, which will be managed in coordination with the COVID-19 response funding to support the ongoing delivery of City services. We will continue to use a flexible and rapid management approach to allocate remaining funds through a third wave of the pandemic to manage non-emergency response as needed.