All City of Calgary parks | Downtown parks | Contact Parks
Located among the towering downtown buildings, James Short Park is a popular place for Calgarians to relax during lunch hour.
Location: 115 4 Ave. S.W.
Area: .8 hectares
Park hours: 5 a.m. - 11 p.m.
Park features
Small playground
Seating areas
Cupola with clock
About the park
Located in the heart of downtown, James Short Park was named for the James Short School that once stood in the same spot. Completed in 1991, the park houses the unique cupola with a hand winding clock.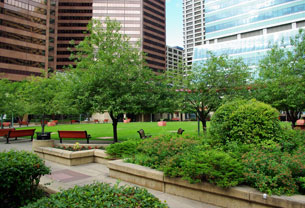 ​​​​​