Before booking an artificial turf field
​
The Shouldice Artificial Turf Fields are premium competition size athletic fields located at 1515 Home Rd NW.
McMahon Stadium is a premium competitions size artificial turf field located at 1817 Crowchild Tr. NW.​​

The Ernest Manning Athletic Park field is a premium competition sized athletic field located at Ernest Manning High School at 20 Springborough Blvd SW.
The Calgary Soccer Centre offers eight regulation indoor fields and three premium outdoor turf fields, located at 7000 - 48 Street S.E.
Artificial turf fields can be used for football, soccer, field lacrosse, ultimate frisbee, field hockey, rugby, special events and tournaments.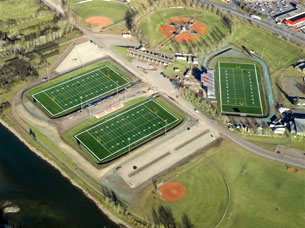 Shouldice artificial turf fields
​​
Things to know about booking artificial turf fields
Minimum 1 hour booking with additional increments of 15 minutes (pending availability)
Online bookings can be made 2 weeks in advance of the current date. We are unable to book same day.
All online bookings will be charged the adult rate only (no adjustments will be made to this rate). If a minor group wants to book with the minor rental rate they must contact the Facility Bookings office.
To book a Calgary Soccer Centre field, please contact the facility directly.
Bookings made online are non-refundable. No changes or cancellations are permitted.
Full payment is required at time of booking.  
The facility permit holder (applicant/renter) is expected to adhere to the
conditions of use and regulations governing athletic parks in order to ensure both the safety of participants and the preservation of The City facility. As the permit holder, it is your responsibility to ensure that every player, team official, parent of players (for youth organizations), and spectator is aware of the conditions of use/regulations.
The City of Calgary has a zero tolerance policy regarding the consumption of alcohol at athletic parks.
There is no snow removal for any regular bookings at Ernest Mannning. Snow removal for special events and tournaments may be considered and is subject to additional fees.
Timelines for booking artificial turf fields
Regular season (April - November) - Artificial turf fields are available for booking April through November. Customers can book online, by phone or in person.
Offseason (December - March) - Artificial turf fields are available to book in the offseason, however snow removal is not provided. All offseason bookings require approval from site staff and cannot be booked online. To book please phone (403) 268-3800, option #2.​​​​​
​ ​​​