The Forest Lawn Creek Gateway is the last stretch of pathway that completes the Rotary Mattamy Greenway pathway system. This will be a year-round destination for cyclists, cross-country skiers, runners, walkers, and nature lovers. Directly connecting to 55 Calgary communities in all four quadrants, and to the existing pathway network, these connections will make the Greenway accessible to all Calgarians. The project is split into two areas that are tied into existing components of the Rotary Mattamy Greenway:
Forest Lawn Creek Gateway North: The proposed alignment is along 17 Ave S.E. from 68 St S.E., moving east to Stoney Trail S.E. It then turns south along Stoney Trail to Peigan Trail SE where it then heads west to 52 St S.E. The north and south connection points of this segment are tied into existing components of the Rotary Mattamy Greenway.

 

Forest Lawn Creek Gateway South: The proposed alignment ties into the existing asphalt pathway on the east side of 84 St S.E. on the north side of the railway crossing. A signed or signalized cross walk will be designed and built at the pathway railway crossing in accordance with the current Transport Canada and Railway standards. The pathway will tie into the existing asphalt on the north side of 114 Ave S.E. on an alignment that ties into the existing Rotary Mattamy Greenway on the south side of 114 Ave S.E.

 
85 Street N.W.
A new section of asphalt pathway along 85 Street N.W., north of 112 Avenue was installed to provide access to/from the Calgary Remand Center and the Calgary Young Offenders Center.​​
Communities of Evanston and Hidden Valley
In the fall of 2015, work will begin on a new, three metre wide, 1.6 km missing pathway link as part of Calgary's highly valued regional pathway system. The new connection will extend from Hidden Creek Drive to Evansmeade Circle, crossing under Stoney Trail. It will connect the northwest communities of Hidden Valley and Evanston. Work is weather dependant and may continue into 2016.
Part of this work includes a pedestrian bridge replacement along the Panorama Road alignment, crossing Nose Creek. The original bridge was built many decades ago and has now reached the end of its lifecycle. Once complete, the new bridge will be long-lasting, flood resilient, and will minimize adverse impacts on the nearby sensitive natural environment. The new pedestrian bridge is being constructed jointly by Qualico Homes and Hopewell Communities.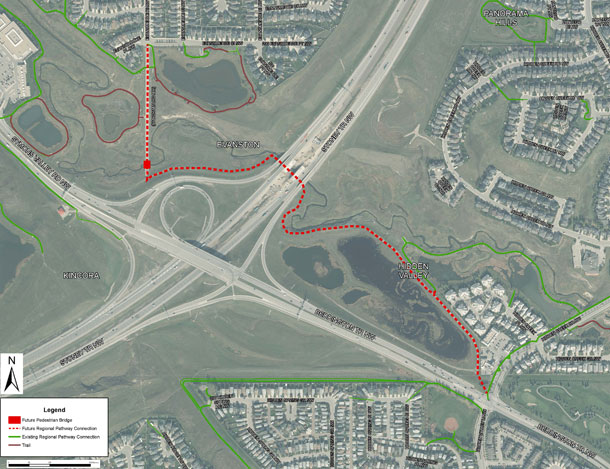 ​​
Dalhousie
Work is ongoing to construct a north/south missing pathway link between the new pedestrian overpass at Shaganappi Trail N.W. and the entrance to the shopping centre on the northwest side of Shaganappi Trail.
Killarney
Installation of a local pathway missing link leading to and from a future playground located between 29 Street and 30 Street S.W, near the Killarney Aquatic & Recreation Centre.
Southview
A local pathway missing link was completed near the Southview Community Association along 33 Street S.E. The work involved upgrading a trail to asphalt surface.​​​
You may need to self-isolate because you have returned from international travel or you have been told to do so by a health professional/government order. In this case, you are required to stay at home and should follow these steps:
Notify your supervisor and stay at home.
*NEW*If you are able to work from home, you can do so with your supervisor's permission. And you can return to work WITHOUT CLEARANCE, if you remain symptom free after 10 days. You do not have to contact Homewood Health, but you should tell your supervisor and call 403-268-8308 to get information reported into the Safety Data Management System (SDMS). If you are in Fire, contact the on-call Health and Safety Officer.
If you cannot work from home, or you are being accommodated to work from home send in your online application to Homewood Health and they will contact you to evaluate your claim and provide you with a return to work date.​
​​
Accordion overview
The accordion is the implementation of the pattern library component by the same name.
Objective
Configuration
The accordion has several configuration options available:
Rich text for accordion body text, allows for addition of images, tables, links etc.
Inline editing for quick edits
Show online
Sort order​
​​​​​