Keystone Hills Core Plan: Area Structure Plan Amendment
Overview
The City of Calgary, in partnership with the area landowners, completed an integrated land use and transportation study for the Centre Street corridor north of Stoney Trail. To implement the study outcomes, which include important details such as determining land uses as well as the size and shape of individual blocks, amendments to the Keystone Hills Area Structure Plan are necessary.
This project is anticipated to start in the spring/summer of 2018.
Area Structure Plans (ASP) are used by The City to help guide initial development of new communities at the edge of the city. ASPs outline key transportation connections, school sites, open spaces as well as individual commercial, industrial and residential areas. In addition, ASPs must be consistent with Calgary's Municipal Development Plan.
The Keystone Hills ASP includes land located in the northwest and northeast quadrants of the city, an area which was annexed from Rocky View County between 1989 and 2007. It is bordered by Stoney Trail to the south, 160 Avenue to the north, 14 Street N.W. to the west and the Nose Creek to the east. The Keystone Hills ASP was approved by Council in 2012.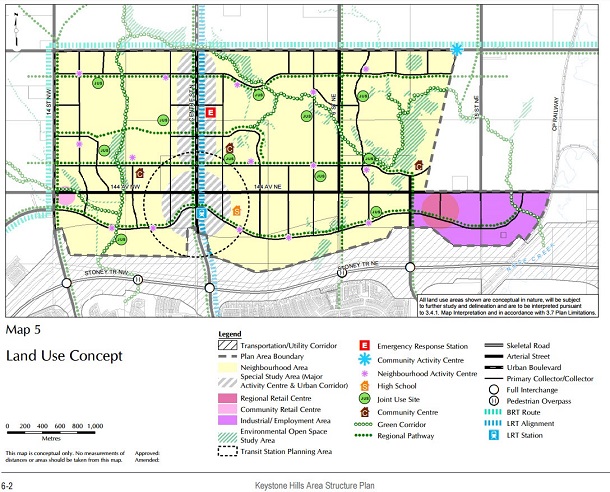 Amending Area Structure Plans
When The City of Calgary needs to amend an Area Structure Plan, the following process is typically followed:
Notices are sent to adjacent landowners, the local community association (if one exists), the respective ward Councillors, various City departments (such as Transportation Planning, Urban Development, Parks), and other external agencies (e.g. utility companies) to gather their input.

At the same time, The City, in collaboration with the respective landowners, prepares and reviews the required amendments. Any proposed changes must align with City plans and policies, including (but not limited to) the Municipal Development Plan and regional plans applicable to the affected area.
Following the preparation and review of the proposed amendments and any feedback received from stakeholders and the general public, The City prepares a report for the Calgary Planning Commission with recommendations on the proposed amendments. The Calgary Planning Commission is a committee appointed annually by City Council to make recommendations to City Council on land use planning matters. The Calgary Planning Commission can request changes or forward the report along with their recommendations to City Council.
Once the Calgary Planning Commission has made a recommendation to City Council, the proposed amendments are advertised for a two-week period in the Calgary Herald and then goes to City Council for the final decision. Council is required to hold a public hearing on all ASP amendments.
Supporting information and documents
Contact
Martin Beck
Senior Planner, Planning & Development
Tel: 403-268-5724
Email: Martin.Beck@calgary.ca   
For media inquiries please call 403-828-2954
​​​ ​​​​​​​​​​​​​​​