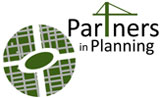 Planning a city is not a simple task and it involves many different laws and complex processes. It can be tough to learn how development is regulated in Calgary, and can be even tougher to know how to effectively participate in the urban planning process.
Partners in Planning is a program that The City and the Federation of Calgary Communities offers to help you learn how development gets planned and approved. It is open to anyone and if you complete the certificate, you will learn the necessary skills, knowledge and tools you need to actively and effectively participate in the planning process.
The City has created an online toolkit connected to Community Outreach on Planning & Development. To learn more about outreach connected to planning and your role, visit calgary.ca/planningoutreach​.
Certificate Program
While you are free to take any of the courses that interest you, Partners in Planning has been designed as a certificate program made up of four courses. There are three core courses that cover the basics of Calgary's planning system and then each year there are electives offered on various other topics. To get the certificate, you must complete all three core courses and at least one elective. There is no time restriction on when you have to complete these courses, so you can spread them out over a few years if you need.
Registering for Courses
Partners in Planning courses are free; however you do need to register in advance since space is limited. To register for an upcoming course, please visit the Federation of Calgary Communities' online registration page.
If you are unable to register online, you can also call 403-244-4111 (ext. 210) or email engageinplanning@calgarycommunities.com.
Courses
If you would like email reminders of upcoming Partners in Planning courses, please subscribe to our email updates.
Contact
For more information on Partners in Planning, please contact either:
Toun Osuntogun
Urban Planner, Federation of Calgary Communities
Phone: 403-244-4111 (ext. 207)
Email: planning@calgarycommunities.com
Jenn Crack
Customer Coordinator, Homeowner, Partnership Services
Calgary Approvals Coordination, Planning & Development
Phone: 403-370-1157
Email: Jennifer.Crack@calgary.ca
​​​​​​​​​​​​​​​​