Why City Planning? Building Great Communities for Everyone
​​​​​​​​​​​​​
Getting ahead of the change
We're making a change to the way we plan our city through what we call the Next Generation Planning System:
positions The City to operate more fiscally responsible, with better value to citizens, over a longer period of time
supports built-out communities to be vibrant and successful for decades to come
allows for closer working relationships with our citizens
Initiated in 2019, the Next Generation of Planning system improves the way we plan Calgary's future.  It's the foundation and framework for how we plan our city for the citizens who live here now and the next generation of citizens.
Currently made up of nine initiatives, the Next Generation of Planning helps us implement and realize the Municipal Development Plan and Calgary Transportation Plans​ and their policies:
provides a coordinated and clear planning system for the whole city
removes outdated and redundant policy
creates a more robust toolbox to enable development and investment in Calgary
Planning & Development Department's mission
To plan and enable building a great Calgary

​​
​
Our Department's 2020 Plan
Our 2020 Planning & Development Accountability Plan​​ aims to provide an internal view of how the Planning & Development department governs and manages its business, which ultimately provides value to Calgarians. While this plan is designed to be a reference and information tool for Planning & Development staff, it is published externally to align with our focus on transparency.

​​
​
Next Generation of Planning- Initiatives
The MDP and CTP are The City's long-range land use and transportation plans that look upwards of 60 years into the future, when Calgary's population is expected to reach over two million people.
Implement policy to PLAN A GREAT CALGARY.
Enable growth and development to BUILD A GREAT CALGARY.
Planning and building great communities for everyone
Together, these nine initiatives will work together with existing polices. The goal is to plan a great Calgary with programs that will enable growth and development so we can continue building a great city.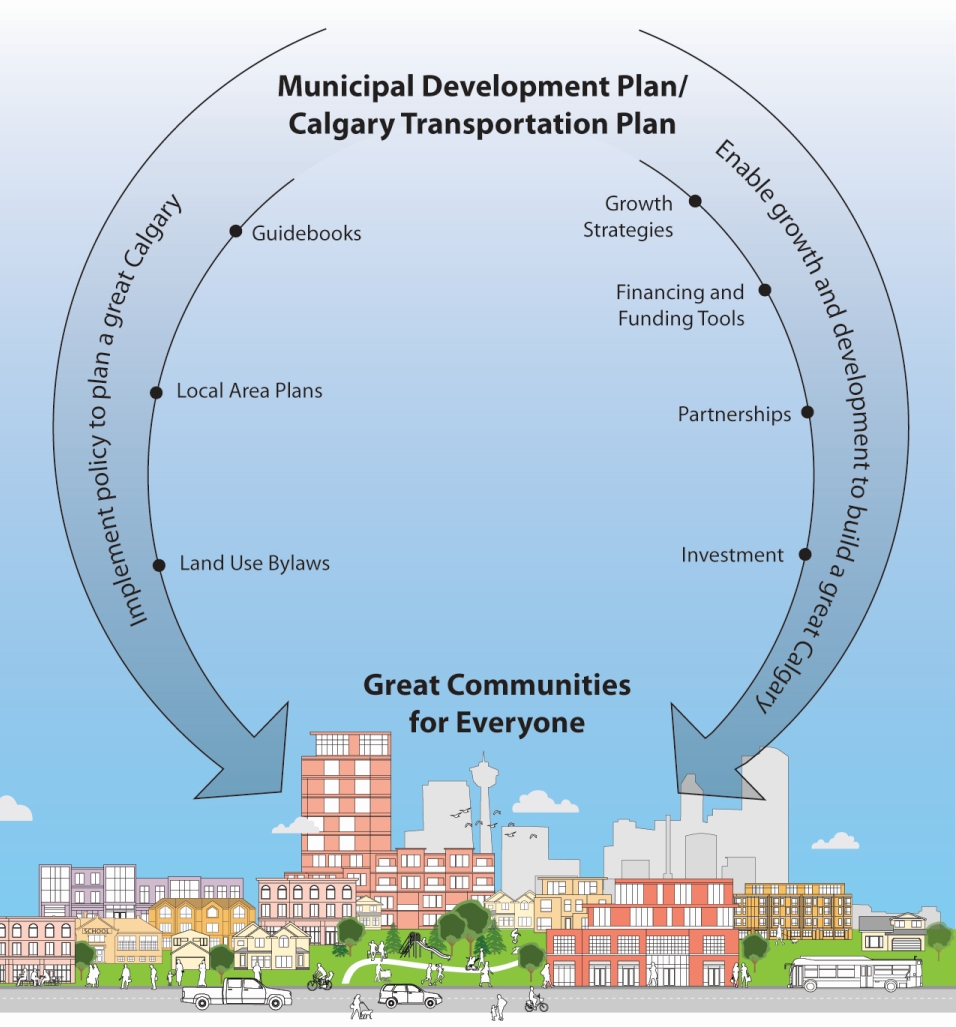 Background
Change is inevitable for all cities including Calgary. City governments plan for change by working to adapt to growing populations, changes in the economy, outlining aims for a sustainable future, and creating great communities for everyone.
As Calgary grows, we want to build our city in a way that is mindful of the future, promotes sustainable ways of living, encourages a variety of housing choices, is respectful of community character, and balances the interests of neighbourhoods with the interests of Calgary as a whole.
​​​​​​​​​​​​​​​​​​