Van Horne digital sign application
Update
On October 18, 2018, Calgary Planning Commission considered a land use application for five sites within the Centre City owned by the Canadian Pacific Railway to allow digital third party advertising on these five railway overpasses.  After consideration of the item, CPC referred the land use application back to Administration for further study and review; specifically to:
​​Undertake City-led engagement that uses balanced and factual information to address community and business concerns that have been raised and to return to CPC as soon as possible.

The CP Rail overpasses at 8th St. S.W., 4th St. S.W., 1st St. S.W., 1st St. S.E., Macleod Trail and 9th Ave S.E. form main gateways and key corridors for vehicles and pedestrians moving between the Beltline, Inglewood and the Downtown Core.  Through City Council approved funding, the City is working to improve the pedestrian environment and underpass connections and as such is looking to better understand how this land use application fits into the broader context of making these inviting, aesthetical and functional spaces.
Background​
The City of Calgary is currently reviewing a land use amendment application (LOC2018-0089) in the Centre City for the installation of digital signage over five existing train bridge underpasses along the Canadian Pacific Railway line. The digital signage is intended to replace ten existing static vinyl banners located on the underpasses with seven digital displays running static (non-moving) content. The signs would be required to comply with existing Land Use Bylaw rules governing digital displays.
Land use amendment application
This land use amendment application proposes adding the additional discretionary use of Sign - Class G to the existing land use designation of S-CRI (Special Purpose - City and Regional Infrastructure District). These signs are classified as Digital Advertising and Third Party Advertising and are currently not listed uses in the S-CRI district on lands owned by the Canadian Pacific Railway.
If approved, the land use amendment would result in development permit applications for each of the railroad overpasses.
Locations
The initial proposed sign locations, included in the land use application, measuring 8' x 29', would be located at:
1st St S.E. – display facing north
1st St. S.W. – 1 display facing south
8th St. S.W. – 1 display facing south
8th St. S.W. – 1 display facing north
9th Ave S.E. – 1 display facing west
4th St. S.W. – 1 display facing south
Macleod Trail - 1 display facing south
Images
Existing signage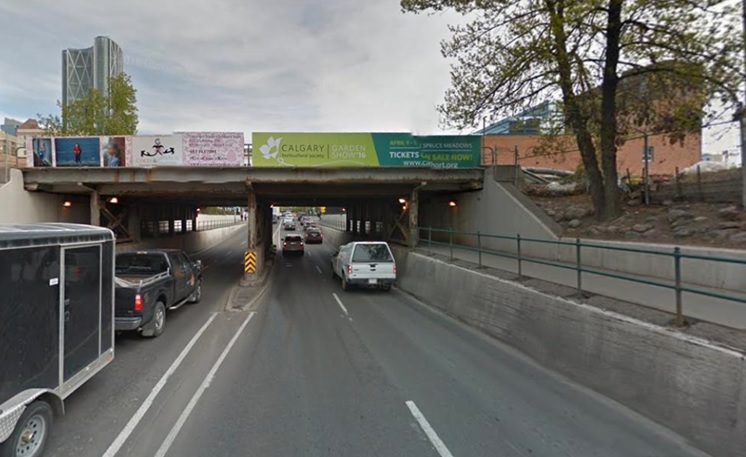 Proposed signage example (daytime)

Proposed signage example (nighttime)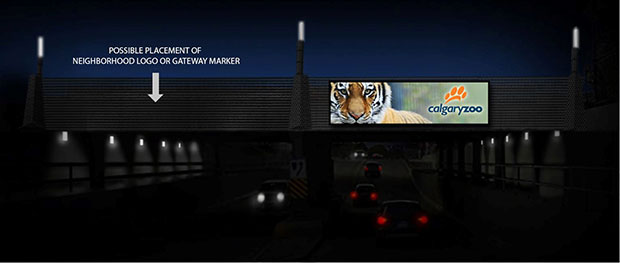 Proposed timeline
July 2018
Formal submission of land use amendment application.

July 2018:

July 2018

Formal submission of land use amendment application.:

Input collected online to help inform The City's technical review.

July 2018:

October 18, 2018

Formal submission of land use amendment application.:

Calgary Planning Commission refers land use application for further review 

July 2018:

​Q1 2019

Formal submission of land use amendment application.:

Additional engagement begins 
Supporting links and documents