North Silverado Outline Plan
This application propos​es an outline for the future subdivision and development of 16.77 hectares of land in the southwest community of Silverado. This proposal provides for:
approximately 100 low density lots (R-1, R-G Districts) that may include Single Detached Dwelling with Secondary Suite, Semi-detached Dwelling and Duplex Dwelling;

approximately 634 multi-residential units (M-G District or M-2 District), which would include Townhouse and Low-rise Apartment housing types;

3.46 hectares of public open space (S-SPR District) which will include an interconnected pathway network, and areas for residents to use for recreational activities; and
vehicular access to the subject site is proposed through the connection to and extension of three local roads: Silverado Skies Link SW, Silverado Ponds Way SW and Silverado Skies Way SW.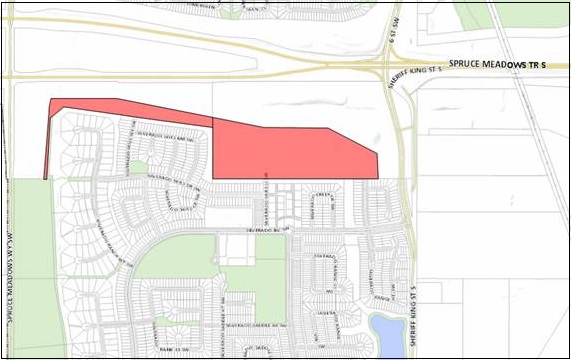 Timeline
Any relevant past or future dates i.e. when the application was submitted, tentative timelines for CPC/Council, public engagement opportunities.
Date
Activity

Date:

March 9, 2017

Activity:

Land Use Amendment and Outline Plan Submission

Date:

March 30, 2017

Activity:

Initial Team Review

Date:

April 10, 2017

Activity:

Circulation for Comments

Date:

May 15, 2017

Activity:

City Led Public Engagement

Date:

July 2017 (Tentative)

Activity:

Detailed Team Review Letter


Review period with applicant
Revisions & Resubmission by the Applicant

Recirculation internally and external

Date:

January 30, 2018

Activity:

Information Session

Date:

Winter 2018

Activity:

Calgary Planning Commission

Date:

Quarter 1 2018 (Tentative)

Activity:

Public Hearing – City Council
* Timeline subject to change based on revisions to the application
Supporting Documents
Contact
Jarred Friedman, RPP, MCIP
Planner II - Centre West Team, Planning & Development
403-268-5344
Jarred.Friedman@Calgary.ca​​​​​​​​
​​​​​​​​​​​