Point Trotter Industrial Park-old
Overview
Point Trotter Industrial Park provides pivotal connections for the efficient transportation of goods, services and information. This Calgary industrial park is close to the Canadian Pacific Railway Intermodal Facility and other major transportation routes. Not only is the land parceling flexible, Point Trotter is part of a sustainable rebate program, providing businesses up to $100,000 in rebate upon proof of LEED certification.
50 million people accessible by ground transportation within 24 hours.
Highway distribution access in all directions across Canada, U.S. and Mexico.
Access to Canadian Pacific's Class 1 railroad serving every major city in North America.
Calgary International Airport (YYC) connects Calgary around the globe within 48 hours.
Sectors we can accommodate
Strategically situated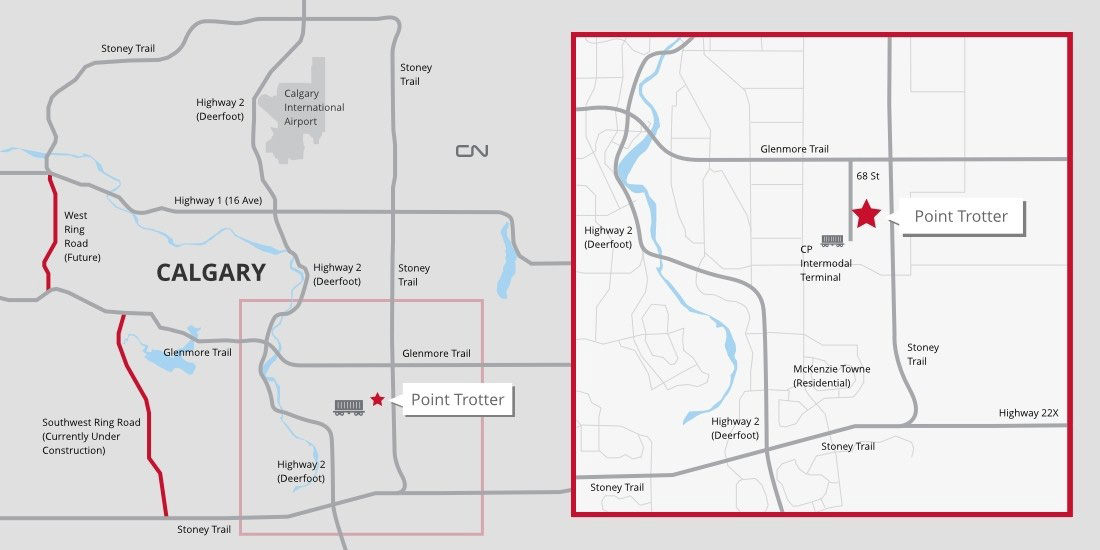 Location
South of Glenmore Trail S.E. and east of 68th Street S.E.
Close proximity to the Canadian Pacific Calgary Intermodal Facility.
Architectural controls
Registered architectural guidelines for high quality sustainable building and site design elements.
Opportunity for customized equivalencies to meet specific site requirements.
Fully serviced land
Access to full services, including:
Deep utilities: storm, water, sewer (The City of Calgary).
Shallow utilities: power, telecommunication services, natural gas.
Firefighting services (The City of Calgary).
Transportation and access
Size
Approximately 60 net developable acres of fully serviced land.
Asking price
Starting at $700,000 per acre.
Bulk-pricing consideration for large single user facilities.
Architectural guidelines
For consistent standards, sustainable building and site design elements, find the architectural guidelines online.
Engineering drawings
The City of Calgary offers access to both digital and hard copies of various city documents, including engineering drawings.
Approvals coordination
The City wants to help our customers realize development and improve Calgary's economic stability by creating a new kind of relationship with builders.
​​​​​​​​​​​​​​​​​​​​​​​​​​​​​​​​​​​​​​​​​​​​​​