Traffic management measures such as speed humps, speed tables, curb extensions, raised medians and traffic circles are designed and constructed to encourage safe driving by slowing down the speed of motorists.
Each year The City approves a budget for constructing traffic management measures, also known as traffic calming measures, in communities that have followed the process required by the Traffic Calming Policy and are approved for implementation. 
Use the following service request to inquire about the construction of a currently scheduled traffic calming measure.
​​​
Types of traffic calming measures
---
​
Temporary Traffic Calming Curbs
As part of a Pilot Project, The City is introducing temporary Traffic Calming Curbs (TC Curbs) at various locations with speeding, long crossing distances, poor yielding compliance, complex geometry, and increased risk of collision.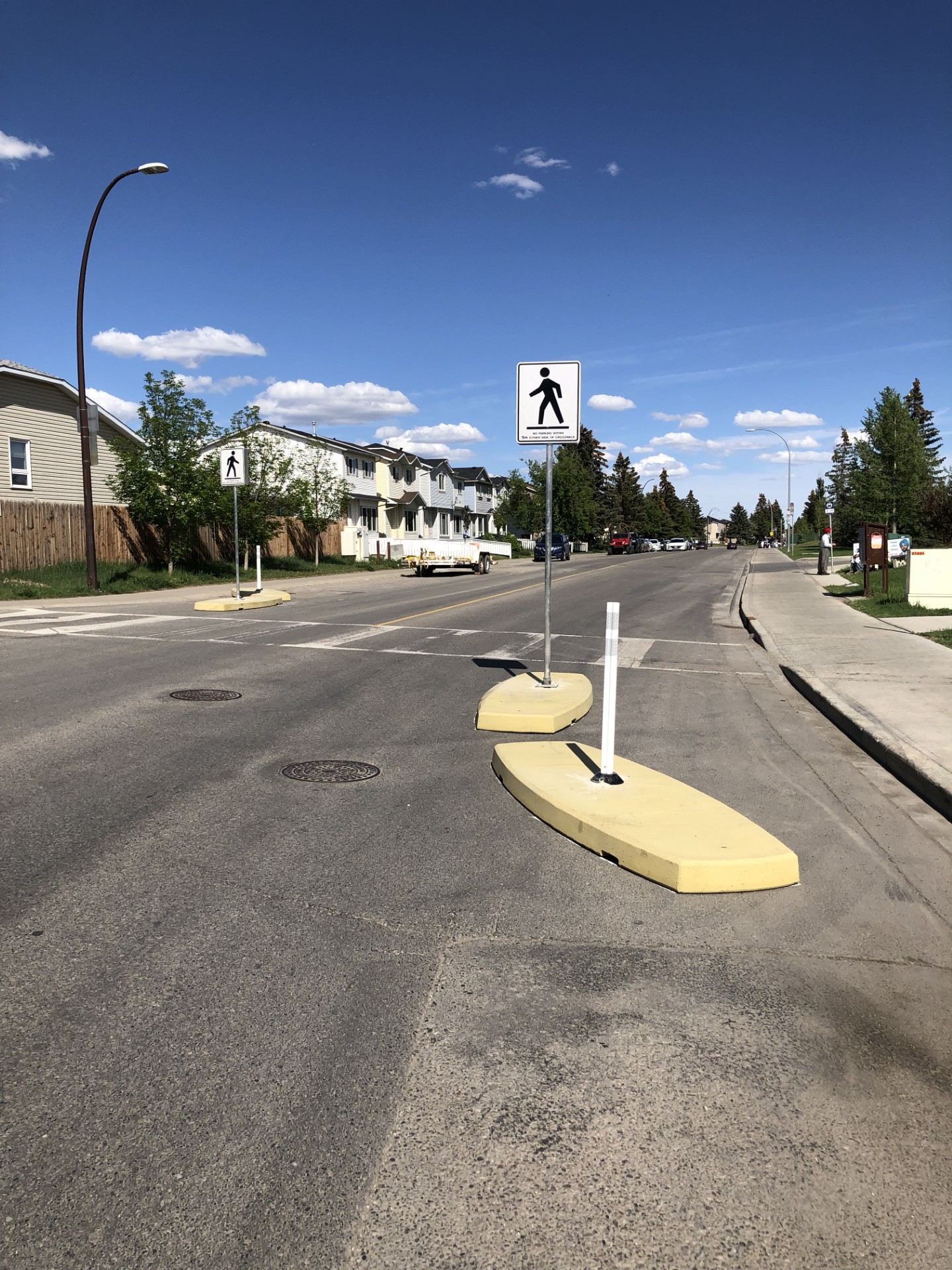 ​​​
​
Curb extentions
Curb extensions are typically a reconstruction of the sidewalk to extend into the roadway, resulting in a narrower roadway width. They can be placed at intersections or at mid-block locations.
Curb extension improve pedestrian crossings by:
Shortening the crossing distance across an intersection.
Providing motorists with improved visibility of pedestrians.
Eliminating driving in the parking lane.
Helping to reduce speeds by narrowing the roadway.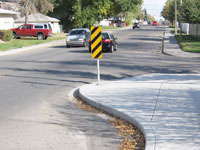 ​​​
​
Curb radius reductions
Corner radius reductions are primarily pedestrian safety measures. A corner radius reduction is used to:
Expand an intersection corner to reduce the crossing distance for pedestrians.
Improve motorist visibility of pedestrians.
Reduce the speeds of turning vehicles, which will reduce the likelihood and consequences of a collision with a pedestrian.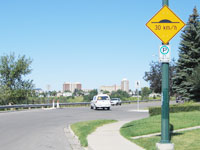 ​​​
​
Raised crosswalks
A raised crosswalk is asphalt raised approximately 80 mm. It has a two-fold purpose:
To reduce vehicle speed, much like a speed table.
To create a safer crossing environment for pedestrians by improving the visibility of the crosswalk and pedestrians to motorists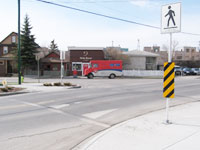 ​​​
​
Raised median islands
Raised median islands are used at intersections for various reasons:
To provide pedestrians with a safe place to stop halfway across the intersection.
To reduce the crossing distance.
To keep vehicles in the appropriate travel lane.
To help reduce vehicle speeds.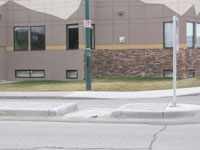 ​​​
​
Road/intersection realignments
Road/intersection realignments are constructed to increase safety for motorists and pedestrians.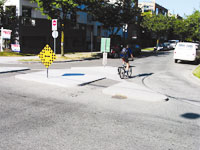 ​​​
​
Speed humps
A speed hump is a paved mound raised approximately 80 mm and is the same width as the street.
It is designed to reduce mid-block speeds to approximately 30 km/h. It is a gentle transition for slower moving vehicles, but is uncomfortable for faster moving vehicles.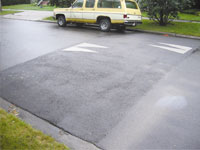 ​​​
​
Speed tables
Speed tables are similar to speed humps, but also include an elevated flat area similar to a raised crosswalk. The speed table has the same function as a speed hump, but is used in 50 km/h speed zones.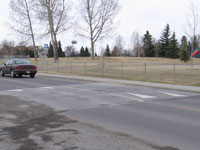 ​​​
​
Speed cushions
Speed cushions are similar to speed humps but do not extend the full width of the road. They are used on roadways with a posted speed limit of 50 km/h. Speed cushions provide an opening designed for vehicles with a wide wheel base, such as Transit buses and Fire trucks, so they may pass through with minimal disruption.
​​​
​
Traffic circles
Traffic circles are raised islands at residential street intersections. They require all traffic to drive counter clockwise around a centre island. The design of traffic circles slow vehicles to approximately 25 km/h to 30 km/h when driving through the intersection. As a result, the frequency and severity of collisions at an intersection is reduced.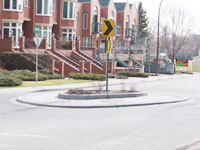 ​​​
​
Signage used to control traffic
Signage is used to control traffic by alerting motorists of traffic-calmed neighbourhoods, restricting turns, prohibiting through traffic and incorporating one-ways.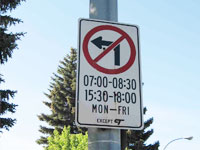 ​​​
​
Limit Your Speed Board
Limit Your Speed Boards are permanent signs which use a radar detection system that is activated by speeding vehicles.
When a vehicle is travelling within the speed limit, the sign does not show the vehicle speed and the sign remains blank.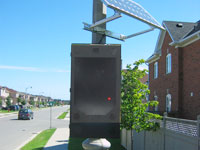 ​​​
When a vehicle is speeding, the radar system is used to detect the speed and the sign displays flashing lights, the speed limit and a message to slow down.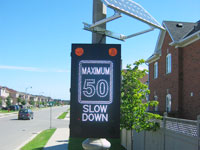 ​​​