130 Avenue S.E. twinning between 52 Street and McIvor Boulevard
Project update – June 26, 2020
Roadway construction has now begun on this project. The Contractor is currently working on stripping operations and earthworks.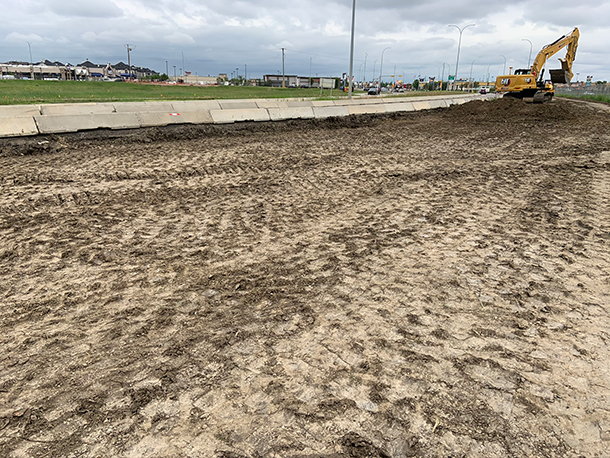 Prior to construction starting, underground traffic signal infrastructure was installed at intersections near the New Brighton Athletic Park, McIvor Blvd., and two automobile dealerships. As well, Enmax relocated the transmission power line at McIvor Blvd.
Project scope
By twinning 130 Avenue S.E., we're making it easier for people to travel through the area, whether they drive to and from work, shop at local businesses, or use the pathway network. Here's what the road twinning will do for this area of Calgary:
Doubles the capacity of the road with two eastbound lanes and two westbound lanes, to ease current congestion, improve safety and accommodate future development
Adds a pathway along the north side of the road, connecting to the 52 Street S.E. pathway
Adds four traffic signals to improve traffic flow and access to the businesses
Widens 52 Street S.E., to improve the right turn from westbound 130 Avenue S.E. to northbound 52 Street S.E.
Project background
Southeast Calgary's population and traffic volumes have significantly grown over the last few years, due to residential and community development in the area. For drivers, 130 Avenue S.E. is one of the major connections to 52 Street S.E., Park and Ride transit facilities, and amenities in the area.
The current road, which opened in 2012, experiences significant delays and congestion, especially when turning right onto northbound 52 Street S.E. from 130 Avenue S.E., in the morning peak hour. The improvements will distribute traffic more evenly, so people can travel more efficient. As well, the new pathway will connect to the 52 Street S.E. pathway, which directly connects people using the pathway along the water canal and the Bow River.
Schedule
2019: Complete design
Early 2020: Tender and award contract
Spring 2020: Begin construction
Fall of 2020: Complete construction
Project budget
Budget approved: $5.5 million.
The budget was approved by Council, as part of One Calgary's Service Line 'Streets'.
Project design

Click to view larger image.