14 Ave - 15 Ave one way streets: 17 Ave S.W. construction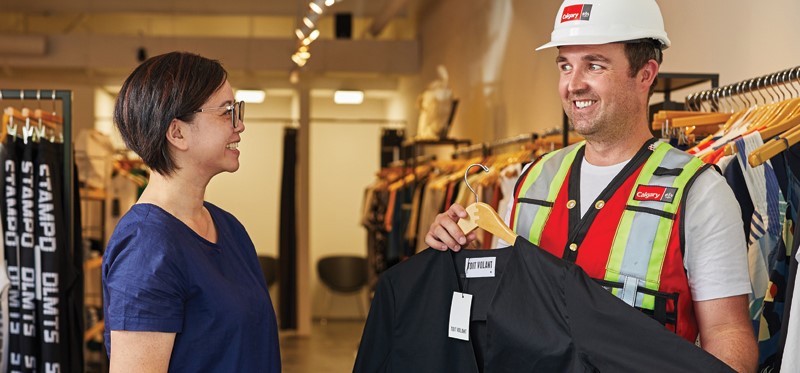 In the spring/summer the City's Livable Streets Division will be monitoring the 14 and 15 Avenue one-way detours to collect data on speed, volumes of traffic and bikes and collisions.
The data collected over the winter will be reviewed to make a decision on whether or not to permanently make 14 and 15 Avenues one-way streets. Any improvements to support this change would be made in 2021.
See how the one-way avenues work
These images represent the operation of a typical one-way block on westbound 14 Avenue S.W. and eastbound 15 Avenue S.W. Individual blocks and intersections may operate differently depending on the surrounding environment.
Frequently asked questions
No. the one-ways streets will direct people back onto 17 Avenue S., after they pass construction.
Stop signs and traffic signals will be in place to control traffic volumes and speed.
On-street parking remains on both sides and only temporarily removed for temporary bus stops and near intersections.
The City will also monitor the Avenues to ensure traffic is moving safely and efficiently.
​
14th Avenue S. is one westbound traffic lane, with parking on both sides of the street.
15th Avenue S. is one eastbound traffic lane, with parking on both sides of the street.
People driving only use the one-ways to move around the construction area. Signs are in place, directing people back onto 17th Ave. S.W. after they pass the construction area.
As the construction moves west on 17th Ave. S.W., the signs will also move on 14th and 15th Avenues S., to reflect the construction area.
All walking connections in the Beltline community remain in place.
​
Consistency and predictability make the street safer. The construction area on 17th Ave S.W. will move west through the year, fluctuating from one to three blocks.
Continually switching 14th and 15th Avenues S. between two-way to one-way streets throughout the year, means an unpredictable street that is constantly changing how people travel. This uncertainty and inconsistency leads to an unsafe environment.
​
The existing stop signs and parking on both sides of 14th and 15th Avenues S. remain in place. The stop signs and on-street parking are traffic calming measures, which encourages people to drive slow and return to 17th Ave S.W., once they've passed the construction zone.
The City installed temporary curb extensions at every intersection that does not have a traffic signal. These curb extensions enhance visibility, make crossing easier for people driving and walking, and have been used successfully in other communities​ around Calgary.
​
---
What's happening on 17th Avenue SW
​​​​​​​