FAQs: 17 Ave S.W. construction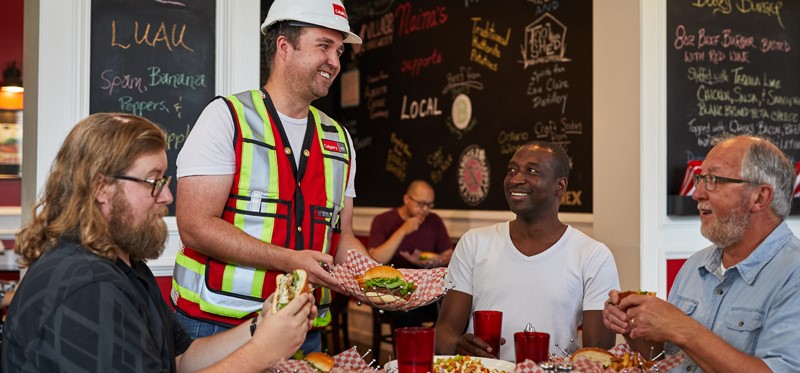 There's a lot happening on 17th Ave S.W., and we want to make sure you know the details. Find the answers to your questions here. If you're not finding what you're looking for, reach out to the project team. We're available to chat.
Construction
Now that construction has started, you can check out how and where the work will unfold in 2019 on the Construction Schedule web page​. Note, the schedule may vary at times from what's proposed, as progress may be impacted by inclement weather conditions or unforeseen underground conditions.
​
There will be two underground crews on 17 Avenue this construction season. Please see the construction schedule for more details on where crews will be when.
​​​​​​​​
A six foot, steel mesh construction safety and security fencing will separate work areas from public areas. Fencing will generally be placed approximately three feet back from the road curb onto the sidewalk. There is the option to attach graphically designed banners for visual appeal.
​
Litter bins and street furniture will remain in their existing locations unless the placement of construction fencing requires them to be temporarily relocated to a nearby location.
​
Some areas of 17th Ave S.W. are more than one hundred years old. It is not unusual to encounter old utility lines, old trolley line pieces and other unexpected things that did not show on underground utility drawings. If this situation occurs, the project team reviews the situation with the contractor and consults with other project team members and stakeholders to determine the best course of action, with the least impact on the construction schedule, businesses and resident.
​
If the construction site is vandalized, including graffiti drawings, The City will resolve the vandalism, including removing graffiti, immediately after it's reported. To report graffiti, please call 311 or email the project team at cityofcalgary17@calgary.ca.
​
The contractor will have multiple crews undertaking various elements on the project, including excavation, utility replacement, road construction, specialized concrete construction, and electrical street-lighting and landscaping works. Crew sizes will be optimized (recognizing the constrained work areas available) throughout the construction season to complete the work within the 2019 schedule.
​
Crews will generally work from 7 a.m. – 7 p.m., Mondays through Saturdays, and additional days and times to maintain the schedule.
At certain points in the project, crews will work extended hours, for example, until 10 p.m.
​
There may be times when it appears no work is taking place behind construction fencing. Other than Sundays or evenings after 7 p.m., this situation may also occur when work crews or sub-contractors are changing between work zones. These times will be minimized as the crew sizes are optimized and are working as efficiently as the work zones and time permits.
​
If the safety concern is a medical emergency, call 911. For all other safety concerns, please call 311 or email cityofcalgary17@calgary.ca.
​
Sidewalk work, including related streetscape improvements, is being reevaluated and rescheduled to minimize the impact to people walking in the area and access to businesses.
​​
People driving will have the option of using westbound 14 Avenue S.W. and eastbound 15 Avenue S.W., between 12 Street S.W. and Macleod Trail. Signs will direct drivers around the construction areas, when necessary. City of Calgary Transit (Routes #2, #6 and #7) will use 14 Avenue S.W. and 15 Avenue S.W. at temporary bus-stops, when construction is underway. Refer to the 14/15 Avenue S.W. one-way streets web page​ for more details.
In case your destination is south of 17 Ave S., streets south of 17 Ave S. will also remain open. Please note: sidewalks on the north and south sides of 17 Ave S. will remain open through construction. At times when full intersections are closed, signs will direct pedestrians to the nearest safe crosswalk.​
​
New dedicated bike lanes are in place on 14 Avenue S.W. and 15 Avenue S.W., between 12 Street S.W. and Macleod Trail. People riding bikes can also use the existing 5 Street S.W. cycle track, which connects to the eastbound-westbound cycle tracks on 8 Avenue S.W. and 12 Avenue S.W., further north. Bike racks and other bike parking areas may be temporarily relocated during construction.
​
There are many alternate parking options on 17th Ave S.W. and close to your 17th Ave S. destinations:
On-street parking on 17th Ave S.W. and on neighboring streets.
Nearby parking lots and parkades. For more information about where to park, check out the Getting to 17 Ave web page​.
Business and building information during construction
The City's project management team will be meeting with all individual property and business owners within the 2019 construction areas. Property and business owners will have at least a few weeks' notice of construction activities in front of their business. The City's project team will also continue to be available to every property and business owner in these areas during construction.
​​
There may be some impact to a building's utility services. In every case, if required, alternate services will be provided. If services need to be interrupted, The City's project team will work with each business on a case-by-case basis to schedule disruptions so they do not interfere with daily operations.
​
If you receive deliveries and garbage collection from the back alley of your building, it is expected that deliveries and garbage collection will continue as normal. If you receive deliveries and garbage collection in front of your building, and construction impedes it, The City's project team will work directly with you, including The City's or private garbage collection companies if necessary, to organize alternate arrangements to ensure your business can continue to operate.
​​
The City is working with the 17 Ave S.W. Retail & Entertainment District to ensure The City's messaging and communications reflect how people can still access and get to 17 Ave S.W. during construction.
The City will be using a series of communication channels throughout the construction season- social media, web, newsletters, mail outs, information sessions and advertisements - to bring attention to 17 Ave S.W.; specifically, showing where people can travel, park and access the Ave and area, while construction is underway. Feel free to sign up for the project newsletter for regular updates on the project.
​​
Please email cityofcalgary17@calgary.ca if you have any questions or concerns and a member of the project team will be in touch to help with any issues as they arise.
​
If you only have access to your parking area from 17th Ave S.W., The City's project team will work with the business owner or property owner to make sure access to your parking area is maintained.
​
The City's project management team will work directly with every affected property and business owner during the construction season to manage potential utility or access disruption, and to coordinate sidewalk related improvements as part of the 17 Ave S.W. streetscaping. If there is an event scheduled, milestone, or a special occasion being celebrated on 17 Ave S.W., the project team will work directly with the business(es) to ensure construction will not interfere.
Issues related to property taxation or business revenue are beyond the purview of The City's 17 Ave S.W. Construction project team. If you feel you have suffered a loss please call 311 to start the formal claim process and then follow up with the project team for further details.
​​
As part of replacing the deep utilities, The City will replace the water and sanitary sewer mains and individual building service connections up to each respective property line. If replacement is required (because of building/service connection age, deterioration, or other reason) from property line to building face, property owners may be responsible for the upgrade costs. The City's project team will consult with every property o​wner to discuss this matter.
​
To see the finished product, please visit the Project vision web page​ to watch a video and see images of the improvements The City is making on 17th Ave S.W.
---
What's happening on 17th Avenue SW