Upper Plateau Separation Project
What is the Upper Plateau Separation project
The Upper Plateau Separation project is a capital project that will help reduce river flood risk complications caused by storm water flow in the communities of Hillhurst/Sunnyside. The project will specifically target the Upper Plateau stormwater that currently flows in the lower plateau.
What are the benefits?
This work will allow us to better capture and divert storm water, prepare for and respond to climate change, better prepare for future development. This work will also help to decrease pressure in pipes which will reduce leakage, frequency of breaks and bursts, maintenance costs, electricity costs and GHG emissions.
Where is the Upper Plateau?
The Upper Plateau Separation covers a 527 ha area in central northwest Calgary. Portions of the study are within the floodplain of the Bow River which makes them vulnerable to flooding from high river levels and rainfall events. The study area is bounded by 24 Avenue N.W. to the north, 3 Street N.W. to the east, 19 Street N.W./Capitol Hill Crescent to the west and the Bow River to the south.
What's happening?
The project is in advanced stages of design. Geotechnical borehole drilling will be taking place in various locations in Sunnyside from May 6 to May 24.
This work will enable the team to determine what the subsurface conditions are to continue with the design work. It will take up to one day to complete each borehole.
Construction impacts
Construction impacts for this work will include:
Changes to road and speed reductions along 10th St. N.W., east of Riley Park
Speed reductions near the Riley Park access at 8 Ave, N.W.
Temporary road closures along portions of 1 Ave. NW, west of 7 St. NW
Temporary road closures along 7th St. between Memorial Dr. NW and 4th Ave.
Sidewalk / Pathway closures. Please follow the detours in place.
Drill rigs will produce various noise levels and possible minor vibrations.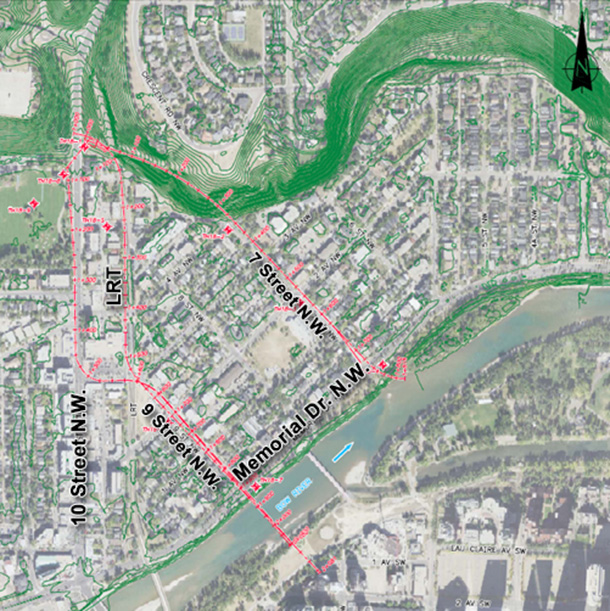 Click to view hi-res pdf version of this map.
How can you get involved?
Citizen engagement opportunities are being planned and an update will be provided in 2019.