Woodlands Woodbine Community Drainage Improvements
The City's Community Drainage Improvements Program works toward mitigating overland flooding in areas throughout the City. Drainage studies were undertaken to identify solutions for communities frequently hit by flooding due to extreme rainfall. Such solutions can include adding additional storm drainage pipes, increasing the size of pipes, and adding wet or dry storm ponds to help manage stormwater.
In recent years the communities of Woodlands, Woodbine, Cedarbrae and Braeside have experienced an unusually high number of high volume rainfall events. These communities currently have a storm level service of a one-in-five year rainfall event or less, which was the standard at the time these communities were first built. That means that there is now a 20 percent chance (or greater) that the storm system will not handle rainfall events causing local flooding in any given year.
Drainage improvements being looked at for these communities target a 1-in-50 year level of service. Once upgrades are in place there will be a two percent chance in any given year that rain events would overwhelm the storm system.

---
Braeside dry pond
The City of Calgary installed a new dry pond in the fields located east of the John Ware and St. Benedict schools​. This dry pond will greatly reduce flooding during extreme rain events, specifically the flooding that occurs at the intersection of Southland Drive S.W. and Braeside Drive S.W. Construction of the dry pond was completed in Spring 2019.
Community benefits
Overall vehicle and pedestrian safety will be improved, traffic congestion reduced and emergency vehicle access unimpeded by flooding. John Ware and St. Benedict schools will each receive a new soccer field and a new baseball diamond will be built allowing for more recreational opportunities for the community.
---
24th Street Storm Trunk Diversion
Construction will extend along 24th Street from Woodview Drive to Woodpark Boulevard S.W. and into the Bebo Grove area of Fish Creek Provincial Park.
Phase 1 - 4: Summer 2020 (see figure image on right)
Storm sewer diversion - The storm sewer installation along 24th Street S.W. is complete.
Surface improvements – Paving works and upgrades to the intersection of 24th Street and Woodpark Boulevard S.W. will continue into 2020.
Removal and replacement of the concrete islands at Woodview Drive and 24th Street SW will take place during the month of June.

Traffic will be limited to single lane traffic during work hours 
---
Bebo Grove Storm Pond
A new storm pond is being constructed in the Bebo Grove day use area of Fish Creek Provincial Park. The pond is a hybrid wet pond-wetland where wetland water levels will vary with the seasons and amount of rainfall. A new asphalt trail will be constructed around the south perimeter of the pond to connect with existing trails in Fish Creek. Construction is complete in the fall of 2020.
Construction impacts
Increased traffic to the Bebo Grove day use area of Fish Creek Park (construction crews, trucks hauling materials to and from site)
Construction noise
Access road and day use area will closed to the public for the duration of construction.
Pedestrian and cyclist access will be maintained into and throughout the park.
Community benefits
The storm pond will allow for storage of stormwater during rain events and improve the quality of the water discharged to Fish Creek by separation and settlement of suspended solids. Newly created picnic areas and lookouts surrounding the pond will provide spaces for park users to enjoy the improved aesthetics of the Bebo Grove area and the wet pond will attract more bird and wildlife species.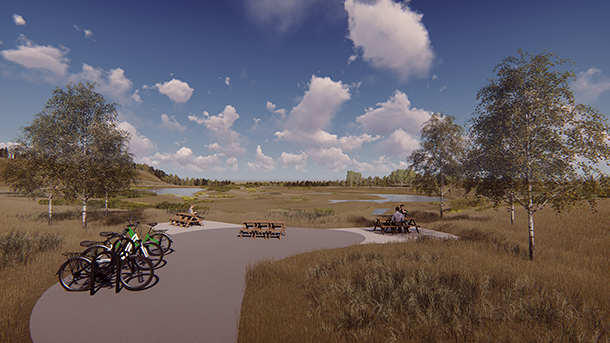 ---
Secondary Improvements
This project spans Cedarbrae, Braeside, Woodlands and Woodbine, and aims to implement localized improvements in order to alleviate existing flooding issues.
In 2017, The City identified several high priority sites for flood mitigation, including the installation of inlet control devices at multiple locations, with construction to continue this year. These sites were identified and prioritized by means of modelling, data collection, field checks and registered 311 complaints, with more sites to follow this year.
Construction impacts
Spill route improvements (Site 9) improve overland flow paths and reduces the depth of ponding at spill points in the local neighbourhood. 
Storm sewer diversion include the installation of storm pipes and catchbasins to divert, increase capacity and alleviate surcharging;
Installation of inlet control devices (ICD's) used to address local storm sewer surcharge problems by restricting the amount of stormwater captured by catchbasins. This will also help reduce water backing up into basements and sewer overflows since capacity is better controlled at the pipe inlet, and the water remains in the catchbasin or above ground.
Construction of a berm at the east edge of the the St. Cyril school playfields will begin late summer. The berm will help to reduce stormwater drainage flowing east from the playfields and alleviate flooding of properties.