Fish compensation program
How the City of Calgary is protecting fish habitat on our rivers
The City of Calgary is committed to exploring innovative solutions for supporting watershed health, biodiversity and flood mitigation. One of these solutions is the Fish Habitat Compensation Program, an integrated effort to conserve fish habitat in Calgary.
Following the 2013 flood, The City undertook a number of projects to repair and reinforce riverbanks along the Bow and Elbow Rivers. These projects helped protect critical City infrastructure but in some cases had negative impacts on sensitive fish habitat.
With support from both The Government of Alberta and Fisheries & Oceans Canada, we developed a plan to compensate for the loss of habitat and restore these vital habitat areas.
The compensation plan consists of several components including; the habitat preferences of all local fish species and mapped existing fish habitat on the Bow and Elbow rivers, and Nose and Fish Creeks. It further classified river areas such as runs, riffles, pools, backwaters, cascades and rapids and identified the type of susbstrate (material on the bottom of the river), among other features.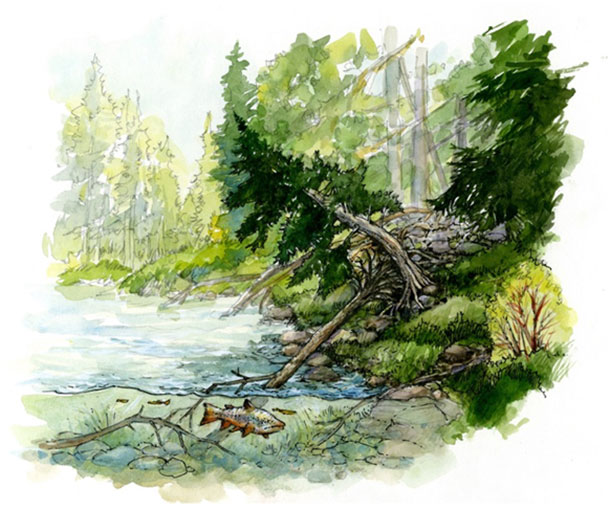 As a result of the Compensation Plan, nearly 50 projects were identified and then ranked using a triple bottom line method that considered the social, environmental (beyond just fish), and economic impacts, as well as, the anticipated benefits of each project.
Bowmont West - Project completed in 2019
Check out the before and after images on this video below
Elbow Island Construction Update - October 2019
This work will restore fish habitat along the side channel at Elbow Island Park and will also include some flood mitigation work, general park improvements, and the installation of permanent functional public art.
While several components were completed this past summer 2019, there were some construction setbacks. Additional work is still required to see the park fully restored.
Next year's construction will consist of further excavation underneath the 4th Street bridge, planting of additional trees and native shrubs, and the installation of a new artistic staircase and seating on the island​.
Elbow Island Park will be temporarily closed to the public until project completion. Estimated completion is Fall 2020.
In addition to the above projects, The City is working on several other high-ranking fish compensation projects where there are synergies with other watershed projects. Two of these projects are:
Using bioengineering to create fish habitat
The City applies bioengineering to many of its riverbank projects. Bioengineering combines vegetation along with built components to shore up eroding riverbanks. Traditional engineered bank protection like rock riprap or concrete creates a hard barrier.
This combined with water loving shrubs, trees, grasses and other native plants then take root among the built components - fortifying the land.
For additional information on the program, the Calgary Rivers Morphology and Fish Habitat Study is now available. The study can be requested by contacting 311.​