Water utility rates - frequently asked questions
Below you will find answers to common questions about how The City of Calgary sets water rates and service charges.
Does the Water Utility profit from my rates and charges?
The water utility does not profit from rate and service charge adjustments. Utility rates and service charges are set at the lowest amount possible to deliver current services, and provide enough funding to expand, upgrade, maintain and repair our water, wastewater and stormwater infrastructure.
The water, wastewater and stormwater services are entirely funded by rates paid by customers. The water utility does not receive any funding from property taxes.
How does The City of Calgary sets rates and service charges?
Based on usage patterns, we divide customers into groups such as residential, business and multi-family. Your rates and service charges reflect the actual cost to provide your customer group with water, wastewater and stormwater services.
Rates and service charges are set at the lowest level possible to cover the actual cost of providing your water, wastewater and stormwater services and the required maintenance and upgrades to the system.
Every four years, The City undertakes a cost of service study to ensure planned rates are fair and equitable, and can provide the funding to deliver clean, safe water and reliable service for years to come.
Each year those proposed rates are reviewed, and adjustments made, to ensure they continue to cover costs and meet the needs of Calgary. Wherever possible savings are also applied, and proposed rates reduced.
How does The City take into account the current economic environment?
The Water Utility made adjustments to the proposed rates for 2020 to strike a balance between the challenging economic environment and required investments in the water system. If rates are not adjusted we would not be able to:
Meet the needs of a growing population
Maintain and upgrade existing infrastructure, extending the life of our two water treatment and three wastewater treatment plants
Invest in new infrastructure to deliver water, take away wastewater and collect stormwater in new communities
Meet regulatory requirements regarding water and wastewater quality
Upgrade stormwater infrastructure in older communities to address the effects of our changing climate
Invest in flood mitigation projects across the city, such as barriers and upgrades to stormwater infrastructure
How do Calgary's rates compare to other cities?
While it is hard to compare cities, since each takes a different financial approach to taxes and utility costs, Calgary is generally in the middle of the pack compared with other Canadian municipalities.
The graphic below shows the average yearly cost of taxes and utilities, including electricity, water, wastewater, stormwater and waste & recycling services, for cities across Canada.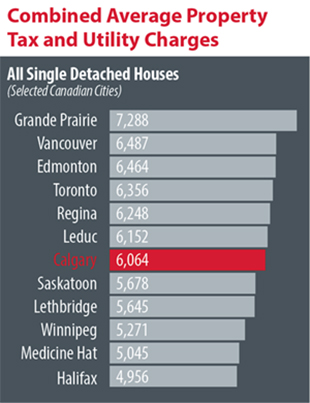 *Utility numbers were collected or calculated under these assumptions.
"Typical" month consisting of 30 days
600 KW/H usage of electricity
19 cubic meters of water and 17.5 cubic meters of wastewater treatment
Other charges on a per-residential dwelling – recycling fee, garbage disposal, and other
What is happening to rates across major cities?
Rates and the price of water are going up across North America. A recent study of large North American cities found that water rates were increasing approximately six percent per year.
Even with the increase to Calgary's water rates we will continue to pay less than a penny a litre for water and wastewater service.
Do my property taxes pay for water services?
Customer service
View current water rates
See current water utility rates for residential, business, multi-family and other customer types. View Water Rates.
Need help reading your water bill?
Questions about your water utility bill?
Please visit the ENMAX Customer Care Centre or contact 310-2010. ENMAX is The City's contracted customer care, billing and meter reading provider.
Need a new account?