What not to flush down sinks, drains, and toilets
We are asking homeowners to only flush toilet paper and human waste down toilets.
This prevents unnecessary repairs to homes and City sewer systems, and allows us to focus on essential services and maintain social distancing.
Flushing anything other than pee, poo, and toilet paper down the toilet can clog pipes and create sewer back-ups.
Wipes that claim to be flushable aren't. Flushable wipes retain their shape and strength, causing blockages in pipes.
Facial tissue (Kleenex), serviettes and paper towel cannot be flushed down your toilet. They do not break down and lead to clogs and sewer back-ups.
Bag wipes, paper towel and any items used as a toilet paper and put in your black cart. They do not belong in your green or blue bins.
Wipes clog pipes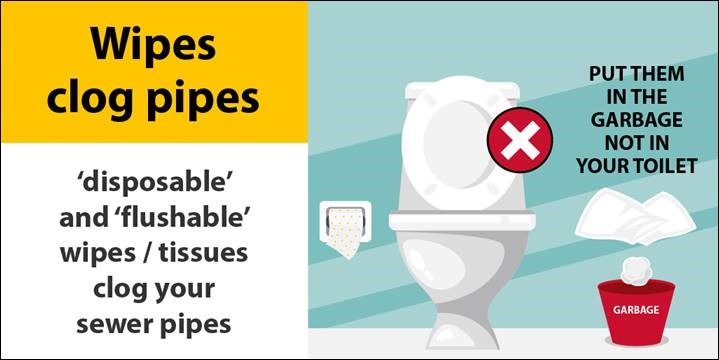 Wipes that claim to be "disposable" and "flushable" are not. Put them in your black cart as garbage.
Keep these items out of your sinks, drains or toilets
Bathroom items
Diapers, wet wipes, rags, bandages
Dental floss, cotton swabs, condoms, cosmetics
Personal hygiene products (tampons, applicators, sanitary napkins)
Pills and medicine - expired prescription medication
Pills and medicine should be returned to your pharmacist for disposal.
Dispose of fats, oils and grease into your green cart
Small amounts (two litres or less​) of fats (lard, butter), oils (salad dressing, marindate for meats) and grease (deep fryer oil, vegetable oil, cooking oil) should be disposed of in the green cart, not the black cart.
Always wipe cooking equipment and scrape dishes before washing.
Solidify oil by mixing it with paper towels, then place it in a compostable bag or paper bag and put it in your green cart.
Household items
Cigarette butts
Paper towels
Children toys
Hazardous waste
Bleach and ammonia
Clean solvents and spot removers
Disinfectants
Hot tub and swimming pool chemicals
Oven cleaners
Septic tank cleaners
Alkyd, latex and oil-based paints
Lacquers, stains and varnishes
Paint thinners, strippers and solvents
Petroleum-based products such as motor oil and gasoline
You can drop off household hazardous waste free at one of our household hazardous waste drop-off locations. View a full list of accepted hazardous items.
​​​​​​​​